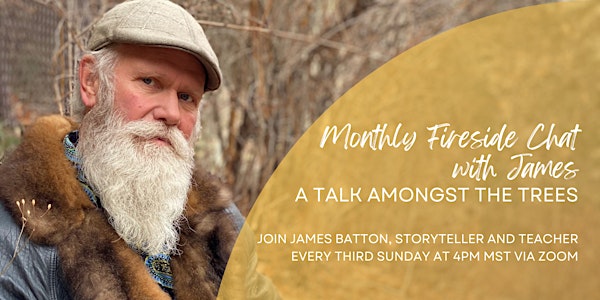 Monthly Fireside Chat - Talk Amongst the Trees with James Batton
Monthly fireside chat ~ Talk Amongst the Trees. Join James Batton, a gifted storyteller and teacher, as he shares his wisdom from the trees.
About this event
"Everything I know in life, I learned from a tree." This is the motto of James Batton, a brilliant storyteller and teacher. Join James every month for a fireside chat receiving wisdom from the trees, nature, and other life experiences.
Over the past 40 years, James' storytelling style of teaching, lecturing and guiding has entertained and instructed all ages.
He has taught, presented, performed on stage, in the gardens and around camp fires since he wrote his first production at 16. However, his love of people and nature doesn't stop on the stage, he has a keen ability to support others as they navigate interpersonal and relationship challenges. He attributes his wisdom to the concept, "everything I know in life, I learned from a tree."
Additionally, he has been a columnist, garden guide and published writer utilizing his abundant knowledge in horticulture and landscaping. You may have also seen his smiling face on TV, in a commercial or even in one of those greeting card movies. James loves to share his passion for life, gardening and the healing gift of nature.
You can always find him on social media, teaching at Red Butte Garden or offering virtual classes. Keep in touch by subscribing to his weekly newsletter at www.Jamesbatton.com.
By signing up for this class, you agree to be added to James weekly newsletter, "A Walk Amongst the Trees".