About this Event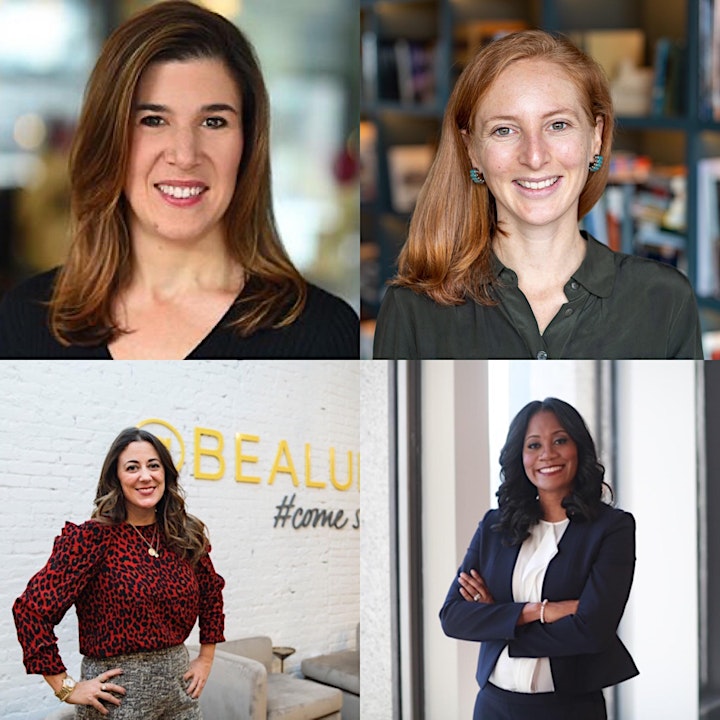 (Clockwise from top left: Cari Sommer, Zoë Lloyd Geller, Damali Peterman, and Cate Luzio)
About the Panel
Cari Sommer is a communications strategy and public relations expert, bringing clients a unique combination of business savvy, strategic thinking, and media know-how. She is the Founder and CEO of RAISE Communications, where she regularly serves as a trusted advisor and thought partner to high-growth technology companies and venture capital firms. Cari is also the host of the Pitch Factor podcast, where she interviews prominent business leaders on the art of the pitch, and a contributor to Forbes, where she shares advice and analysis on business growth. When Cari isn't representing or writing about startups, she is investing in them through 10XImpact, where she is a Managing Partner. Cari lives with her husband and two sons in NYC, where RAISE is based.
Zoë Lloyd Geller founded Wildkind (now Highland Peak) to make it easy to eat nourishing, delicious, plant-based food made from simple, clean ingredients. Her passion is to nourish herself and others by connecting people to good food and our earth. Zoë's passion comes from her love of food as well as her time in Americorps, teaching kids where food comes from and how growing food helps us nurture ourselves and our relationship with mother earth. Zoë is in charge of sales, marketing, and fundraising at wildkind. Before creating Zoni and Wildkind, she was the third employee at a local food distributor startup called Common Market MidAtlantic where she helped grow sales from $100K to nearly $2M. She holds an MBA and Masters of Environmental Management from Yale University.
Damali Peterman is a social entrepreneur on a mission to leverage her 15+ years of global experience in the conflict resolution and legal industries to teach people how to listen, negotiate, and resolve everyday situations in the workplace and beyond. She is a highly regarded lawyer, mediator, negotiator, and educator with a global practice and a sought-after speaker. Damali is the Founder and CEO of two award-winning companies: Breakthrough ADR and Damali Law. Breakthrough ADR specializes in innovative and engaging ways to help individuals, companies, government agencies, and educational institutions prevent, manage and resolve conflict. Damali Law is a boutique law firm that represents individuals and businesses on a full range of corporate and transactional matters. Throughout her career, Damali has been committed to giving back and providing pro bono service to the community. She has lectured at schools throughout NYC and led legal clinics for nonprofits, small businesses, and entrepreneurs. Damali is a graduate of the Goldman Sachs 10,000 Small Businesses Program and a Tory Burch Foundation Fellow. She was recently recognized as the "Social Change Agent of the Year" by the National Institute of Mentoring Business Leaders and Entrepreneurs (NIMBLE).
Cate Luzio is the Founder and CEO of Luminary, the premier collaboration hub for women who are passionate about professional development and expanding their networks. A long-time advocate for empowering women and girls, Cate serves on the National Board for Girls Inc. She has over 20 years of leadership experience in financial services. Previously, she was the EVP and Global Head of Multinational Corporate Banking for HSBC managing roughly $2 billion in revenue and teams in 72 countries. Cate also served as a Managing Director and Head of Multinational Corporate Banking at J.P. Morgan. She has received numerous recognitions including being named to the Most Powerful Women in Banking List by American Banker and a two-time recipient of the Financial Times and Heroes Global Diversity Champion, as well as Yahoo Finance Heroes Role Model in 2019. Cate was named to Inc.'s 2019 Female Founders 100 List and has also been featured in numerous publications. She holds a master's degree in International Relations from Georgetown University and a bachelor's degree in Political Science from the University of Maryland. Cate is a global traveller having visited more than 114 countries, and sits on the Advisory Board of Girls Inc. NYC and the National Board of WaterAid.
Visit www.flyfemalefounders.com to learn more and sign up on the mailing list.