Description
Join us at the monthly AI tech meetup co-hosted with IBM Watson. We have speakers to share the latest work in AI and practical experiences with machine learning, deep dive into tech details how to solve engineering problems. This session will focus on dimension reduction and scale deep learning in practice.
This would be a great opportunity for you to connect with other like minded engineers, data scientists share and learn from each others experiences.
Agenda:
6:00pm - 6:30pm: Checkin, Food

6:30pm - 6:40pm: Welcome and opening notes
6:40pm - 7:30pm: Elastic Distributed Deep Learning Training at large scale, by Yonggang Hu, Distinguished Engineer from IBM Watson
7:30pm - 8:20pm: Dimensionality reduction in healthcare, Ali from University of Toronto
Topics:
Talk1: Elastic Distributed Deep Learning Training at large scale
Abstract: Scaling out in a cluster and running distributed training is a typical approach to improve training time, but there are still many challenges. The current approaches to distributed training tend to be complex, inflexible, and monolithic. In this talk, we will introduce a new high performance distributed deep learning training engine, which transforms static monolithic training into a dynamic resilient process - automatically scales up and down GPU allocation while transparently training the models developed in popular frameworks such as TensorFlow, Pytorch and Caffe. Specifically, we will discuss
- The architecture and design of dynamic distributed runtime management, from data ingest, scheduling, to all-reduce synchronization.
- Transparent dynamic model scaling (up and down). Transparency means no code change or minimum change (1 line) to models developed in Tensorflow, Pytorch.
- Experiences with large scale on-prem and cloud deployments and how elastic training works with different (QoS) policies such as Preemption, Fairshare, Priority in multi-user multi-tenant production cluster.
- Considerations and techniques on hyper-parameters to ensure consistency of results and reproducibility while scaling up/down
Talk2: Dimensionality reduction in healthcare
Abstract: Healthcare is an emerging era for application of artificial intelligence. In the upcoming years, AI in healthcare is going to be one of the fastest growing career opportunities. However, dealing with datasets in healthcare is not similar to many other subjects because of the noise in the data and high number of features compared to the number of available data points
In this talk, I will go through the concept of dimensionality reduction as a helpful approach to deal with the data in healthcare. We will go through three major methods in this concept, PCA, t-SNE and UMAP. We will implement these methods on some example datasets, related to healthcare, and understand the assumptions and true interpretation and potential utilities of each method.
Speakers:
Yonggang Hu, Distinguished Engineer from IBM Watson
Yonggang Hu is IBM Distinguished Engineer, Chief Architect at Spectrum Computing, IBM Systems. He has been working on distributed computing, HPC, grid, cloud and big data analytics for the past 20 years. He is currently focusing on AI runtime at IBM and responsible for roadmap and strategy of IBM Watson Machine Learning Accelerator. Before joining IBM, Yonggang was Vice President and Application Architect at JPMorgan Chase focusing on computational analytics and application infrastructure.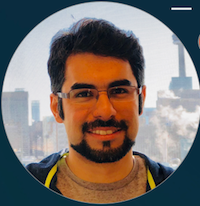 Ali, University of Toronto
Ali is currently a ​Ph.D. candidate at the University of Toronto working on the development of new machine learning models to predict cancer patients' responses to drugs and their survival. During his study, he published research papers in high impact scientific journals and international conferences covering such fields as feature extraction, dimensionality reduction, unsupervised clustering and graphical models. He has earned a master of a mathematics degree, focusing on modeling of stochastic processes in complex biological systems from the University of Waterloo.
Directions&parking:
IBM 8200 Lab Amphiteather

8200 Warden Ave, Unionville, ON L6G 1C7, Canada
1. it is the big IBM Lab building main entrance (middle of the buildings) and the Amphiteatre is right there)
2. Visitor parking, right next to the main entrance and is well marked.
Partners:
This event is co-hosted and supported by the following meetup groups:
More events:
weekly online AI tech talk series, workshops and courses. link
Monthly AI tech talks at Toronto area: https://www.meetup.com/aittg-toronto
AI NEXTCon Developer conference (Seattle, New York, San Francisco): http://www.xnextcon.com