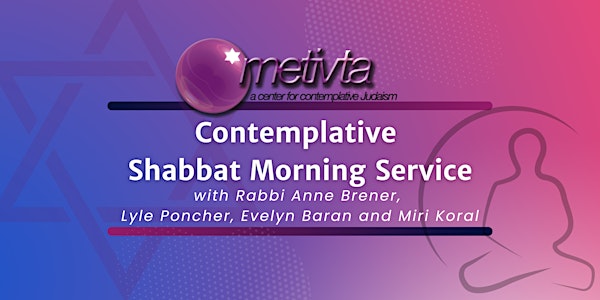 Month of Shevat- Contemplative Shabbat Morning Service
Connect with the Jewish rhythm of life by joining Metivta and Rabbi Anne Brener on Shabbat morning in chant, meditation and prayer.
About this event
2 hours 30 minutes

Mobile eTicket
Looking for a spiritual circle of healing and prayer? Join Rabbi Anne Brener and Metivta Community leaders, Evelyn Baran, Lyle Poncher, Miri Koral, on Shabbat morning for chant, meditation and prayer. Open to a deeper, calmer part of yourself. By coming together on Shabbat we can help ourselves and each other to find more peace, healing and joy.
Our parsha (Torah portion) for this month is Yitro, Exodus 18:1-20:23
This service is offered at no charge but donations are always appreciated to help support Metivta's programming.
What to expect from a Metivta Contemplative Shabbat Service:
After a introductions and greetings we begin the morning service with setting intentions and alternating chant and meditation. This is our "Shacharit" service.
Next we transition into the Torah service. Metivta's tradition is to do group aliyot (blessings for the Torah portion). Attendees will be invited "up" to participate in any aliyot whose theme resonates with then.
The Torah service is followed by the drash (interpretation of the Torah reading) given by one of our service leaders.
Drash is followed by healing prayers and the Mourner's Kaddish
We close with poetry, announcements and kiddush.
Here are some things you may want to have with you to prepare your self and your space for our service:
Talit and kippah if you wear them
If you prefer your own siddur (prayer book) and Chumash (for the torah service, please feel free to use. We will also be screen sharing relevant content.
Wine and challah for kiddush (or you can take part virtually)
You will also be able to fully participate if you just bring yourself : ).
Can't make it in real time? Recordings of our service will be sent to all who register.
Rabbi Anne Brener, LCSW is a psychotherapist, spiritual director, and lecturer, who assists institutions in creating caring communities. The author of Mourning & Mitzvah: Walking the Mourner's Path (Jewish Lights, Third Edition 2017), she has contributed chapters to many publications on Jewish spirituality and healing.. Ordained as a Reform Rabbi in 2008 from HUC/LA, Anne was also a student of Rabbis Zalman Schachter-Shalomi and Jonathan Omer-Man. She is Professor of Ritual & Spiritual Development at the Academy of Jewish Religion, Los Angeles and was a founding faculty member of Yedidya's Morei Derekh- Jewish Spiritual Direction Training Program. She serves on the boards of ALEPH: Alliance for Jewish Renewal and Los Angeles' Fountain Theatre. Anne was a founder of Project Sanctuary, one of the first shelters for victims of Domestic Violence in California. A New Orleans native, she worked for the Ecology Center of Louisiana for several years in the early years of the environmental movement and spent three months doing relief work in the Gulf South following Katrina.
Metivta is a Los Angeles-based adult, egalitarian, non-denominational Jewish community founded over thirty years ago by Rabbi Jonathan Omer-Man. Metivta is a unique place for anyone interested in learning Jewish meditation, studying Jewish texts, and practicing the teachings that are at the heart of these disciplines. Our focus is on contemplative study and practice within the Jewish tradition.