Description
Brethren & Friends,

After the labors of the Lodge have been completed, Freemasons frequently meet at tables to enjoy a repast in common, in England and America, (this repast is generally called a banquet, and the lodge is said to be, during its. continuance, at refreshment. The Worshipful Master, of course, presides, assisted by the Senior and Junior Wardens, and it is considered most proper that; no profanes should be present. But with these exceptions, there are no rules specially laid down for the government of Masonic banquets.
During the eighteenth century, and even at the commencement of the nineteenth, refreshments in English Lodges were taken during the sessions of the Lodge and in the Lodge room, and then, of course, rigid rules were in existence for the government of the fraternity, and for the regulation of the forms in which the refreshments should be partaken. But this system has long grown obsolete, and the Masonic banquets of the present day differ very little from those of other societies, except, perhaps, in a more strict observance of the rules of order, and in the exclusion of all non-Masonic visitors.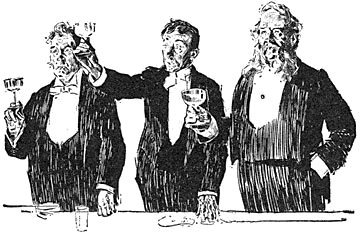 Join us at Montgomery-Cornerstone Lodge #195 to partake in this Festive Event. Dinner will be served with wine and the Table Lodge is not only open to Masons near and far, but also to prospective our "non-Mason" candidates and our friends & family members (*Men 21 years of age or older) who are interested in attending this experience with the Craft. As space is limited, you must RSVP for this event for logisitical and food preparation purposes. While the dinner is FREE, we do humbly accept donations to offeset some of the costs. If you make a $10 donation, you can also keep your Cannon (shot glass) as a souvenir.


Guest Speaker: Bro. David Durman
Presentation: Brotherhood in Masonry: A Historical Look at How Masonic Bonds Supersede War and Conflict
Brethren, the purpose of this festive event is to foster fellowship and brotherhood among the masonic brethren located in our area – and of course, to enjoy some libations in the process.

Please be sure to RSVP by April 15th to ensure that you have a seat at the table!

I look forward to enjoying continued fellowship with ALL who attend – so plan accordingly!


In the Light,

Brother Paul E. McFadden ∴
Worshipful Master
Montgomery-Cornerstone (MD) Lodge #195, A.F. & A.M
32⁰ DC Scottish Rite, KSA
Ph: 240.778.8448
Email: paul.mcfadden.mc195@gmail.com