Event Information
Location
Melody Lanes Bowling Alley
568 S 1st Street
Montevideo, MN 56265
Description
It's hard to believe it's been 10 years. Come and reminisce with the Montevideo class of 2007 on Saturday June 17th from 6:00 until 9:00PM at Melody Lanes in Montevideo. You're also welcome to to stay later than 9PM if you'd like.
There will also be a casual meet-up at Talking Waters Brewery in Montevideo on Friday June 16th at 7:00PM.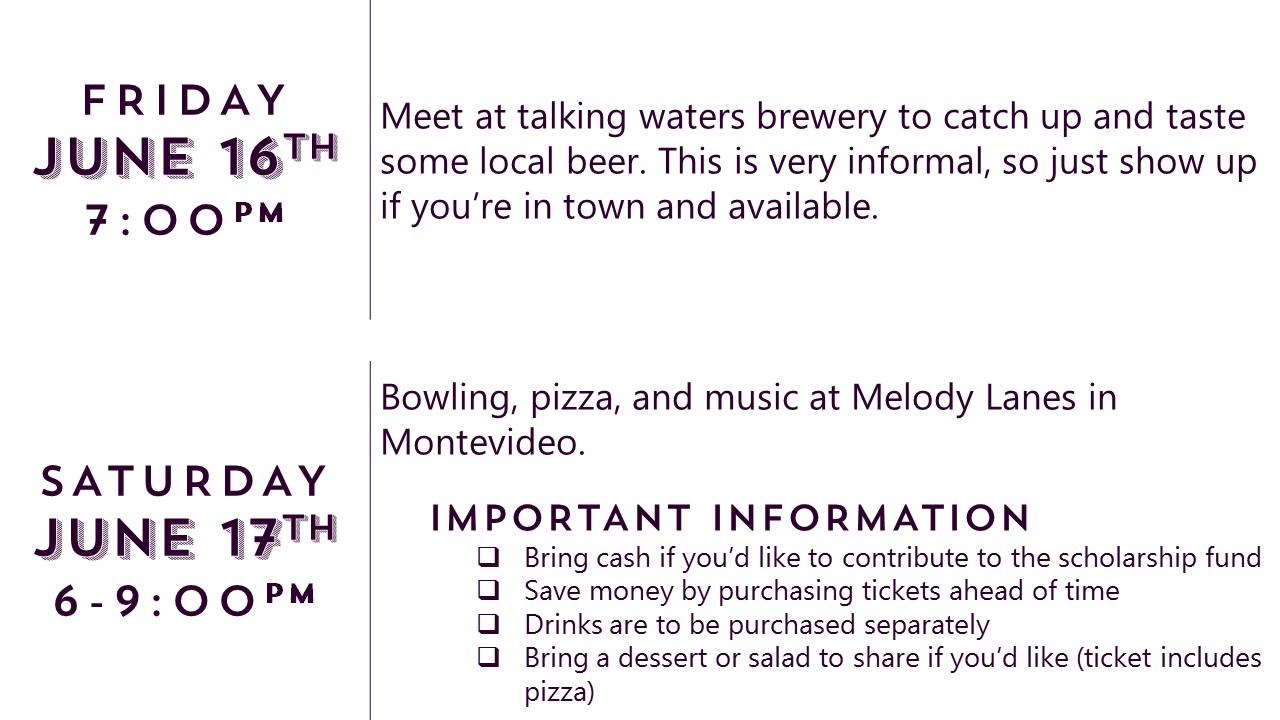 The reunion ticket will include bowling, shoes, pizza from Jake's, and some side salads and deserts. Alcohol and soft drinks will be available to purchase from the bar at Melody Lanes. Bring along a dessert or salad to share if you're able.
Ticket pricing will work as follows:
$12/ticket online until May 31st
$14/ticket online until June 16th
$15/ticket at the door on June 17th (bring cash if this is your plan)
Click the green "Tickets" button to purchase tickets.
*Please bring cash if you'd like to contribute to a class of 2007 scholarship fund in honor of Emily Waylander, Casey Schulte, and Josh Williams.
*There will be a space to request music for the reunion when purchasing tickets online, so please share any songs you'd like to hear.
Email Sammi at linde354@d.umn.edu with any questions.
Date and Time
Location
Melody Lanes Bowling Alley
568 S 1st Street
Montevideo, MN 56265