Description


Seminar for Early Childhood Educators
Instructors: Charles Terranova and Gretchen Courage
Charles and Gretchen will lead us in examining the best practices that support the rediscovery of the environment of the child guided by the exact and scientific guide given by our apparatus and exercises.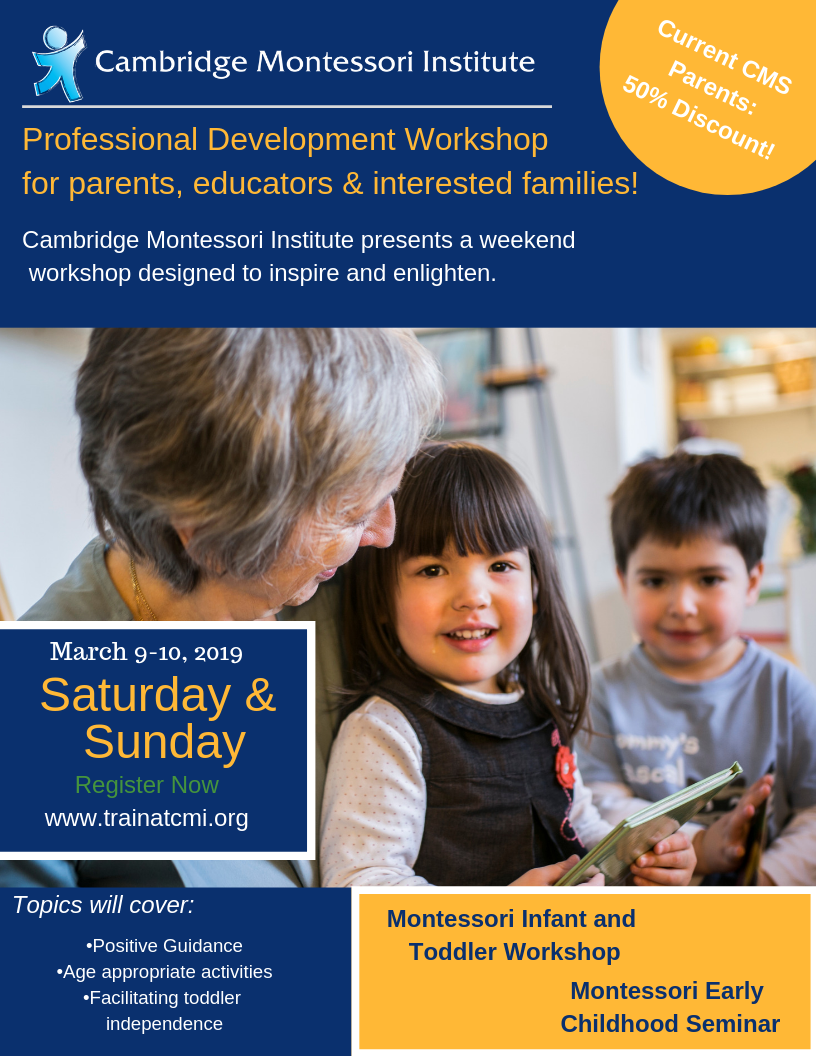 Session I: The Montessori Sensorial Rationale
"The child of two and a half or three who comes to our Children's Houses has, during the previous very active and mentally alert years of his existence, accumulated and absorbed a host of impressions. This remarkable achievement, the extent of which can hardly be exaggerated, was however made without any outside help and guidance. Essential and accidental impressions are heaped together, creating a confused, but considerable wealth in his subconscious mind. With the gradual assertion of consciousness and will, the need to create order and clarity, to distinguish between essential and accidental becomes imperative. The child is ripe for a re-discovery of his environment and of his inner wealth of impressions of it. In order to realize the need, he requires an exact and scientific guide such as that given by our apparatus and exercises. He may be compared to an heir unconscious of the great treasures he possesses, eager to appreciate them with the knowledge of a professional connoisseur and to catalog and classify them so as to have them at his full and immediate disposal"
Maria Montessori, The Discovery of the Child
Session II: Classroom Leadership
Classroom Leadership was once referred to as Classroom Management. The change has come about in recognition that being teacher requires much more than managing a class. In Montessori education, management is even more inaccurate when you think that the Montessori teacher prepares an environment for learning and for the most part, manages herself. Instead of motivating children, she prepares an environment of interesting and scientifically prepared materials that call to the inner motivation of the child. Instead of directing children into work, she entices them with preparation, presentation, precision, and patience and waits for the children to initiate themselves into work because she knows that when a child develops concentration around self-chosen work, that child has taken the first steps toward normalization.
We will examine the four domains:
Planning and Preparation

The Classroom Environment

Instruction and Adult Interaction Styles

Professional Responsibilities
By examining the four domains of classroom leadership we will present a dynamic platform to master the art of directing a class of 3-6 year olds.
Cost: $95.00 (breakfast and lunch are included)
CMI and AMS CPE hours will be provided.