Event Information
Refund Policy
Refunds up to 30 days before event
Description
Montessori educators will gather to be inspired by an all-star cast of nationally recognized presenters. Topics will span the generations, connecting us with Dr. Montessori's timeless philosophy as we explore 21st Century best practices in the field.
Featuring:
Debby Riordan, Executive Director Association Montessori International (AMI/USA)
Dr. Timothy Purnell, Chief Executive Officer, American Montessori Society (AMS)
Amira Mogaji, EdD, is principal of AMS Northglade Montessori Magnet School in Kalamazoo, MI, and a member of both the AMS Board of Directors and the Montessori for Social Justice Board of Directors.

Houston, Texas, September 21, 2019, from 8:00 am – 5:00 pm
St. John the Divine Episcopal Church / First Steps Montessori
Address: 2450 River Oaks Blvd, Houston, TX 77019
Dallas, Texas, October 5, 2019, from 8:00 am – 5:00 pm
June Shelton School and Evaluation Center
Address: 15720 Hillcrest Rd, Dallas, TX 75248
8:15 – 8:45 am Registration / Breakfast
9:00 – 10:00 am Morning Keynote featuring Dr. Timothy Purnell
Using Your Montessori Voice to Build a Better World

Tim will discuss the critical elements needed to create a lasting, inspirational Montessori movement in both your community and the world. He believes Montessorians are passionate change-makers, each fulfilling their own journey with the shared goal of a brighter tomorrow— one in which we respect and honor each and every person. He will share his thoughts and reflections on how we can stand united to amplify our voices to reach the masses and secure a humanity filled with grace and courtesy! This is our movement-- a movement for a better world.
10:15 – 11:15 am Workshop Session 1

Infant and Toddler Session by Pamela Green
Montessori From the Beginning
We often offer guidance, support, and our education to families after the birth of their baby. During our time together we will explore how we can, as Montessorians, welcome and include the family during their time of pregnancy, birth, and the Symbiotic Period. Parenting begins during pregnancy, and deepening our understanding of the prenatal life of the unborn child, as well as considerations in preparing for birth, can become an integral part of what is offered in your Montessori community. We will cover a variety of possibilities to add to your services, all of which can create an earlier connection and building of trust in parents as they enter and transition into your program.
Early Childhood Session by Kitty Bravo
Write for Life: Preparing the Hand and Mind to Communicate with Symbols
Given the right opportunities and fueled by the sensitive period for language, writing comes to the child with an explosion of passion and determination. This presentation will focus on the two processes for writing: The motoric process, preparation of the hand to form symbols; and the intellectual process, preparing the mind to creatively express one's ideas those letter symbols. From the basics of hand preparation in practical life to the three cornerstone Montessori language materials, metal insets, sandpaper letters, moveable alphabet, and beyond, we will explore ways to support children in writing as a natural expression of the human tendency to communicate.
Elementary Session by Jackie Grundberg
How Clean Is Your Water? Field Biology
This workshop encourages participants to implement lesson plans to
actively involve students in real, active, scientific research techniques. This is excellent for field trips and a way to increase biology outside. Options will be given for those unable to take field trips to a stream. The presenter will review the need and benefits for students to experience field biology research. Lessons introduced will include collecting macroinvertebrates from streams and conducting water quality stream analysis in order to determine local water quality.
Administrators Session by Dr. Charis Sharp
Montessori Leadership and the Control of Error
When a student works with a Montessori material, they can usually figure out if they are doing the work correctly. The control-of-error provides the data that allow the student to assess their understanding. As we grow, the control-of-error becomes more complex, and we need to dig a little deeper. When we lead a Montessori school, it is not always easy to put our finger on those things that tell us we are "doing it right." Join us to explore some key indicators of good school leadership, how to assess them, how to figure out what it all means, and what to do with it all.
General Session by Denise Monnier
MPPI and the State Policy Landscape
Join Denise Monnier, Director of State Advocacy for the Montessori Public Policy Initiative, to learn about the history and work of MPPI. Attendees will get an overview of the state policy landscape as it pertains to Montessori programs, and an understanding of the support that MPPI provides for advocates as they work for positive change. If you are frustrated by rules and regulations in your state that are not Montessori friendly and would like to get involved in the Montessori advocacy movement, this session will be loaded with information on just how to do that.
11:30 – 12:00 Montessori Voices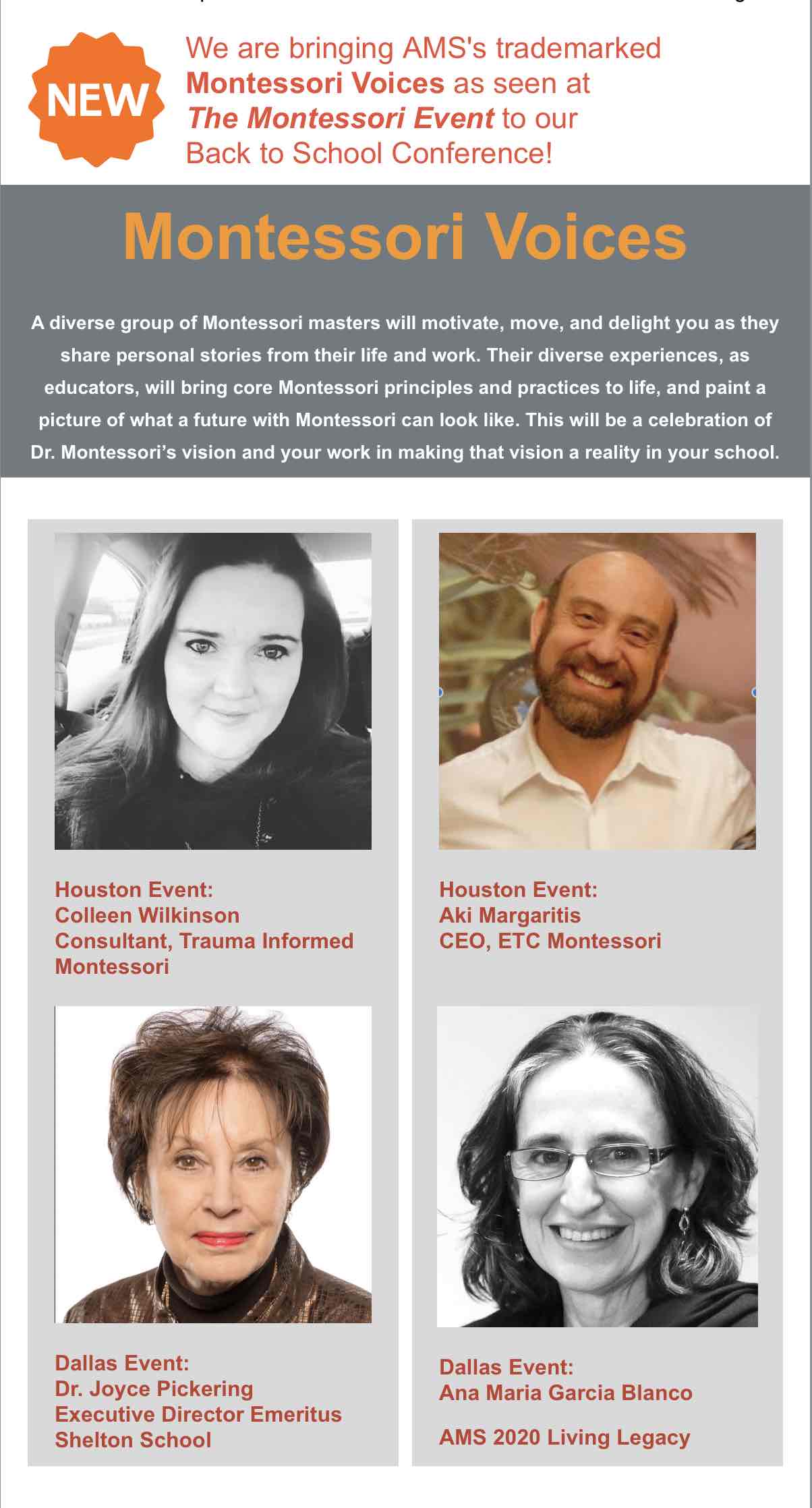 Houston:
Colleen Wilkinson, Consultant, Trauma Informed Montessori
Aki Margaritis, CEO, ETC Montessori
Dallas:
Special Surprise: Ana María García Blanco, 2020 AMS Living Legacy
Dr. Joyce Pickering, Executive Director Emeritus Shelton School
12:00 – 1:00 Leadership Forum Luncheon
1:00 – 2:15 Keynote featuring Debby Riordon
The Impact of Montessori: Revealing the Vegetables in the Muffin
Montessori is often discussed through the narrower lens of the standards and procedures of the Montessori method of education, but when one steps back, the impact of Montessori is much deeper and broader than these discussions might indicate. These typically more tangible aspects examine the "effectiveness" of Montessori education relative to other education delivery styles, but what about the intangible gifts of Montessori? What about those aspects that aren't easily seen? What about the transformations of not only students and practitioners of Montessori, but of those who indirectly experience it? What truly is the greater impact of Montessori on the world, and why is it important today? Debby Riordan, Executive Director of the Association Montessori International of the United States (AMI/USA) shares her thoughts in this keynote address on the critical nature of this work that extends beyond the mechanics of the Montessori method itself.
2:30 – 3:30 pm Workshop Session 2
Infant and Toddler Session by Pamela Green
Montessori Parent-Infant and Child Programs: welcoming parents into your classroom learning environment
We will explore the definition of a Montessori Parent-Infant and Child program, the benefits to the child, parents, our Montessori community, and the wider community as well. You will gain an understanding of the Sensitive Periods of the adult, and how we can support parents on their own unique Montessori journeys through the program.
Early Childhood Session by Kitty Bravo
What about the Wanderers?
Every Classroom has them.... children who wander the room instead of engaging in work. What should we do about them? Unfortunately, there is not one simple answer. All wanderers are not alike. This session will look at seven different types of wanderers, why they wander, and how to guide them to meaningful activity.
Elementary
Session by
Jackie
Grundberg
STEM and Montessori – Two Peas in a Pod
Do you get asked, "Why don't you have STEM lessons in your classroom (school)?" or "What is the difference between Montessori and STEM programs?" Our society is making leaps and bounds in technological advances, and many parents and educators are concerned with ensuring the current generation is prepared and will be successful. STEM (STEAM) is such a popular buzzword that parents are actively seeking schools, curriculums, after-school programs, and toys that are labeled STEM.

In this session, we'll compare and contrast STEM (STEAM) with Montessori programs. You'll learn ways to align or add to your lessons to qualify as a STEM lesson while staying true to Montessori principles. Learn of opportunities to strengthen your knowledge in the STEM subject areas. Come with a cultural lesson in mind that you would like to turn into a STEM lesson but need some help. Together, we'll work on integrating your lower and upper elementary cultural lessons. You'll leave this workshop with a better understanding of STEM and be confident that your Montessori lessons are hitting the same objectives.
Administration Session by Dr. Charis Sharp
Fish or Cut Bait: Making Difficult Staffing Decisions

Montessori school leadership is not for the faint of heart. We make difficult decisions nearly every day. The most difficult can be when we need to figure out what to do in a challenging staffing situation. In this session, we will not explore the nuts and bolts – no talk of lawyers, documentation, or notifications. Instead, we will explore the emotional process of coming to a decision that affects every person in your school and how to manage that journey to help you and your school move through that process.
General Session by Denise Monnier
MPPI: Advocacy in Action
This hands-on workshop will be an extension of the state policy landscape session, although anyone may attend. We will examine the advocacy process specifically as it pertains to major issues faced by our Montessori communities at the state level. Attendees will have the opportunity to put their knowledge of the advocacy process to work by creating an advocacy plan around an actual issue that they face in their home state. Participants will take away an understanding of the advocacy process that will be applicable to any issue, and valuable information about the ways that Montessorians
from other states have used this process to advocate for policy change.

3:45 – 5:00 pm Spotlight Keynote featuring Amira Mogaji
Every Child Belongs
Montessori spaces are for all children. The inclusive Montessori environment is a space where students, guides, and families build relationships based on the whole person and their intersecting identities. The diversity of the community strengthens these environments. The work of ensuring that all students have equitable access to the educational program in Montessori environments regardless of their identities is paramount and must be intentional. Lucky for us we have a blueprint: How can we utilize the Montessori learning triangle (child, teacher, environment) to prepare teachers and environments and develop a plan of inclusion that ensures equitable access to the Montessori program and facilitates all students achieving their human potential?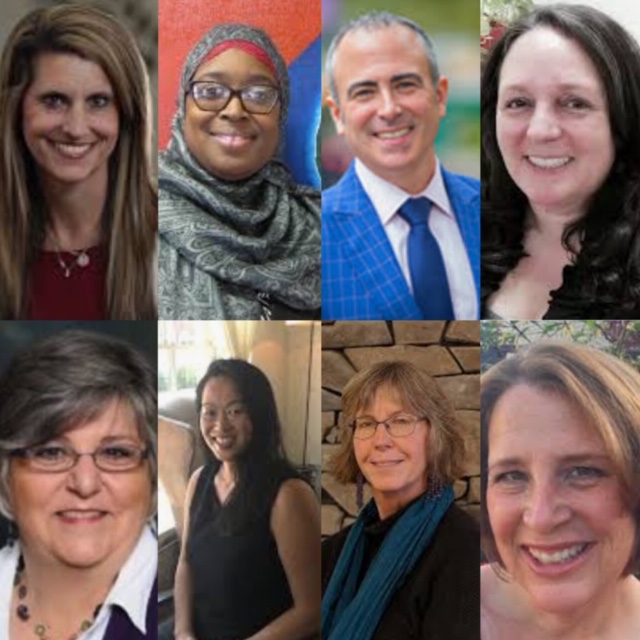 Participants will receive a 7-Clock Hour CPD certificate.
Location
Refund Policy
Refunds up to 30 days before event