Description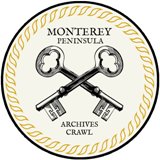 Monterey Peninsula Archives Crawl:
Saturday, October 13, 10 am to 4 pm Various Locations
Take a self-guided tour to various sites highlighting 16 regional institutions displaying treasures from their historic collections. Historians and archivist will be on hand to share the stories behind these treasures and the importance of the preservation of these items. This is a free event, however registration is required to access sites and obtain the passport. Register on-line at eventbrite.com or contact Chalet Booker at 831-242-8743.
Additional information and updates can be found on our Facebook page @montereypeninsulaarchivescrawl.
Please download the Passport for a map and a listing of the participating institutions here:
https://drive.google.com/file/d/10ayerK9bwVAacxSZCu5QR61jhGrt3-pI/view?usp=sharing
Print doublesided on legal size paper (8.5 x 14) in order to create a passport.
Passports available at Colton Hall Museum in Monterey and the Jewell House in Pacific Grove.
Participating Organizations and what they have:
Colton Hall Museum, City of Monterey
Treasures from the City of Monterey's vault, ephemera, photos, pamphlets, documents dating from the early 1800s.
California History Room & Archives, Monterey Public Library
Destination Monterey: Programs, ephemera, photos, pamphlets promoting Monterey & the Peninsula starting in 1875.
Asilomar Conference Grounds, California State Parks

Early YWCA: Programs, ephemera, photos.
Monterey Peninsula College - Archives and Special Collections

College newspaper, yearbooks, photos
Harrison Memorial Library

Programs, ephemera, photos.
Pacific Grove Museum of Natural History
Publications and Ephemera from the Early Chautauqua Society in Pacific Grove.
Seaside Art and History Commission
Cultural Diversity - History of Seaside, civil rights and black history programs, ephemera, photos.
Monterey Museum of Art
E. Charlton Fortune/Msg Brennan Archive, Betty Hoag McGlynn Archive of California Art
Fort Ord Collections and Archives
Collection of Fort Ord Newspapers, and basic training yearbooks.
Diocese of Monterey Archives
Original Junipero Serra Sacrament books, cir. 1770, miscellaneos ephemera of early Diocese history.
Monterey History and Art Association, Mayo Hayes O'Donnell Library
Col. Fitch items, books, large panarama photos, Jacks sword, Washington Hotel Ledger.
Cooper-Molera Adobes
Archeology Room, artifact displays.
Monterey County Free Libraries
Early photographs, turn of the centrury, from MCFL service areas, ephemera, letters, vanished county sites (eg. Pleyto), and WWI items.
Pacific Grove Public Library
Books, documents, maps dealing the history of Pacfic Grove and the library.
Heritage Society of Pacific Grove
Ketcham's Barn, various displays regarding pacific Grove history, especially historic homes.
California State University, Monterey Bay, Library Archives and Special Collections
Material documenting Nancy Elliott's volunteer work with the United Farm Workers from 1972 through 1976. During her time with the UFW, Elliott worked as a reporter and distributor of El Macriado, the official newspaper of the United Farm workers, and this collection includes many issues of El Marciado, published in both Spanish and English, from 1965 through 1976.
FAQs
What are my transportation/parking options for getting to and from the event?
The Archives Crawl will have two zones; Monterey and Pacific Grove. Travel between Monterey and Pacific Grove is approximately a 10 minute drive. From Monterey to Pacific Grove, head north on Pacific Street. Pacific Street turns into Lighthouse Avenue, which turns into Central Avenue at David Avenue entering into Pacific Grove. Parking is indicated on the Passport which should be downloaded when you register. Parking is predominately 2 hours, however there are a few garages that are fee based. All the locations within the zones are walking distance of each other.
How can I contact the organizer with any questions?
If you have any questions, please contact Chalet Booker at 831-242-8743 or by e-mail booker@monterey.org
Do I have to bring my printed ticket to the event?
In order to receive a Passport, we request that participants register for the event, bringing your ticket can help us track visitors. The Passport can be downloaded from our site and brought to the event.
Is my registration fee or ticket transferrable?
Yes.
Is it ok if the name on my ticket or registration doesn't match the person who attends?
Yes.