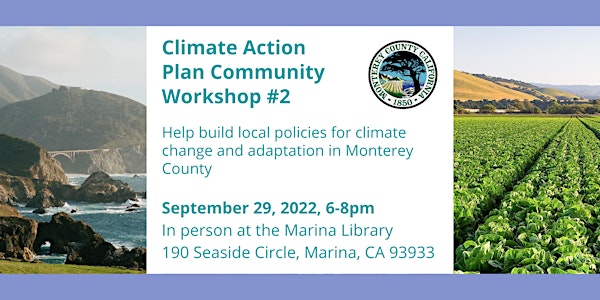 Monterey County Climate Action Plan - Community Workshop 2
The County of Monterey is hosting an in-person workshop about climate change, with a focus on resilience, equity, and adaptation.
When and where
Location
Marina Library 190 Seaside Circle Marina, CA 93933
About this event
Do you want to play a contributing role to create a more resilient, healthy, and connected Monterey County? The County is developing a Community Climate Action and Adaptation Plan (CCAAP) to ensure a sustainable future for the community. We need your input and participation to better understand community challenges and key opportunities with regards to climate change and adaptation.
Join this in-person workshop to:
Hear an update on the ongoing CCAAP process and progress from the project team, including how community feedback has shaped the plan to date
Discuss how we can face and prepare for community resilience issues such as water sustainability and wildfires
Learn about local policies and key collaborations in the fight against climate change
Share your experience, connect and collaborate with other community members, and ideate on the development of the Community Climate Action Toolkit to help all residents get inspired and take action
About the Community Climate Action and Adaptation Plan
The County of Monterey (County) is developing its Community Climate Action and Adaptation Plan (CCAAP) for 2030 with a goal to reduce greenhouse gas emissions by 40% by 2030 in line with the targets set by the State of California. The CCAAP is an opportunity for robust stakeholder engagement amongst the various sectors of the County to select strategies that are the most cost-effective and beneficial for the County in meeting its emissions reductions goals.
The next phase of CCAAP development will involve solidifying key strategies for deep cuts in emissions, addressing community resilience and climate adaptation issues, and aligning efforts across agencies, organizations, and individuals to realize an innovative, healthy, and equitable future for the community.
Monterey County is both a coastal and agricultural community and faces serious potential impacts from a changing climate. The County also includes spectacular environmental oases and is responsible for producing large quantities of the nation's fresh vegetables and fruits. What impacts the Monterey Bay region will impact the country. Every community member has a key role to play as we tackle the climate crisis together. Through evidence-based research and expertise, deep stakeholder engagement, and a focus on inclusion and diversity, the CCAAP will incorporate meaningful and customized solutions and inspire strategic programmatic action.
Language Support
Please let us know by September 23 if you would like to request language support for this in-person event by indicating it in the designated fields during the sign up process. If you would prefer to sign up in Spanish for this event, please use the following page: https://monterey-climate-workshop-espanol.eventbrite.com.