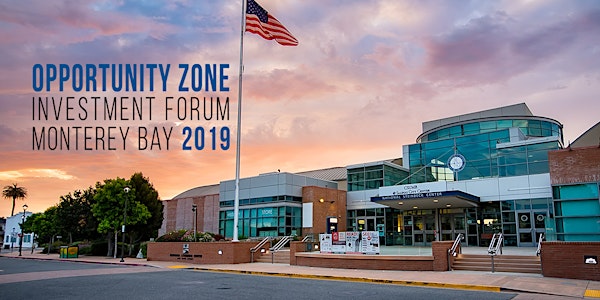 Monterey Bay Opportunity Zone Investment Forum
When and where
Location
CSUMB @ Salinas City Center 1 Main Street Salinas, CA 93901
Refund Policy
Refunds up to 7 days before event
Eventbrite's fee is nonrefundable.
Description
Join the Central Coast Marketing Team member municipalities (City of Marina, City of Salinas, City of Santa Cruz, City of Seaside, Gilroy Economic Development Corporation, Monterey County) for informative morning focused on Opportunity Zone investment opportunities within the Monterey Bay region. This event, scheduled for 8:00am – 12:30pm Friday November 15 at CSUMB Salinas City Center, will feature keynotes from leading OZ thinkers, policy minds and economic developers, and will include presentations from each municipality about the opportunities in their respective zones. The event should appeal to investor, developers, brokers, and others interested in potential of this exciting economic development tool for realizing change in select underserved parts of our community.
Agenda
7:30 AM Registration Opens
7:30 to 8:30 AM Networking Breakfast
8:30 to 8:45 AM MBOZ Kick-Off – Opening Remarks
Honorable Joe Gunter, Mayor, City of Salinas – Welcome to the City and the MBOZ Investment Forum
Josh Metz, Assistant Executive Officer, Fort Ord Reuse Authority/Vice President, Central Coast Marketing Team – Master of Ceremonies for MBOZ conference
8:45 to 9:30 AM OZ Roundtable – Part 1 – California Perspective
Join us for an engaging roundtable discussion with our panel of experts who will share their unique perspectives concerning OZs. We'll hear the latest information from the Treasurer's Office with the State of California and get an update from the founder of CALOZ, an organization dedicated to maximizing the transformative potential of California OZs. We will also learn what are the important OZ legal and process-oriented issues. And rounding out our panel, we will hear from the investment community and how they are looking at OZ opportunities.
Moderator:
Michael A. Houlemard, Jr., Executive Officer, Fort Ord Reuse Authority
Part 1 Speakers
Jovan Agee, Deputy Treasurer, Office of California State Treasurer's Office
Dave Smith, Co-Founder, CALOZ
9:30 to 10:45 AM OZ Roundtable – Part 2 – Nuts, Bolts and Money
Part 2 of our OZ Roundtable will focus on the mechanics, legal aspects and investment perspective associated with establishing, managing and reporting requirements for a Qualified OZ. We will discuss what it takes to be successful, and what the investment community is looking for before they join fund your zone.
Moderator:
Kate Roberts, President, Monterey Bay Economic Partnerships
Part 2 Speakers
Tim Ulen, Partner, Petrinovich Pugh & Company
David Bitner, VP, Cushman & Wakefield
10:45 to 11:00 am Networking Break
11:00 to 12:15 pm Tri-County OZ Opportunity Briefing
This part of the conference will focus on the local OZ sites that offer potential investors with exciting, long term project sites, many which allow for a campus like buildout and are in excess of 50 acres. Each OZ jurisdiction will have 10 minutes to present their OZ and highlight the unique aspects and why investors should want to land at their site.
Moderator:
Presentors:
City of Marina – Matt Mogensen, Assitant City Manager
City of Seaside – Kurt Overmeyer, Economic Development Manager
City of Salinas – Andy Myrick, Economic Development Manager
City of Santa Cruz – Kathryn Mintz, Development Manager
12:15 to 1:30 PM In the Zone – Networking Lunch
Join the zone representatives, active investor, developer and community leaders during a casual informative walkaround networking lunch.
1:30 PM MBOZ Conference Concludes