Description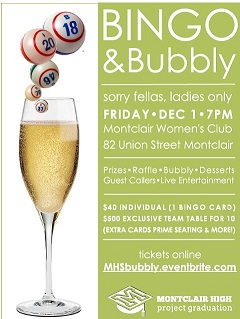 Date and Time:
Friday, December 1, 2017
7pm-10pm

Location:
Montclair Women's Club
82 Union Street
Montclair, NJ 07042

A ladies-only benefit for Montclair High School's Project Graduation

With mistress of ceremonies, professional actor and voice over artist Claudine Ohayon. There will also be surprise Bingo callers throughout the night!

Come out for a fun ladies night of Bingo, bubbly, 'celebrity' Bingo callers, a 50/50 raffle and super prizes all in the name of a good cause- Montclair High School's Project Graduation! Individual tickets are $40.00 and include 1 Bingo card, bubbly and nibbles.
Got a group? Buy a team table! Tables of 10 are $500.00 and include 2 Bingo cards for each player, upgraded beverage service, nibbles and table signage. (Start thinking of your team name now!).
Extra Bingo cards will be available for $5.00 each.
Bring a light dessert to donate to the cause! You're welcome to bring whatever food you would like in addition to what we offer.
Proceeds for the evening will benefit Project Graduation- a supervised, all night party for Montclair High School graduates that begins immediately after graduation and continues until the next morning. This 29 year tradition is an opportunity for the graduates to spend quality time with their classmates in a fun and safe alcohol and drug free environment.