Mont Blanc Expedition 2014

Friday, July 18, 2014 at 8:00 PM

-

Thursday, July 24, 2014 at 10:00 AM (EDT)
Event Details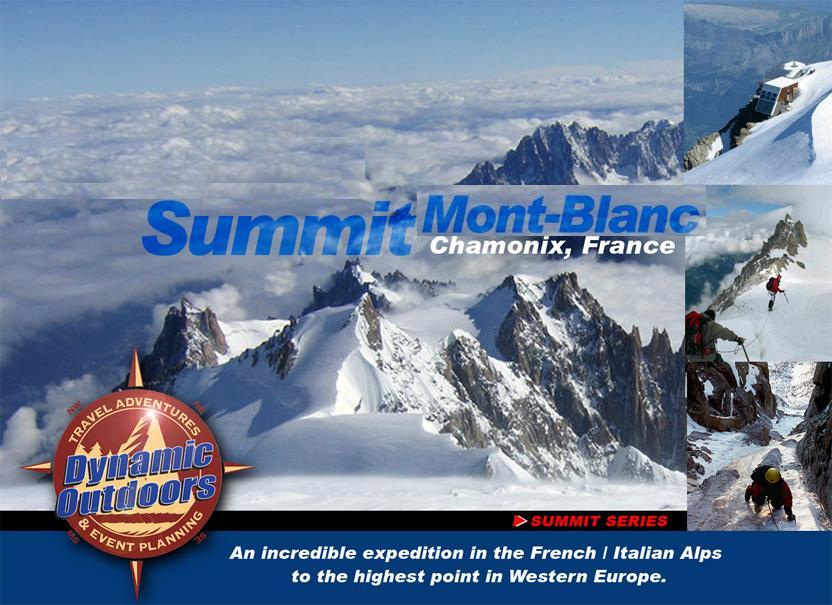 Ascend the Highest Point in Western Europe via the Gouter Route
At 4,810 m (15,781 ft), Mont Blanc is the highest point in the Alps
We will follow the most classic route via the Gouter Mountain hut and the Bosse Ridge

Itinerary:
Friday, July 18 - Depart New York
Saturday, July 19 - Arrive either in Zurich or Geneva, Switzerland
Airport pick up and transfer to Chamonix, France.  Hotel check-in, gear check, and trip briefing
Group dinner in town - Overnight Chamonix

Sunday, July 20
After breakfast, we will take the gondola ride to Nid d'Aigle and hike to the Gouter Hut
Afternoon acclimatization hike above the Mountain hut
Dinner and overnight Gouter

Monday, July 21
Depending on weather, alpine start and summit push
Alternative: training hike above the Gouter hut/ Dome de Gouter
Dinner and overnight Gouter


Tuesday, July 22
Depending on weather, alpine start and summit push
Alternative: training hike above the Gouter hut/ Dome de Gouter
Dinner and overnight Gouter

Wednesday, July 23
Last chance day - depending on weather - alpine start and summit push
Afternoon descent to Chamonix and transfer back to Geneva and/ or Zurich
Overnight Zurich

Thursday, July 24
After breakfast, transfer to airport/ end of program

---
Included:
- All Ground Transportation: Airport pick up/ drop off: Zurich/ Geneva
- Accommodations in Hotel & Mountain Hut: Chamonix/ Zurich
- Gondola Tickets
Not included:
- Breakfast, Lunch and Dinners
- Personal Mountaineering Equipment

Accommodations:
1 or 2 hotel night(s) in Chamonix & Zurich
2 or 3 night(s) in Mont Blanc/ Gouter Mountain Hut

Cancellation Policy:
If you cancel more than 60 days before the date of travel, you would receive a refund minus $200
If you cancel less than 60 days before the date of travel, you would receive 75% refund
If you cancel less than 45 days before the date of travel, you would receive 50% refund
If you cancel less than 30 days before the date of travel, you would receive 25% refund
If you cancel less than 15 days before the date of travel, there won't be a refund possible unless we find replacement for you !
(We always highly recommend to take out travel insurance: www.travelex.com)
Questions / RSVP: igorbass@dynamicoutdoors.com
---
What to Bring/ Pack:
(Full List of Recommended Items - but use your own judgment/ your personal needs)
 
Two simple tenets: Lightweight and Functional. Lightweight equipment
increases your chance of success and helps make you more comfortable.
Functional equipment determines how warm, dry, and safe you will be, so
always choose equipment that is of good quality, is dependable, and is
adaptable to a variety of extreme conditions.

Clothing impacts
not only your comfort but also your safety. Always be critical of the
quality and the proper fit of your clothing. Cotton clothing must be
avoided because it dries very slowly and is a poor insulator when wet.
Instead, choose wool or synthetic fabrics that "wick" the sweat and
moisture away from your skin.

Our recommended clothing system has four layers.
• Base layer: manages moisture and wicks perspiration away from your skin. (Polypro, capilene, driclime)
• Softshell: should be a durable, comfortable, insulating and wind/water
resistant layer that breathes well. The main Softshell fabrics are
Polartec Wind Pro, Gore Windstopper N2S, Schoeller and each clothing
manufacturer has their own. 200 weight fleece can be substituted for
our Soft Shell recommendations but is not as versatile on how it may be
used when layering.
• Hard shell: windproof, waterproof and breathable. (e.g. Gore-Tex, or similar)
• Insulating layer: should be down-fill or synthetic-fill and fit over all layers. (e.g. down, primaloft or polarguard)

These four layers are usually sufficient for most people, but if you tend to
be colder bring one extra medium-layer that would be ideal for extra
warmth around camp, such as a vest. When deciding what to pack,
remember to bring enough clothes and accessories to ensure your safety
and comfort, while not over-burdening yourself with items you probably
won't use.

Upper Body
 Polypropylene t-shirts
 Long sleeve polypropylene shirts, Lightweight, light colored for sunny days
 Women sports bras Synthetic, no cotton!

1 Soft shell (e.g. Mammut New Age, Marmot Dri-Clime Wind Shirt,
Patagonia Stretch Zephur or Krushell Jacket, R2 pullover acceptable)

Down/synthetic sweater (e.g. Mammut/Ajungilak Cloud Series, Patagonia
Puffball Jacket or Sweater preferred, R4 Jacket acceptable)
 Hardshell jacket with hood Waterproof and breathable. Gore-Tex or
equivalent is best, roomy enough to fit over multiple layers. (e.g.
Mammut Motion XCR or equivalent)
 Extra mid-weight layer such as a wool sweater or additional fleece layer
 1 Pair liner gloves Thin wool or polypropylene
 1 Pair warm gloves Fleece or wool
 1 Pair shell gloves/ mittens

Head gear
 Warm hat Wool or synthetic that cover your ears
 Balaclava /  Shade hat or baseball cap

Lower Body
 1 Pair nylon pants Good for trekking or around camp
 2 Pair of liner socks Polypropylene or Capilene
 2 Pair heavy wool/synthetic socks Check boot fit with liner and wool socks on
 1 Pair lightweight long underwear Polypropylene or Capilene
 1 Pair soft shell pants (e.g. Mammut Champ pants, Patagonia Guide pants or Outdoor Research Granite pants) Schoeller fabrics
 1 Pair nylon shorts Running shorts or other quick-drying type, not cotton!
 1 Pair hard shell pants Waterproof/breathable with full side zips, Gore-Tex or equivalent is best.
 Gaiters Make sure they will fit over plastic boots for cimbers. (e.g. OR Crocodiles or equivalent)
 Trekking shoes For the hike to base camp and acclimatization hikes
 1 Pair sandals (optional)

All clothing should be kept dry using waterproof stuff sacks or large plastic bags
(Optional) Single bed sheet or sleeping bag liner
Backpack: 4500-5000 cubic inch capacity, avoid unnecessary options that add weight
Pack cover for protection form rain
Large duffle bag (7,500+ cu. in.) for gear, include small padlock
Small duffel for leaving extra gear at the hotel

Miscellaneous Equipment
Glacier glasses 100% UV protection with side shields,a hard-sided storage case
Adjustable trekking poles (optional)
Personal first aid kit (optional)
Lip balm At least SPF 20, sunscreen At least SPF 40
 Headlamp Petzl Myo3 or Black Diamond Gemini
 2 Water bottles 1 liter wide-mouth Nalgene and 1 bottle holster, or
 Hydration bladder With drinking tube and 1 Nalgene bottle
 Pocket knife Small Swiss-Army type
 Water purification Iodine tablets or Polar-pure crystals
 Toiletry kit Be sure to include toilet paper stored in a plastic bag
 3-4 Large plastic bags For keeping miscellaneous gear dry
 Nylon stuff sacks For food and gear storage (OR has a good selection); large Ziplocs are also useful
Optionals: Bandana,  Camp towel,  Ear plugs,
1 Small stainless steel thermos (optional)
Favorite snack foods No more than 2 pounds!
Optional: Paperback books, cards, I-pod, etc.
Camera (Optional. 1 light weight point & shoot on the mountain
Fanny pack or wallet for travel documents, money & passport
Remember - Passport and passport photos &  Airline ticket

Additional Gear for Climbers
Alpine climbing harness Must have adjustable leg loops and fit over all
clothing (e.g. Mammut Alpine Light, Black Diamond Alpine Bod w/gear
loops)
1 Locking carabiners Large, pear-shaped carabiner is best, screw gate type recommended.
2 Regular carabiners (e.g. Mammut Standard Wiregate or BD Hot Wire are recommended)

Ice axe w/leash Light weight (e.g. Grivel Air tech or Black Diamond
Raven) under 5'7" use 60cm, 5'7"- 6'2" use 65cm, over 6'2" use 70cm.
 Plastic mountaineering boots (Koflach Arctic Exped, Lowa Civetta, or Scarpa Alpha)

Crampons, anti-ball plate, and repair kit Must be fit to plastic boots
prior to trip, new-matic type recommended (e.g. Grivel G12 [new matic
or classic], Black Diamond Contact Strap, or Charlet Moser VASAK
Flexlock)
Climbing helmet Adjustable, should fit with hat on
Perlon cord 30 feet of 5-millimeter perlon cord for prussik material, do not cut prior to trip!
1 Down parka with hood

1 Pair modular expedition shell mitts OR Pro Mitts. If they do not have
wrist straps consider sewing one on so that you can either attach it to
your jacket or cinch the strap to your wrist so that you do not loose
your mittens in high winds.
 Face mask (optional)
Questions / RSVP: IgorBass@DynamicOutdoors.com
When
Friday, July 18, 2014 at 8:00 PM

-

Thursday, July 24, 2014 at 10:00 AM (EDT)
Add to my calendar
Organizer
Dynamic Outdoors
We are an energetic and friendly club dedicated to offering the best outdoor adventures. All of our events are designed to ensure that everyone is involved and has a great time. Whether it is hiking in a lush forest, canoeing down a crystal clear river or galloping on horseback along the sandy beaches, we offer a personalized approach so that you gain the most out of each trip. Our goal is to provide a simple, convenient way to escape the concrete jungle for a day of fresh air, fantastic views and memorable interaction with other like minded individuals who share a passion for the outdoors.