Description
WELCOMING CHICAGO BEARS FANS TO THE MONSTERS OF METLIFE TAILGATE 2!!!

Beers are all iced up! See you in the a.m.! We'll be in Lot L4! You'll see the BEARS FLAGS FLYING HIGH!

Text me if you have any issues finding us.
Bear Down! 203-984-9933 - Stroker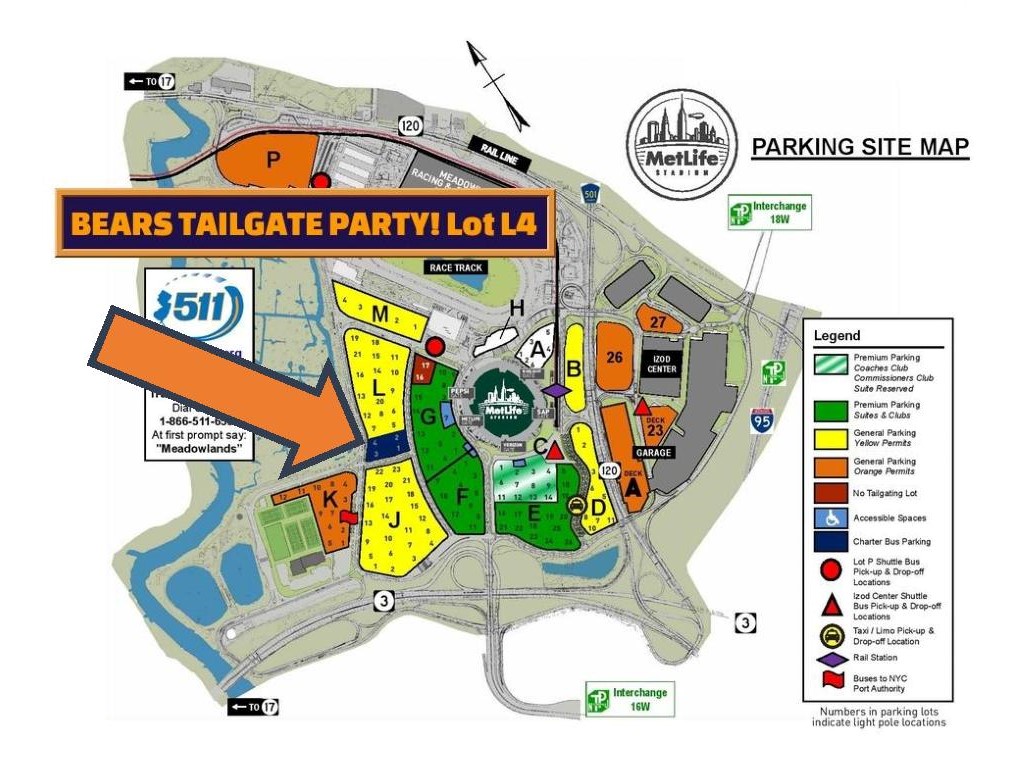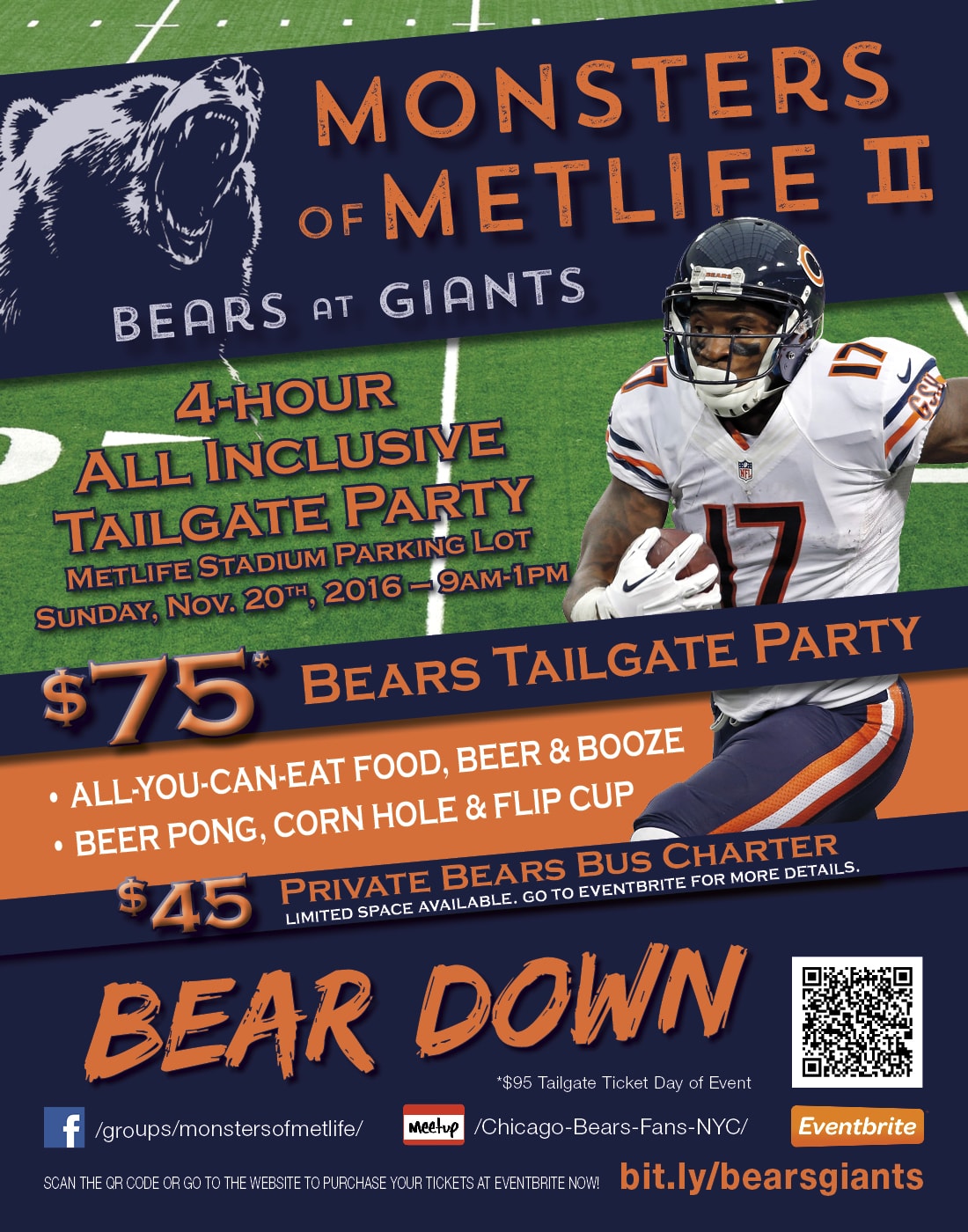 TAILGATE PARTY DETAILS (WE WILL MOST LIKELY BE IN BUS PARKING LOT L4)
We will be setting up in the bus parking area of Giants Stadium Lot L. (We'll text, tweet, Instagram, and facebook the exact details that morning when the parking lot opens) You should be able to see all the BEARS FLAGS flying high.

We will have a 4-Hour, All You Can Drink and Eat Party Plus We Have A Professional Tailgate Setup Including:
-BEARS FLAGS -KEGS -BEER PONG -FULL BAR - CORN HOLE - FLIP CUP
- BEER KEG TAP SYSTEM - TENTS - GRILLS -ICE - etc.

BEARS TAILGATE PARTY (4-HOUR, ALL YOU CAN DRINK BEER, BOOZE, and EAT) - $75

We Continue to Get Bigger and Better Every Year and This Tailgate Will Be Epic! We have bartenders and chefs ensuring you don't have to do anything but enjoy the party! There will be Kegs, Bartenders, Chefs, Beer Pong, Corn Hole, Tents, Sodas, Water, Burgers, Brats, Vegetarian Options etc. Trust me! This is the best tailgate party setup you've ever seen!

TAILGATE PARTY (Kids/Non-Alcoholic) - $50 We welcome young Bears fans and other non-drinkers too.

NEW- PRIVATE BEARS BUS CHARTER - $45 (Limited to first 56 people)
Due to demand we chartered a private luxury bus! I'll pack it with BEERS and It will go directly to the BEARS TAILGATE PARTY and then will take us safely home after the victory! The bus has a BATHROOM and should be much nicer than mass transit. BUS LEAVES OVERLOOK BAR (44th bet. 2nd and 3rd) around 8am to come directly to the BEARS TAILGATE PARTY. Tickets limited to the first 56 BEAR FANS! Buy your tickets now!
BEAR DOWN!
FAQ's
Do I need to print out my Tailgate Ticket eventbrite purchase?
No. We have an electronic list, so you should be all good. It never hurts to have a backup for all those who buy last minute though.
Where is the BEARS TAILGATE PARTY?
We should be in the charter bus parking lot L4, but we won't know exactly until they open the parking lot. We will then post the location on Eventbrite, and Facebook. You will see all our BEARS Flags on 25' Flag Poles!
Where can I join the MONSTER OF METLIFE 2 facebook group to find all the details?
Is there a BEARS FAN SECTION GAME TICKET?
No, but we are working on it. The Giants don't do group tickets, so everyone has to buy their game tickets somewhere else.
Does the Tailgate ticket price include entry to the game?
No. You have to buy your game ticket somewhere else.
Can I come to the BEARS TAILGATE PARTY even though I already have game tickets somewhere else?
Absolutely! The more BEARS Fans the better!
Can I show up at the Tailgate party and buy a Tailgate Ticket there?
Yes. Sometimes there is an extra fee, but we always have enough beer and food for walk ups. Please bring cash because sometimes the credit card readers don't work.
My friends are not a BEARS fans can I bring them?
As long as they know that they are at a BEARS Party and aren't jerks, we're open to all fun party people.
Are there refunds if I can't make it to the events?
No. We have to plan food and drink in advance for the people committed and we are buying the tickets from the teams in advance and the don't refund us, so since we can't get refunded we can't offer refunds to you.