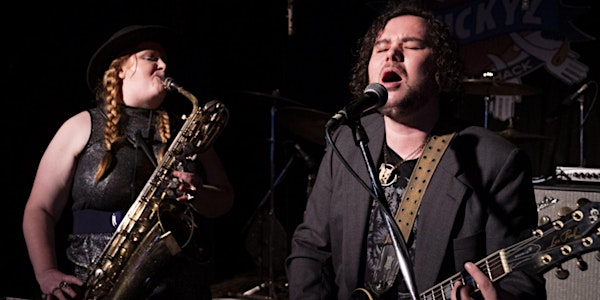 Monsterboy LIVES at TXAR House
Monsterboy LIVES will be playing some of their favorite originals and covers at the TXAR House barbecue restaurant.
When and where
Location
TxAR House 300 South 1st Street Rogers, AR 72756
About this event
Monsterboy LIVES, Little Rock AR - Husband and wife multi-instrumental duo who charm audiences one stage at a time. Their music fills the space between indie pop and alternative rock, combining old instrumentation with new production elements. Their show embraces the energy of Sonny and Cher, with light-hearted banter and energy that can only come from still being love-sick fools after 17 years of marriage. The pair have graced the stages of Nashville to Austin, from 40-person SoFar Sounds shows to events with 10s of thousands of attendants.
Chris Long was raised on the blues of the Delta South, picking up every instrument in those garage rock jam sessions. Veronica Wirges is a classically trained saxophonist and pianist with a love for world music percussion. Musically, it is as odd of a match as you could marry. So that is what they did, quite literally. They met, fell in love, and said I do.
Veronica feels a kinship with the quirkiness and sonic complexity of antique instruments, such as a 100-year-old 5-ft-tall bass saxophone and a 1930s Silvertone Accordion. While Chris harnesses the warmth of vintage keys and guitars from the 1960s-1990s. By integrating these iconic sounds with the modern-day intermingling of genres, world percussion, and found sound samples for beat making, they create their signature vibe.
As straight-passing members of the LGBT+ community, they find their selves with a foot in two worlds. Their work is centered around the journey of finding one's happiness and truth in a world clinging to labels. Their music speaks to hopeless romantics, band nerds, and creative spirits.