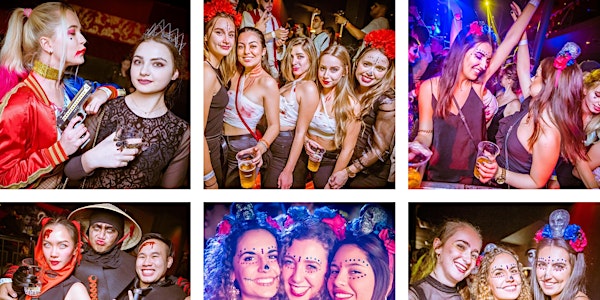 MonsterBall21.Com - NYC's Biggest Halloween Party @ Palladium Times Square
For Discounted $50 Tickets & More Info : www.MonsterBall21.com
When and where
Location
PALLADIUM TIMES SQUARE 1515 BROADWAY New York, NY 10001
About this event
Limited $50 Discounted Tickets Available @ www.MonsterBall21.com
Price increase warning: The Monster Ball ticket prices will go up significantly(100% +) the closer you get to the event date. Get your tickets now, this annual party has sold out 6 YEARS IN A ROW!
The Monster Ball concept and event was founded in 2013. It is the largest Halloween event in New York City with over 3,000 people attending each year. The Monster Ball concept and event have grown massively since our inception.
For the last 7 years The Monster Ball has Dominated and Revolutionised Halloween by throwing the most outrageous party in NYC! The event has sold out every single year, and this year will be no exception! The 7th Anniversary of Monster Ball season promises to be bigger & better than ever, with more prizes, sexier & wilder acts, and a selection of the top local and international DJs!
Join us on Saturday October 30th at Time Square's most popular event space Palladium.
Halloween Weekend 2021 in NYC is shaping up to be one of the most insane holidays of the year. Remember going door-to-door trick or treating every Halloween? Well the impressive grown up version is clubbing for Halloween! Except the costumes are wilder & dollars are up for grabs @ Palladium Times Square, not to mention the DJs are some of the most famous performers in NYC.
You are cordially summoned to join Manhattan's beautiful angels, demons and the lost ones in between as we delve into the opulent world of incomparable hedonistic revelry at its finest. Deep within the inner sanctums of Times Square's most divine mega event space rises The Monsters Ball 2021, an event that will surely be the talk and toast of the New York City. Lose yourself surrounded by decadent debauchery, hellfire energy, sinful escapades and naughty masquerade.
The Monsters Ball and Costume Party is going to be one of the best events going on this Halloween season in New York City ! The party will take place at the world famous Palladium Times Square, one of the most fashionable event spaces in the heart of Times Square NYC! The venue's decor has been described as "high fashion," and it even has a run way that goes down the entire room, so you're gonna want to make sure that you come up with the best costume you can! Who knows, you may even take home a prize for best costume!
Nightlife's foray into Halloween's signature diabolical mischief and mayhem behind the velvet ropes is surely not for the timid or the faint at heart! Highlights include:
*Trick or Treat! Costume Contest with Cash Prizes For Best Costumes
* Live Performance by a world renowned DJ's spinning sets on a state of the art sound and intelligent lighting system
* Immense 50,000sf layout with access to 4 areas, multiple dance floors, expansive bars and high soaring ceilings
...and our very own photographers to capture all the shameless mischief-making one weekend can handle!
GENERAL ADMISSION :
Costume Contest with Cash Prizes For Best Costume
Featuring a Celebrity DJ performance
All sales are final. Tickets are non-refundable.
ROYAL VIP ADMISSION :
All the benefits of Guest Admission ticket holders plus
VIP Priority Admission on a separate VIP line
All sales are final. Tickets are non-refundable.
Just a friendly reminder of our dress code policy: Costumes Are Required!Any Ticket holder unable to present valid identification indicating that they are at least 18 years of age will not be admitted to this event, and will not be eligible for a refund.
Please note that buyers will not receive hard tickets with WILL CALL purchases/delivery methods. The buyer's name will be added to the WILL CALL LIST. Valid ID is required for WILL CALL LIST verification.
Refund and Exchange Policy. There are NO REFUNDS and NO EXCHANGES. All ticket sales are final. These Tickets Can't Be Re-Sold.
Per the New York City "Key to NYC" vaccine mandate, this event will require patrons to show proof they have received at least one dose of a vaccine authorized by the US FDA or by the WHO prior to entry into the venue.