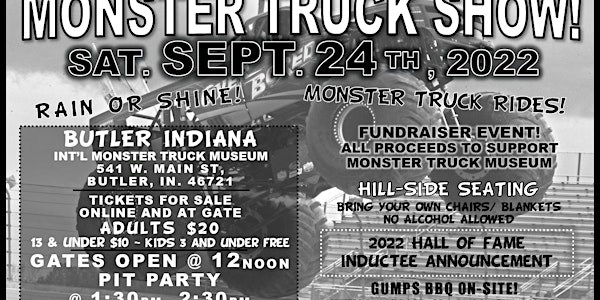 MONSTER TRUCK SHOW!
MONSTER TRUCK RIDES! FUN FAMILY ENTERTAINMENT! RAIN OR SHINE EVENT!
When and where
Location
International Monster Truck Museum and Hall of Fame 541 West Main Street Butler, IN 46721
Refund Policy
Contact the organizer to request a refund.
Eventbrite's fee is nonrefundable.
About this event
𝐒𝐀𝐓𝐔𝐑𝐃𝐀𝐘 𝐒𝐄𝐏𝐓𝐄𝐌𝐁𝐄𝐑 𝟐𝟒𝐓𝐇, 𝟐𝟎𝟐𝟐
𝐌𝐎𝐍𝐒𝐓𝐄𝐑 𝐓𝐑𝐔𝐂𝐊 𝐒𝐇𝐎𝐖!
𝐹𝑈𝑁 𝐹𝐴𝑀𝐼𝐿𝑌 𝐸𝑁𝑇𝐸𝑅𝑇𝐴𝐼𝑁𝑀𝐸𝑁𝑇! 𝑅𝐴𝐼𝑁 𝑂𝑅 𝑆𝐻𝐼𝑁𝐸 𝐸𝑉𝐸𝑁𝑇!
𝐴𝐿𝑆𝑂 𝑅𝐼𝐷𝐸 𝐼𝑁 𝐴 𝑀𝑂𝑁𝑆𝑇𝐸𝑅 𝑇𝑅𝑈𝐶𝐾!
TRUCKS - OVER BORED, WILD SIDE, TUFF ENUFF, COUNTY MOUNTY, BOOTLEGGER, COUNTRY STRONG, INVADER-1, AND MORE!
𝘍𝘜𝘕𝘋𝘙𝘈𝘐𝘚𝘌𝘙 𝘌𝘝𝘌𝘕𝘛! 𝘈𝘓𝘓 𝘗𝘙𝘖𝘊𝘌𝘌𝘋𝘚 𝘛𝘖 𝘚𝘜𝘗𝘗𝘖𝘙𝘛 𝘔𝘖𝘕𝘚𝘛𝘌𝘙 𝘛𝘙𝘜𝘊𝘒 𝘔𝘜𝘚𝘌𝘜𝘔
𝐺𝐴𝑇𝐸𝑆 𝑂𝑃𝐸𝑁 @ 12 𝑁𝑂𝑂𝑁
𝑃𝐼𝑇 𝑃𝐴𝑅𝑇𝑌 @ 1:30 𝑃𝑀 - 2:30 𝑃𝑀
𝑆𝐻𝑂𝑊 𝑆𝑇𝐴𝑅𝑇𝑆 @ 3𝑃𝑀
𝑇𝐼𝐶𝐾𝐸𝑇𝑆 𝐹𝑂𝑅 𝑆𝐴𝐿𝐸 𝑂𝑁𝐿𝐼𝑁𝐸 𝐴𝑁𝐷 𝐴𝑇 𝐺𝐴𝑇𝐸
𝐴𝑑𝑢𝑙𝑡𝑠 $20 ~ 13 & 𝑢𝑛𝑑𝑒𝑟 $10 ~ 𝐾𝐼𝐷𝑆 3 𝑎𝑛𝑑 𝑢𝑛𝑑𝑒𝑟 𝑓𝑟𝑒𝑒
𝐻𝐼𝐿𝐿-𝑆𝐼𝐷𝐸 𝑆𝐸𝐴𝑇𝐼𝑁𝐺
𝐵𝑅𝐼𝑁𝐺 𝑌𝑂𝑈𝑅 𝑂𝑊𝑁 𝐶𝐻𝐴𝐼𝑅𝑆/ 𝐵𝐿𝐴𝑁𝐾𝐸𝑇𝑆
𝑁𝑂 𝐴𝐿𝐶𝑂𝐻𝑂𝐿 𝐴𝐿𝐿𝑂𝑊𝐸𝐷
𝑩𝑼𝑻𝑳𝑬𝑹 𝑰𝑵𝑫𝑰𝑨𝑵𝑨
𝑰𝑵𝑻'𝑳 𝑴𝑶𝑵𝑺𝑻𝑬𝑹 𝑻𝑹𝑼𝑪𝑲 𝑴𝑼𝑺𝑬𝑼𝑴
541 𝑾. 𝑴𝑨𝑰𝑵 𝑺𝑻,
𝑩𝑼𝑻𝑳𝑬𝑹, 𝑰𝑵. 46721