Actions and Detail Panel
MONSTER MASH "FUN-RAISER"
Sat, January 21, 2017, 10:00 AM – 3:00 PM MST
Description
PLEASE NOTE, THE DATE FOR THIS EVENT WAS CHANGED BECAUSE OF FALL BREAK AT THE SCHOOLS HERE IN UTAH VALLEY. PARTY HAS BEEN RESCHEDULED TO JANUARY 21, 2017. THE TIME WILL ENABLE US TO MAKE IT MORE INCREDIBLE FOR YOU. THANKS FOR YOUR UNDERSTANDING.
____________________________________________________________________________________________________
MONSTROUS HALLOWEEN CARNIVAL FUN!
AAAAGH! HELP! The kids are coming to GET US! They're going to MASH us and SMASH us and take PICTURES of us and CATCH us and THROW HOOPS & BALLS at us and PICK our NOSES and IMITATE us and LAUGH at us and maybe even EAT us! HELP! HELP! HELP!
Family Event. Grab a parent OR Grandparent and come join the fun! This is a "FUN-Raiser" with the express purpose of promoting the role of Grandparenting in strengthening families.
MASH THE MONSTER GAME! RANDOM PRIZES AWARDED THROUGHOUT THE NIGHT!
BEAT THE MONSTER GAME! MONSTROUS ENTERTAINMENT!
MONSTER PHOTO BOOTH!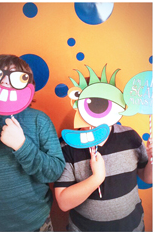 MONSTER COSTUMES! Children should dress up as a monster! Adults are encouraged to do the same, but it is not a requirement.
MORE DETAILS COMING! FUN FOOD WILL LIKELY BE ADDED SO YOU CAN HAVE LUNCH OR POPCORN, COTTON CANDY, ETC. COME HAVE A FUN DAY!
*Graham Cracker Club will be donating a portion of the proceeds to the Boy Scouts of America. We thank them for the use of their facilities.
Date and Time
Location
Boy Scouts of America, Utah National Parks Council
748 North 1340 West
Orem, UT 84057