Multiple Dates
Monroe County Opioid Epidemic, Overdose Awareness, and Naloxone Training
Want to learn about the Opioid Epidemic and understand how you can help? Sign up for one of our classes and get a free Narcan kit.
About this event
The Opioid Epidemic spanning our nation is impacting every community. People of all ages, ethnicities, and backgrounds are dying from an opioid overdose. Over 100,000 people died in the United States in the last year from an opioid overdose. You may be surprised to hear a lot of them did not even know they were using opioids.
Join our class and learn about the Opioid Epidemic, learn how it is impacting your community, learn about the addiction cycle and the physiological changes addiction has in a person's body, learn how Naloxone works to reverse an overdose, and learn how you can help save lives. Everyone will receive a Narcan kit at the end of the training and be taught how to use it.
Unable to make it in-person?
Take the training ONLINE!
Complete the digital training at www.getnaloxonenow.org
Send your address and certificate of completion to IMPACT@Monroecounty.gov
IMPACT will coordinate pickup or delivery of your free Naloxone kit.
*For Monroe County Residents Only*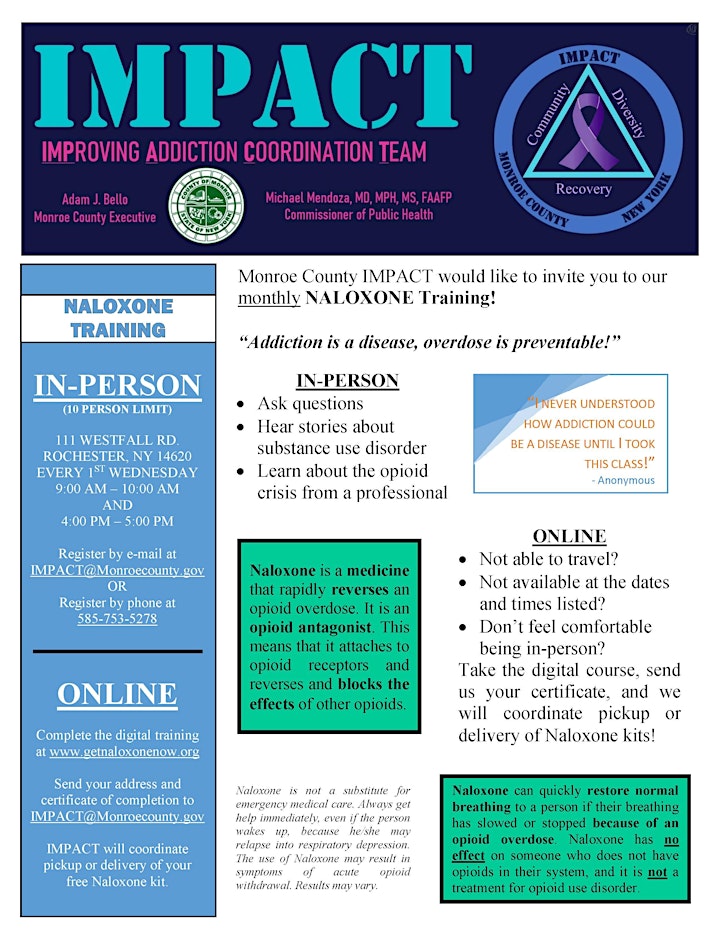 FAQ
What if I do not have transportation for the event?
If you do not have adequate transportation to the event, please contact IMPACT at 585-753-5278 or IMPACT@MonroeCounty.gov to see if arrangements can be made for transportation.
I have special equipment or items I need to be comfortable, can I bring them into the event?
You can bring anything you need to be comfortable throughout the session. Make sure you communicate to IMPACT at 585-753-5278 or IMPACT@MonroeCounty.gov if any equipment will take up a large amount of space, need a nearby outlet, or if you need help bringing anything into the training room in order to better accommodate your needs.
How can I contact the organizer with any questions?
Team IMPACT can be reached at 585-753-5278 or IMPACT@MonroeCounty.gov
Do I have to bring my printed ticket to the event?
We encourage you to bring your ticket to ensure we know what special accommodations you need and to keep an accurate participant record. If you forget your ticket on the day of the event we can look up your information, it just takes more time.
Can I update my registration information?
Yes you can. Registration information can be changed at any time before the event.
Organizer of Monroe County Opioid Epidemic, Overdose Awareness, and Naloxone Training