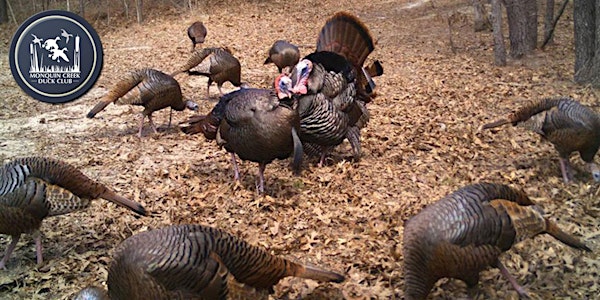 Monquin Creek 2016 Spring Turkey Youth Hunt
When and where
Location
Monquin Creek 1037 Old Newcastle Rd Manquin, VA 23106
Description
Monquin Creek Outfitters 2016 Spring Youth Turkey Event April 2nd & 3rd.
This event has been established to encourage adults to take a child out turkey hunting. This will give the child a chance to share in the excitement of hearing a turkey gobble or see one strutting with hens. And to learn more about hunting turkey.
Because this event has grown in size the last couple years, we are asking parents to take some of the children on property they currently hunt now. This will help increase the chance for success because they are familiar with their hunting area
If the parent can't take a child we will try our best to pair them up with a guide that can take them in their area (but we can't guarantee a guide). With the number of children we have coming we can no longer have enough land to take all the children out for a hunt on our property. So we need to the parents to communicate with us the situation prior to the event regarding the hunt.
On April 2nd we are going to host up to 150 children at Monquin Creek Dairy Farms after their morning hunt from 11 am until 1pm. We will have lunch for the children, guides and parents. The children will receive goodie bags, tee-shirts, have photos taken and a chance to win some prizes. The children need to be pre-registered to participate in this event because we will only have enough for a maximum of 150 children.
Photos will be taken of all the youth hunters that participate and used for marking pourposes for Monquin Creek Outfitters--please bring this signed waiver (PDF) with you to the event.
On April 3rd you can contact Chip to get a turkey registered between 11am and 1pm. You can also send us a photo of the child with their turkey so they can be recognized and please have them wearing their Monquin Creek Youth Hunt tee-shirt
• Note: Parents or guardians must print, fill out, and bring with them the Event Waiver (PDF)
If you have any questions e-mail us at: monquincreekoutfitters@gmail.com