Monologue City

Thursday, July 17, 2014 from 7:30 PM to 9:30 PM (EDT)
Event Details
 Atlanta's Top Monologue Competition
 "The 2nd Annual Monologue City"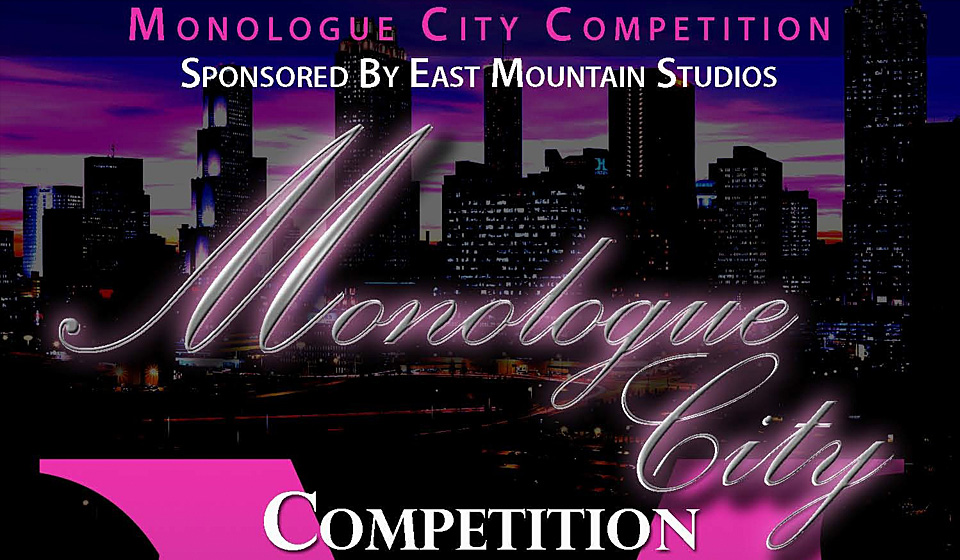 Come out and watch Atlanta's Top Artist Perform their Best Monologue !!
If you thought the first year was a bang, you have not seen anything yet! 2014 will be a blast ! Participants will compete for Cash and a Trophy.
 Monologue City is our way of showing our appreciation for the art of Acting. The competition will showcase your talent and allow you to receive feedback from top industry professionals such as casting directors, acting agencies and more. 
Tickets are only $12.00 in advance and $17.00 at the door  LIMITED SEATS
DEBUT Performance By LOVE & HIP HOP "CHE MACK"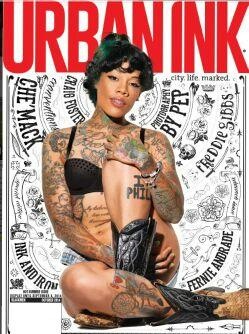 Currently on the front cover of Urban Ink 
 MEET OUR TOP INDUSTRY JUDGES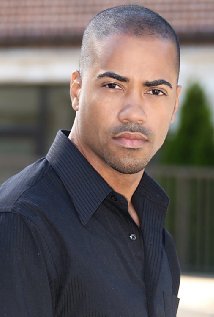 Brad James an Atlanta native is best known for his role as Todd in the sitcom Tyler Perry's For Better or Worse.He has appeared in many commercials for national brands including Walmart, AutoTrader.com and Blackberry. In 2013, He won the Georgia's "Best Actor" award at the Georgia Entertainment Gala.His passion to achieve greatness in the entertainment industry became clear to him a long time ago while finishing up a tour of duty in the Marine Corps. Having a natural knack for teaching acting through his company ,"The Actors Stage," his gift of teaching became a cathartic space of growth and creativity that produced several working actors, directors, and writers in the Atlanta area.Brad James is more than just a talented actor. In addition to his acting, Brad is also a writer, producer and director.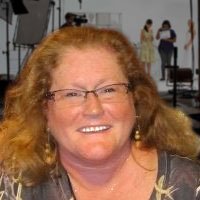 Cheryl Louden-Kubin CSA -  owner of The Atlanta Casting Director, has over 20 years of casting in the South.  This phenomenal women had truly earned her stripes in the industry.She understands what producers need and brings them the right talent. A Proven Track Record -  her credits include major hits, major studios, and major casts.  Her casting company has received awards, including a CLIO, and their projects are littered with trophies  such as Emmys, Golden Globes, and People's Choice Awards. 


Keith Franklin

,

the Artistic Director of New African Grove was born in 
Atlanta,Georgia. He attended Georgia State University where he studied
 Theater. New African Grove

 company was founded to encourage African-American participation and 

involvement in a community theater group that
 spoke to their cultural ascetics in the Atlanta area. Before he became the
 artistic director of New African Grove he 

concentrated on acting and 
directing in the metro-atlanta

.




Sanedria Potter,

Founder and President of FastLane Pictures,
 LLC, a company that develops TV/FILM/STAGE projects. 
Sanedria 

Potter is without a doubt one of the most passionate 
personalities in the entertainme

nt in

dustry. She is a multi-talented powerhouse. This 

North Carolina born, author is the writer of 
"Behind the Pulpit"  a book she was compelled to do.

 Currently
 she is creating several Television Pilots 

and 

developing 
Screenplays. Her 

film "Split Decision", which 

tackles the issues 

of 
the HIV virus in relationships, was screened 

at the 
Women of Color Arts and Film Festival and The Texas Law
 Enforcement Commission, added it to their HIV Training curriculum. Her latest screenplay, which chronicles the life of one of the members of the Legendary OJay's, is currently in development with  some great talent attached.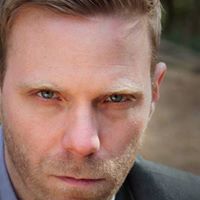 Brent  Brooks is an award winning director and author. Brent owns and operates Blank Stage Productions, a full service video production company in Marietta Ga. Brent mentors screenwriters through "The Blank Page" and runs "Under Budget", a fast track meeting for producers. He is currently the co-founder of Atlanta's top industry networking event "Get Connected."
Congratulations to Monologue City Last Years Winners 
Youth -Jada Simone 
Adult -Monceilla Elder
 For entry in Monologue City register at blakevision.com
Children 6-11 $25.00
Teenagers 12- 17 $50.00
Adults 18- 100 $75.00
All contestants must register at Blakevision.com. Eventbrite is for purchasing tickets ONLY. 
Winners will be Featured at "Surge"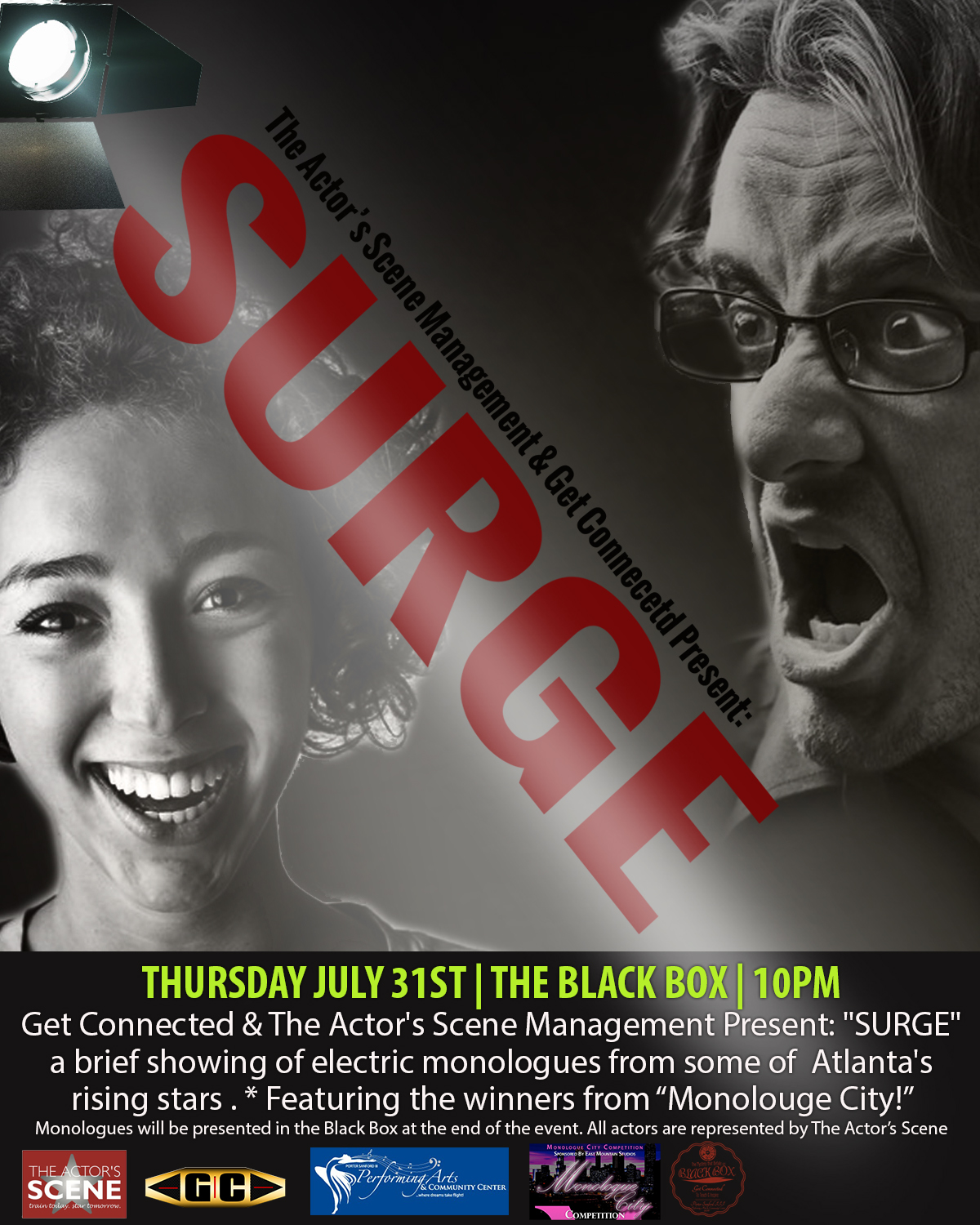 This will be a breath-taking event! A night of Glitzs and Glam, an event that will truly be unforgettable for family and friends. If you haven't been to Monologue City, you haven't been to one of Atlanta's Top Theatrical Shows.
  GET YOUR TICKETS NOW, LIMITED SEATS
Tickets are only $12.00 in advance and $17.00 at the door
For group discount tickets call 678-668-1376
 We encourage paper tickets for this event.
We Thank you in Advance for your purchase !
Contact 678-668-1376
Organizer
Monologue City
BLAKE VISION ENTERTAINMENT (BVE)  is a full service production company that works closely with it's community