Description
"Although the source of her inspiration is very particular--the Latina lesbian experience--the impact of her humor is definitely universal" — LA Times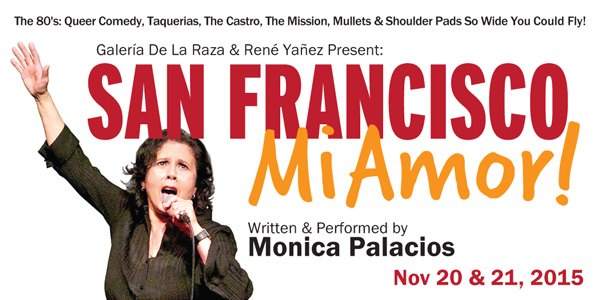 Monica happily reunites with René Yañez and the Galería De La Raza for a production of, San Francisco, Mi Amor!, a comedic look back at a groundbreaking career during a remarkable time in LGBTQ and Chicana history.
Renowned Chicana lesbian writer/performer Monica Palacios returns to the city by the bay, the birthplace of her queer comedy career with her new work in progress: San Francisco, Mi Amor!, produced by Galería De La Raza and Artist René Yañez. San Francisco, Mi Amor! is a homecoming to Monica's 1980's: San Francisco State, Gay Comedy Night at the Valencia Rose Cabaret, lusting for women making her burritos at Taqueria La Cumbre, performing comedy during the AIDS crisis, waitressing at Pier 39, birthing the comedy troupe Culture Clash, meeting and auditioning for Edward James Olmos on 24th Street, grooming her mullet and mucho mucho mas!
After 3 decades, Los Angeles based Monica Palacios comes home to the Mission District's iconic Galeria De La Raza, where she performed as a solo artist during the 80's and co-founded the Latina/o comedy group Culture Clash, brought together by artist/producer Rene Yanez who was curator of the Galeria during this time. San Francisco's Mission District was a hot spot for this blossoming lesbian comedian performing at what are now historical queer venues on Valencia Street such as the Valencia Rose Cabaret, ground zero for the Queer Comedy Movement; Artemis Cafe, a lesbian restaurant and space; and Amelia's, a lesbian bar. Monica and a handful of LGBTQ comics were boldly out on stage despite the homophobic atmosphere present as AIDS made headline news. Palacios stood out amongst her peers with her unique brand of Chicana lesbian humor focusing on nationality and sexuality in one breath.