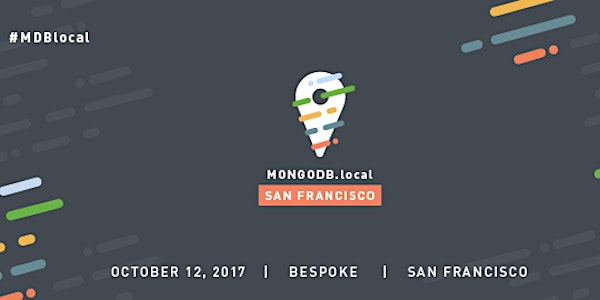 When and where
Location
Bespoke San Francisco Westfield San Francisco Centre, Level 4, #450A 845 Market St. San Francisco, CA 94103
Refund Policy
Contact the organizer to request a refund.
Description
MongoDB is coming to San Francisco! Join us for a one-day educational conference covering the fundamentals to advanced techniques of app design and performance management. You'll hear from the team that builds the database, including CTO and Co-Founder Eliot Horowitz, and power users running some of the largest MongoDB deployments in the world.
What You'll Learn
Get insight into building applications with MongoDB Stitch, MongoDB's Backend-as-a-Service
Learn to deploy, operate, and scale your database on all cloud platforms with MongoDB Atlas
Be the first to benefit from what's coming in MongoDB 3.6
Learn best practices from the experts on topics including schema design, analytics, microservices, performance, and more
Register for a day of hands-on, deep-dive technical sessions, equipping you with the tools you need to build and deploy your giant ideas.
Coming from the South Bay? Enjoy complimentary transportation to and from the event in a Wi-Fi enabled MongoDB bus leaving from the San Jose Diridon Caltrain Station, 65 Cahill St, San Jose, CA 95110. The bus will leave the Caltrain station at 7:00am and depart the venue at 5:30pm.
New to MongoDB, or need a refresher? We offer jumpstart sessions to help you get up-to-speed on key MongoDB concepts.
Admission includes breakfast, lunch, access to all sessions, sponsor hall, and the closing reception. Space is limited. Reserve your spot today.
---
Cancellation Policy:
To cancel your order, send your request to events@mongodb.com. Full refunds will be granted through August 15, 2017 via the original payment method. 50% refunds will be granted through September 30, 2017. After September 30, 2017, refunds will no longer be granted. Event registration may be transferred to another participant.