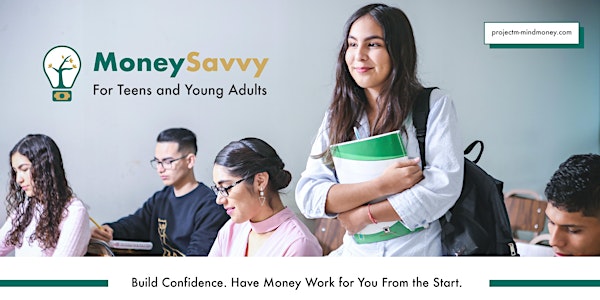 MoneySavvy for Teens & Young Adults Class
Financial education for high schoolers & college students. Equip them with solid life skills to thrive in the new world!
Refund Policy
Contact the organizer to request a refund.
Eventbrite's fee is nonrefundable.
About this event
For Parents:
What is your biggest wish for your child as they transition into adulthood?
If you are like most parents, you would probably say "I wish they will be happy & successful."
I'm with you! As a mom, I also want my kids to lead a happy life. While money can't buy happiness, it is in all parts of our lives that ignoring or avoiding the mastery of money can make our lives a bit harder.
Academic rigor is prevalent in our modern society, but most kids enter college without having had any formal financial education. They are somehow expected to just "figure it out" on their own.
What if ….there is a better way to help them get started on their life journey?
What if ….we give them the opportunity to learn and master the management of money and finances so that they don't have to learn it the hard way?
Imagine …with the internal confidence they gain around finances, how much more freedom they will have to choose career and pursue their dreams!
Gift your child the financial education you wish you had with this online course! Cultivating positive psychology around money is a gradual process and takes time. Help them start building healthy money habits now!
It is my belief that financial education is best learned with parents' cooperation and practice facilitations at home.
--------
For Teens & Young Adults:
Part of Adulting is about managing one's money. This online course is designed to give high schoolers and college students a head start to get ready for the real world. Invest in your future by laying the foundation now!
In this course, students will:
gain a solid understanding of what money is and what money is not. This will be the foundation for building a healthy relationship with money;
acquire the essential skills to manage their finances with confidence and ease
learn to have a better understanding of credit and how to avoid debt traps
transform to become MoneySavvy through the ability to make better choices and the habit of long term planning
This 3-parts course will be delivered over 3 days. The classes will meet on Zoom, with lectures and interactive discussions.
1st class: August 29, 2022 5:30 pm - 6:30pm PST
2nd class: August 31, 2022     5:30 pm - 6:30pm PST
3rd class: Sept 2, 2022 5:30 pm - 6:30pm PST
And since we are talking about money, here is also an opportunity for your kids to earn some money. Learning is always more fun when done with friends. Have your kids invite their friends to join the class. For each friend they refer and sign up for the class, they will receive a $10 reward card of their choice, for helping me to spread the words. There is no limit on how much they can earn. Ask me for a referral code once you have registered for the class.
Note: once you complete the registration and payment, you will receive a confirmation email from Eventbrite. In the Additional Information section of the email, you will find the zoom link for joining the classes.
Refund Policy: In the event that you need to cancel your registration, the request must be made 2 days prior to the start of the 1st class via email to "coaching@projectm-mindmoney.com". There will be a $20 processing fee.
Any questions? Please contact us at coaching@projectm-mindmoney.com.
Watch the video below to learn more about me and why I created this course!