Money Wisdom for Healers. 6 & 7-Figure Divas Want You to Know
Event Information
Location
East Bay Community Conference Center | Building # 353
Frank H. Ogawa Plaza
Oakland, CA 94612
Description
Click HERE for Address & important Location Information
Address also emailed immediately upon registration.
Just around the corner from Ecstatic Dance | Awaken Cafe | Oakland Art Murmur. All Proceeds from this conference center underwrite the philanthropic activities of the East Bay Community Foundation, serving the 2.4 million people of Alameda and Contra Costa counties.
---
FEM Talks Presents:
Monthly Monday Miracle Salon Seminar
with 4 brilliant women:

Sharla Jacobs - "Attract Clients Without Struggle"

Maggie Ostara, PhD - "3 Keys to Creating $500-$5000 More Every Month"

Clara Chorley - "T.U.R.N. Your Business & Income Around Now"

Plus, Creativity Coach and professional dancer, Holly Shaw, will open our evening together with a powerful movement exercise accessing the wisdom of the body in order to generate new ideas and possibilities.
---
Discount Codes
3-Event & 6-Event Discount Passes:

Attend for as little as $16.50 with a discount multi-pass.
Good for any upcoming events. No expiration! Use promotional code, FEMpassYES when you register to get your discount multi-pass.
Maiden & Matron Discount Tickets:

- Young women 16 - 23 yrs
- Women 60 yrs or over
Attend any of our Miracle Salons for $15.00 - Use promotional code, MMYES when you register to get your discount.
---
EVENING PROGRAM
"Attract Clients Without Struggle"
Sharla Jacobs
Co-founder of Thrive Academy
If you know you're meant to serve more people, but struggle to attract enough quality clients to create a thriving practice, then please join special guest and Million Dollar Mentor, Sharla Jacobs as she shares powerful and proven client-attraction secrets to help you make a difference in the world AND make the money you deserve.
Most Coaches, Holistic Practitioners and Heart-based Entrepreneurs really want to serve more people and grow their practice. However, they are missing the key ingredients to attract the right clients and have a heart-based conversation where clients say YES.
In this information-rich presentation you will learn:

The most important system we mastered in our first year to earn $175,000 (FYI, we started with nothing!)
The 3 most common mistakes that sabotage heart-based entrepreneurs from making a real difference and the money they want (and most importantly, how to effectively avoid these mistakes)
The secret to feel great about your rates (even when your sole intention is simply to help people)
What to say when your potential clients tell you they can't afford to work with you (this will turn half your no's into yes's)
Her FREE Raffle giveaway:
A guaranteed Full Scholarship to the Client Attraction Summit - her 2 day business training workshop
---
"3 Keys to Creating $500-$5000 More Every Month"
Maggie Ostara, PhD
Money Mentor

Creating Money is a puzzle not a mystery. Knowledge of how to create money has not been taught to women historically speaking. In fact women have been kept in the dark about how to do this, and women without financial power is a tired, old story. The same is the case for healers who do not fit within the Western medical model, many of whom are women. Once you learn the parts of the puzzle, and how they fit together, you will understand how to create money in any amount, at any time, in any environment. And that is true financial freedom.

What we will learn with Maggie:

o Why it's critical for our world's evolution that women become more financially empowered.
o Why the financial empowerment of healers is particularly significant – and possible!
o The three key pieces to the puzzle of creating money, and what you can do immediately to change your financial situation.


Her FREE Raffle giveaways:
(1) 3 Keys to Greater Visibility and Recognition so that you can create the income you deserve and the impact you have always wanted—free.
(2) Opportunity to win a Snap-shot session with Maggie (usually $97) (three winners)
(3) Creating Money Intensive—paid program as huge discount for FEM Talks women
---
"T.U.R.N. Your Business & Income Around Now!"
Clara Chorley
Career Change Expert
Sometimes we know we need to do something different to grow our business but lack the confidence or clarity to get moving. Time passes and the thing we're most clear about is that nagging sense that something's not quite right. It's time to take a clear look at the changes we need to make.
Professional clarity and enjoyment is largely determined by three things: The belief that what we want is possible. The belief that we have what it takes. The willingness to embrace change.
Signs that indicate you're ready for positive change:
When you know what you want, but feel scared and unclear about how to have it.
When you want something different, but can't seem to get clear about what it is or how to have it.
When you are facing an important professional decision and want to know you're making the best choice possible.
When you ache to tailor your business to your own unique ideas and version of YOU.
Clara's profoundly simple 4-step process: TURN, developed over 20-years of global research, can help.
What we will learn with Clara:
Clarity about what professional changes are needed and the first step you need to take
A simple process you can apply again and again across a multitude of areas your personal and professional life.
Courage and inspiration to make the changes you know are needed.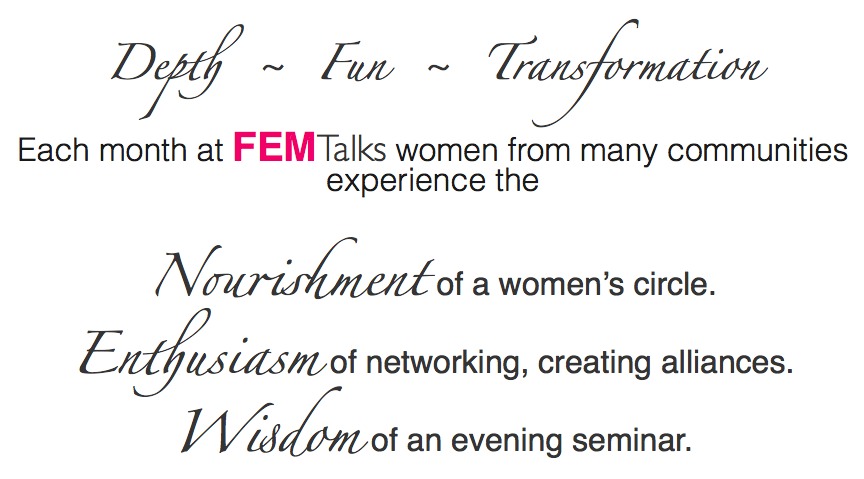 Date and time
Location
East Bay Community Conference Center | Building # 353
Frank H. Ogawa Plaza
Oakland, CA 94612
Organizer of Money Wisdom for Healers. 6 & 7-Figure Divas Want You to Know
Enjoy the radiance of women from many communities gathering together to laugh, celebrate, connect and have fun every month! — Prepare to inspire, and be inspired! — Boost your vision and create alliances. For FEM Talks it's all about the ripple effect; creating waves of practical change by connecting local women leaders. Let's link up to unleash our gifts!
* Uur tickets are 100% tax deductible for business owners. *