Get Ready for Money Talk Expo 2021
About this event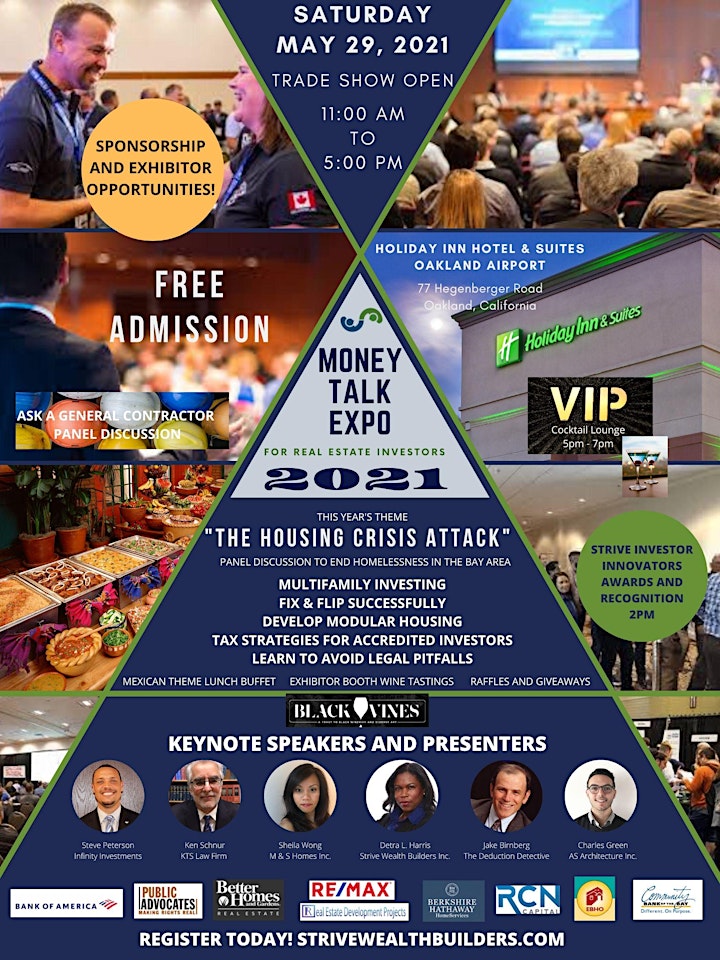 DUE TO COVID RESTRICTIONS, MONEY TALK EXPO HAS BEEN POSPONED TO 2022!
This year's theme "The Housing Crisis Attack" will focus on building gaps between real estate investors and affordable housing advocates. How can we work together to help end the housing crisis in the Bay Area? Join our panel discussion and contribute your suggestions and feedback.
A decent and affordable place to live helps families by freeing them from physical and mental hardships and place them on a path of new opportunity, increased confidence and self-reliance. At Strive, we believe everyone deserves affordable and decent housing regardless of income levels. We believe blended housing is the key to resolving the housing crisis and challenge investors to build and renovate 500 blended units this year. This panel discussion will serve as a conduit to establish a commitment and plan of action. Come voice your opinion. Learn ways to build and renovate affordable housing, increase your revenue and protect your asset.
We have invited Bay Area Affordable Housing Advocates to join our panel discussion, answer questions, provide guidance and important information for Real Estate Investors and Developers when faced with negotiating financing options and construction contracts for affordable housing.
Wait! There's so much MORE . . .
Visit our Website Event Page! www.strivewealthbuilders.com