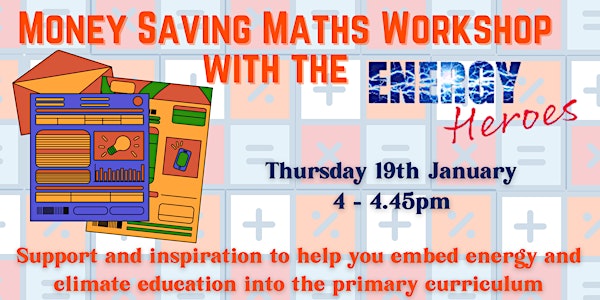 Money Saving Maths with the Energy Heroes
Money Saving Maths Workshop - Sharing Best Practise for Teaching Primary Maths through the Context of Saving Money at School and at Home
About this event
Hello from Energy Heroes,
Winter is here, temperatures are falling and bills are rising!
How do we effectively teach about climate change and energy through the current primary maths curriculum? During this free twilight session, we guide you through a discussion to explore ideas about how we do just that.
During this fully interactive session we will:
- present thought provoking climate change information
- share best practise and ideas about how to teach this content through maths objectives
- hold space to allow your brilliant teacher minds to form new ideas about how to approach money saving at school and at home
- explore the Energy Heroes resources and demonstrate how they can be used in your classroom
Places are limited. If you don't get a ticket this time, make sure you are following our social media channels for the next opportunity:
Instagram - https://www.instagram.com/energyheroesuk/ Facebook - https://www.facebook.com/energyheroes1