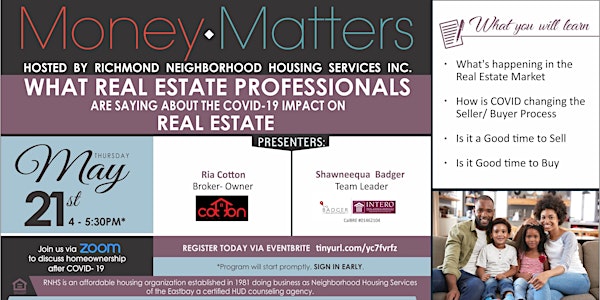 Money Matters Series- How is COVID- 19 Impacting Real Estate Trends for...
Location
Via Zoom
Via Zoom
Richmond
Description
In the mist of COVID- 19 RNHS has created it's Money Matters Series of virtual meetings to address important financial issues that will impact our communities as they adjust and face the realities of the COVID- 19 economic impact.
Join us May 21st as we speak to Real Estate Professionals who share their expertise and insight as it relates to the COVID -19 financial impact on the Real Estate market and address the current real estate market trends affecting the Buyers/ Sellers' market
What you'll learn:
What's happening in the Real Estate Market
How is COVID-19 changing the Buyer/Seller process
What are the RE trends telling US; how can we best prepare
NOTE: ZOOM details will be sent upon the confirmation of your registration.