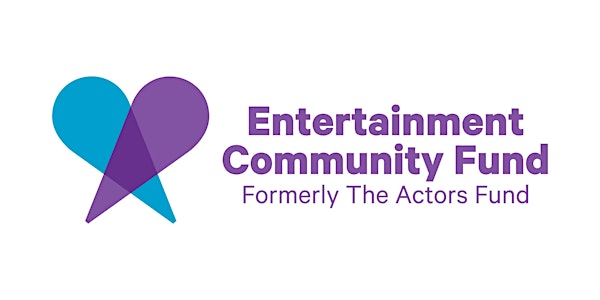 Money Matters: Investing Basics for Creative Professionals - Part 1
Part 1! Learn the basics of investing for creative professionals, including creating a portfolio with limited and variable income.
About this event
Getting started with investing does not have to be intimidating–and it's definitely not just for the wealthy! Join Rebecca Selkowe, J.D., AFC®, Director of Financial Wellness at the Entertainment Community Fund, and David Maurice Sharp, author of The Thriving Artist, for this informative and engaging webinar specifically designed for creative professionals.
In Part 1 of this webinar, you will learn the elements of a sound financial plan, including assessing your comfort level with risk, the basics of different types of investments, and ideas for creating a portfolio with limited and varying income.
In Part 2 of this webinar, we will explore the pieces that comprise our later-life financial resources, including individual retirement accounts, social security income and Union pensions. 
Demystify the jargon and understand how to begin (or continue!) to integrate wealth-building into your financial life. We will also cover what you need to know about investing amid the Covid-19 pandemic.
Helpful Info:
***This workshop will not be recorded. You must attend live to participate!***
Be sure to adjust for your time zone. The webinar presenters are based in NYC, but this event is offered nationally.
Part 1 and Part 2 may be attended in either order. Attendance at both parts is recommended but not required. View upcoming offerings of both parts here.
This event is open only to performing artists and entertainment industry professionals.
Registrants will receive instructions for joining the webinar approximately one (1) hour prior to the event start time.
About the Entertainment Community Fund
The Entertainment Community Fund (formerly The Actors Fund) is a national human services organization that fosters stability and resiliency, and provides a safety net for performing arts and entertainment professionals over their lifespan. Through offices in New York, Los Angeles and Chicago, The Fund serves everyone in film, theater, television, music, opera, radio and dance with programs including social services and emergency financial assistance, health care and insurance counseling, housing, and secondary employment and training services.
About the Financial Wellness Program
The Entertainment Community Fund Financial Wellness Program seeks to engage, educate and empower performing arts and entertainment professionals about the role of money in their lives. Our live workshops support participants with variable, multiple and episodic streams of income in identifying financial goals, developing skills and strategies for organizing expenses and income, beginning to engage in the world of investing, and gaining clarity around debt management and potential repayment and relief options. Through our services, performing arts and entertainment professionals learn to examine the behaviors and thinking patterns that impact their financial habits and begin to align their actions and intentions, increasing their financial stability and overall career and life satisfaction.