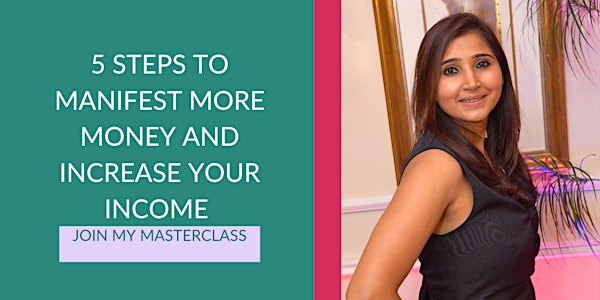 Money Manifestation Masterclass
Ready to change your MONEY GAME?
About this event
Do you watch others around you earning money easily while you slog hard to make ends meet?
Do you get uncomfortable when talking about money?
YOU NEED TO UNDERSTAND MONEY and IMPROVE YOUR RELATIONSHIP WITH MONEY!
YOU NEED TO SHIFT YOUR MONEY MINDSET.
I'm sure you don't want to put it off any longer - That's why we are doing this live masterclass!
During this MASTERCLASS, I'll going through the exact keys and action steps you will need to leap forward in your money manifestations.
I WANT YOU TO ASK YOURSELF A POWERFUL QUESTION..
What would you do in about 6 MONTHS from now if you've manifested extra 20K, 30K per month, you're now EARNING 3X MORE, LIVING YOUR BEST LIFE (While WORKING less?)
Would you... take your family to your favourite holiday that you've been dreaming about? ... spend more time doing things that you enjoy? Or buy things that you previously only wished for?
WE WANT THIS FOR YOU!
DURING THIS (1 HOUR SESSION) LIVE MASTERCLASS YOU WILL LEARN:
✓ Get clarity on what you truly desire
✓Understand Money and how to improve your relationship with money.
✓ 5 step formula to manifest Money easily and effortlessly.