College can be overwhelming but your money does not have to stress you out!
About this event
BGDI is excited to present August's webinar for the annual financial literacy program. This is the first of six webinars. This webinar will cover the following:
1. How to set personal goals.
2. How to budget on a student's income.
3. How to spend less than you earn.
4. How to start investing now.
Money Management for College Students is the first of six webinars.
Joanna Jane, The Economic Change Agent, will lay the foundation for money management to new and current college students. College is already overwhelming enough. Learning how to manage money should not be a mystery. For this year's annual financial literacy we are also providing the investment book, Stock Market Investing for Beginners, to the chosen participants. BGDI will discuss the book during the September's webinar. How to invest while attending college is the second of six webinars.
..............
BGDI Literacy Program: We provide financial literacy books to students age 12-18 years to prepare for life to overcome financial obstacles. Books include banking, credit, stocks and real estate investment. The books are released nationwide to students each August and to participants of our Money Smart Week workshop.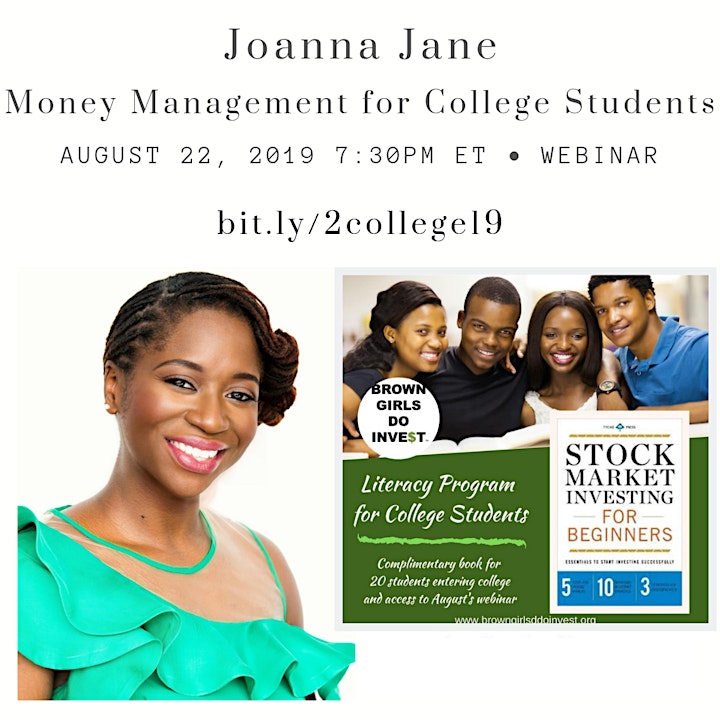 Date and time
Location
Refund policy