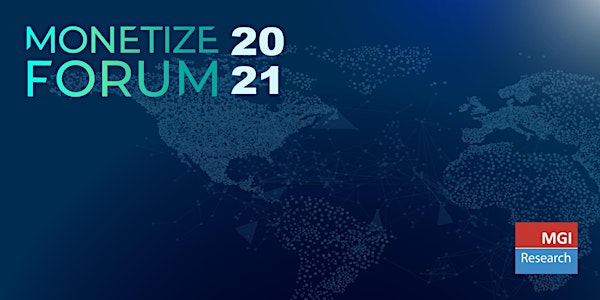 Monetize Forum 2021
The source for independent research, recommendations, metrics and best practices on Quote to Cash and Agile Monetization.
About this event
CEOs, CFOs, CIOs, and business leaders face unprecedented pressures in 2021. Companies are under intense pressure to increase digital-first investments while revenue growth and margins remain highly volatile. The pandemic exposed new risks and spotlighted new opportunities. While some industries are aiming to stabilize their core businesses and reignite growth, others are seeking ways to sustain and expand recent successes. All organizations, regardless of business circumstances are looking for intelligent tools and approaches that can improve execution, optimize efficiency and monetize new business opportunities. In this environment, innovation in Quote-to-Cash can translate into tangible near-term results. The Monetize Forum aims to help organizations identify intelligent strategies, best practices, new tools and partnerships to drive success in Quote-to-Cash. The event brings together leading industry analysts, business, finance and technology executives, as well as the top echelon of software suppliers and implementation partners.
Listen to unique insights from MGI analysts as they provide the business case for upping your monetization capabilities.
Hear from executives sharing their real-world experiences as they managed through the pandemic and plan for success around new business models, new sales channels, and improved commerce and payments capabilities.
Join the conversation with industry CEOs as they share their company vision and explain where they can add the most value to their customers.
The Monetize Forum is the one place to go to sharpen your edge, get ideas and insights, and quickly understand how the different pieces of the monetization puzzle fit together. It's the place to uncover opportunities, find the solutions and suppliers that fit your needs, and a place to meet peers, partners, and experts. Join us!
Key Technologies Highlighted
• Agile Billing
• B2B and B2C Commerce
• Digital Payments
• Contract Management
• Configure Price Quote (CPQ)
• Automated Revenue Management
• Professional Services for Quote to Cash
• Order Orchestration
• Global Tax
• Entitlements Management
• e-Signature
• Accounts Receivables Automation
• Sales Quoting
Who Should Attend
CEOs, CFOs, and CIOs
Directors of Finance
IT professionals
Product leaders
Commerce leaders
Payments leaders
(Click the above link to access the event)
Past Attendees, Speakers and Sponsors
(representative sample)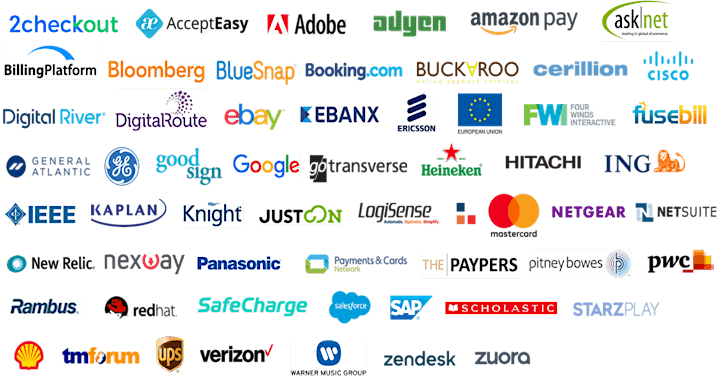 Event Setup:
2 day virtual event taking place on January 19th and 21st. Event platform and content will be accessible through June.
Additional Info:
Use Chrome(Preferred), Safari, and Firefox are for accessing the event platform. DO NOT USE Microsoft Edge to access event.
The event platform is now live. Login here: Monetize Forum 2021
FAQs
Can I sponsor this event?
Sponsorship slots are currently still available.
How can I contact the organizer with any questions?
Feel free to email us at monetize@mgiresearch.com