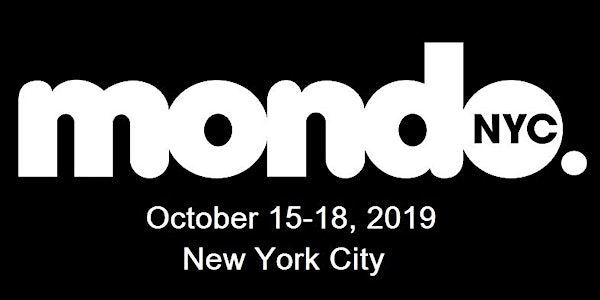 Mondo.NYC 2019 MUSIC FESTIVAL & GLOBAL MUSIC/TECH BUSINESS CONFERENCE
When and where
Location
Williamsburg Hotel, Brooklyn 96 Wythe Ave. Brooklyn, NY 11249
Description
TICKETS STILL AVAILABLE!
Mondo.NYC is a pioneering music festival and global business conference focusing on the intersection of emerging music discovery and how blockchain and other emerging technologies and economies will significantly impact the business of music.
Get face to face with global innovators behind the latest music business models and disruptive technologies..
Four days • 1000+ Music & tech business attendees • Panel sessions • One-On-Ones • Mentoring & more
Mondo 2019 will showcase over 100 breakthrough artists from around the world at NYC venues including Arlene's Grocery,Bowery Electric, Brooklyn Bowl, The Delancey, DROM, Knitting Factory, Pianos, Teddy's NYC and more.

Please visit https://mondo.nyc for more information.
---
MONDO.NYC 2019
EXPERIENCE THE FUTURE | IGNITING MUSIC & TECHNOLOGY
OCTOBER 15-18, 2019 IN NEW YORK CITY
Conference HQ @ The Williamsburg Hotel, Brooklyn. Showcase Festival in venues in Brooklyn and Manhattan. A Mondo.NYC badge includes admission to all Mondo activites for all four days.
EMERGING ARTISTS, INNOVATORS, TASTEMAKERS FROM ACROSS THE GLOBE UNITE FOR MUSIC, TECHNOLOGY, BLOCKCHAIN AND MORE
Returning for our fourth year, Mondo 2019's daytime conference returns to Brooklyn's dramatic waterfront neighborhoods of Williamsburg & Greenpoint, with their world-class musicians, venues, artisans, and attractions. Mondo 2019's nighttime showcase festival takes place in iconic clubs and venues in Manhattan and Brooklyn.
---
FAQs:
Q: How much does a badge cost?
A: The badge cost of $99-$698 depends on when you make a purchase and what type of badge you buy. Students receive up to a 50% discount with proof of status.
Q: Where can I buy my badge?
A: All tickets/badges are sold officially from the Mondo.NYC Eventbrite page.
Q: Any student discount for the badge?
A: Yes, we offer up to a 50% discount for all current registered full-time students at accredited colleges, universities and vocational schools. Proof of current status as a student is required to pick up your discounted badge. Remember to bring it with you!
Q: Can I purchase a badge on the day of the event?
A: Yes, we offer walkup badges too if you decide to attend at the last minute that you can purchase at the Williamsburg Hotel. Student discounts are also available for walkup badges.
Q: Do I have to bring my printed or mobile ticket to the event?
A: Yes, a mobile or printed ticket is required to obtain Mondo.NYC event credentials. Additionally, proof of current status as a student is required to pick up student credentials.
Q: When and where do I pick up my badge?
A: Mondo registration is located the Williamsburg Hotel, 96 Wythe Ave., Brooklyn, NY. You can pick up your badge anytime throughout the days of the event during the following registration and badge pickup hours:
Tuesday, October 15: 4pm-7pm
Wednesday, October 16: 8am-6pm
Thursday, October 17: 8am-6pm
Friday, October 18: 7am-4pm
Q: Will my registration allow me entry to both the day and nighttime events?
A: Yes, you can enter both! However, venue capacity is limited, admittance is on a first-come, first-served basis. Some nighttime events have age/door policies, please see the notes on the individual event page and venue website.
Q: Are there ID or minimum age requirements to enter the event?
A: Access to daytime summit events is open to all ages. Entrance to nighttime events is subject to specific venue restrictions and door policies. Please see the notes on the individual event page and venue website.
Q: Where are the Mondo events going to happen?
A: Showcase festival performances are from Tuesday October 15 through Friday October 18. Conference registration opens October 15 and conference events occur October 16-18, all at the Williamsburg Hotel. Please visit the Mondo.NYC website and social media pages (please follow us!) for details.
Q: Is my registration fee or ticket transferable?
A: Tickets are transferable upon receipt of written request no less than 15 days prior to the start of the event.
Q: What is the refund policy?
A: There are no refunds permitted.
Still have other questions? Please email us at info@mondo.nyc.
Terms and Conditions
Event tickets may also be referred to as "Badges" or "Credentials." Ticket purchaser shall be referred to as "You" or "Registrant." Mondo.NYC may also be referred to as "Event" or "Mondo." NO REFUNDS OR EXCHANGES ARE PERMITTED. Badges must be worn at all times during all Mondo Events, including all conference activities and music showcases. The following terms apply. Mondo barcode on mobile or paper ticket permits one entry per scan. Mondo reserves the right to revoke Badges and/or Credentials, without refund, and expel a Registrant for non-compliance with these terms or if Registrant's actions are deemed unacceptable or improper. Badges are non-transferable within 15 days of Event. Audiotaping, videotaping and still photography of any images of Event without pre-approved credentials is strictly prohibited. By attending a Mondo.NYC Event, Registrants acknowledge that they may be photographed or videotaped and grant permission to Mondo to capture a Registrant's image, likeness, actions or statements without any claims to monetary compensation. In the event of a stolen, lost or misplaced Badge(s), Badge replacement is the sole responsibility of the Registrant. BADGE WILL NOT BE REPLACED, REFUNDED OR CREDITED. A full Badge fee will be charged to purchase a duplicate Badge. Mondo.NYC 2019 and the Parallax Agency LLC (or any of their agents, employees, officers, directors, affiliates, and representatives) shall have no liability for damage or injury to the person or property of the Registrant from any cause whatsoever that may occur on or off the Event premises before, during and after Event. You hereby agree to release Mondo.NYC 2019 and the Parallax Agency LLC (or any of their agents, employees, officers, directors, affiliates, and representatives) from any related claims. Mondo reserves the right to inspect backpacks and other packages prior to Registrant's entry to Event or during Event. Tickets obtained from unauthorized sources may be invalid, lost, stolen, or counterfeit and if so are void. Please visit www.mondo.nyc for more information and full program agenda.