Monday Night Series - THE HUE, TINT & SHADE OF WORDS w/ Steve Duncan
Description
This feature-length documentary (81 mins) showcases diverse professional screenwriters in the entertainment industry sharing their writing process, their views on the importance of diverse storytelling, and takes a look at how diversity in the digital landscape is changing the way entertainment is written, produced and distributed. The film features interviews with the following industry professionals:
Writers
Michael Ajakwe, Jr., Kevin Arkadie, Alfredo Barrios, Jr., Wendy Calhoun, Pat Charles, Ernie Contreras, Jean Duncan, Steve Duncan, Evette Vargas, Robin Weckerly, James Wong
Executive
Kim Myers, WGAW
Experts
Dr. Cheryl Grills (Psychology), Dr. Adilifu Nama (African- American Studies, Bellarmine College of Liberal Arts), Jose Garcia-Moreno (Animation, SFTV)
The Hue, Tint & Shade of Words: Diverse Screenwriters in the Entertainment Industry was written, produced and directed by LMU SFTV Professor Steve Duncan with the help of several LMU SFTV facutly, alumni and students. A Q&A with Duncan, Executive Producer Jean Duncan, writer Michael Ajakwe and the WGAW's Director of Diversity Kim Myers follows the screening.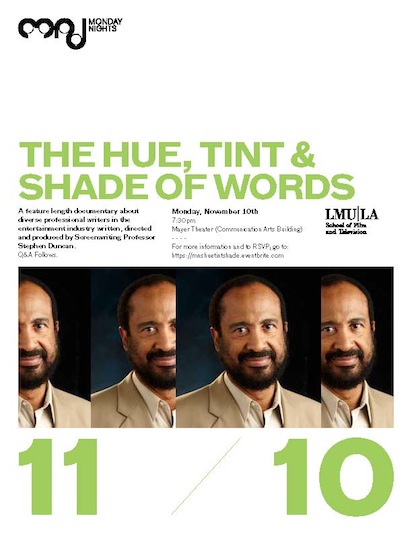 This screening is free of charge and open to all LMU Students and the general public. No paper ticket is necessary for entry, but RSVP through this website is required. Students must bring a valid LMU ID for priority entry. Doors will open at 6:45PM.

All SFTV screenings are OVERBOOKED to ensure seating capacity in the theater, therefore seating is not guaranteed based on RSVPs. The RSVP list will be checked in on a first-come, first-served basis until the theater is full. Priority admission will be given to LMU SFTV students until 7:15 PM. Once the theater has reached capacity, we will no longer be able to admit guests, regardless of RSVP status.
Organizer of Monday Night Series - THE HUE, TINT & SHADE OF WORDS w/ Steve Duncan