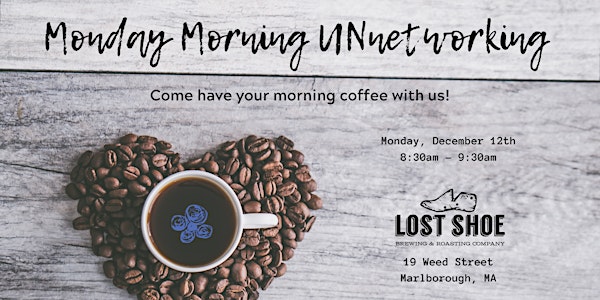 Monday Morning UN-networking
Come have coffee and meet other small business owners/entrepreneurs/awesome people for some UN-networking! Yay for human connection!
When and where
Location
The Lost Shoe Brewing & Roasting Company 19 Weed Street Marlborough, MA 01752
About this event
It's the *most* *won-der-ful* (stressful) time... of the year!
So let's not add any more pressure, ok??
UN-networking takes the heat off. We're here to meet up with other awesome people who also own their businesses, and that's where the agenda begins and ends.
Chat it up, share wins, brainstorm solutions to seasonal challenges, show pictures of your dogs, or brag about your new ugly sweater acquisition - it's up to you! We're here to do the most basic of marketing things, and that's all: CONNECT!
It's free. It's fun. And it's only an hour.
You need your morning beverage anyway, so why not connect with someone new or an old friend while you're at it?? We could all use a little more of that, especially in December!
See you there!