A FREE virtual event to celebrate and cultivate a more resilient world.
About this Event
Monadnock International Film Festival, Monadnock Food Co-op, and Feast On This! Film Festival invite you to join us for this virtual community Earth Day Film Festival, April 22-24, 2021.
This online event will feature films and panel discussions to celebrate and cultivate a more resilient world.
FREE OF CHARGE, but you must register on this page. As soon as the festival site is available, you'll be notified to browse available films and events and add them to your library for viewing and attending during the festival dates.
THANK YOU TO OUR SPONSORS!
Franklin Pierce University | Greater Keene and Peterborough Chamber of Commerce | League of Conservation Voters | Monadnock Farm & Community Coalition | Vital Communities | W.S. Badger Company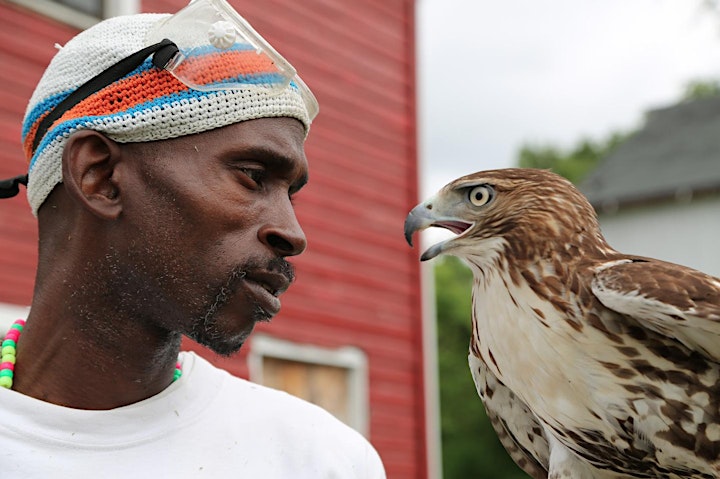 Here's a sneak peek at some of the films that will be screened. Stay tuned for announcements on panels, speakers, and special guests.
THE FALCONER (2020) - This intimate portrait film follows master falconer Rodney Stotts on his mission to build a bird sanctuary and provide access to nature for his stressed community. (pictured above)
SEEDING CHANGE (2021) - Award-winning documentary empowers viewers to be part of the solution by voting with their dollars and supporting the brands and products that align with their environmentally conscious values.
FIRST WE EAT (2020) - What happens when an ordinary family living just south of the Arctic Circle bans all grocery store food from their house for one year? Add three skeptical teenagers, one reluctant husband, no salt, no caffeine, no sugar, and -40° temperatures. (pictured below)
WHY WE CYCLE (2019) - Take a ride with ordinary cyclists and specialists from a variety of disciplines. These conversations uncover some obvious but even more hidden effects of cycling on people, on societies, and on the organization of cities.
MICROPLASTIC MADNESS (2019) - The story of 56 fifth graders from Public School 15 in Red Hook, Brooklyn, living in the frontline of the climate crisis. Their actions on plastic pollution morph into extraordinary leadership and scalable victories. With stop-motion animation, heartfelt kid commentary, and interviews of experts and renowned scientists engaged in the most cutting-edge research on the harmful effects of microplastics, this alarming yet charming narrative conveys an urgent message in user-friendly terms. (pictured below)