Description
JOIN THE SUPPORTIVE COMMUNITY FOR ENTREPRENEURIAL SELF-EMPLOYED MUMS IN BUSINESS!
Are you a work-from-home mum? Or have studying to get done? Do you find yourself feeling a bit disconnected and unproductive at home? Struggling with flexible childcare?
Come along to a Mumming co-working session! You can work on paid work or also come along to get your life admin done in a productive environment!
Today we have an optional workshop as well- chose to join the workshop and Co-Work afterwards (or just chill with a book and coffee!)
We have an on-site crèche open for 3 months to 3 years - come with your kids knowing they will be safely looked after, or if they're in school or childcare, come along and join the workshop and co-working! Pick and mix what you want to book.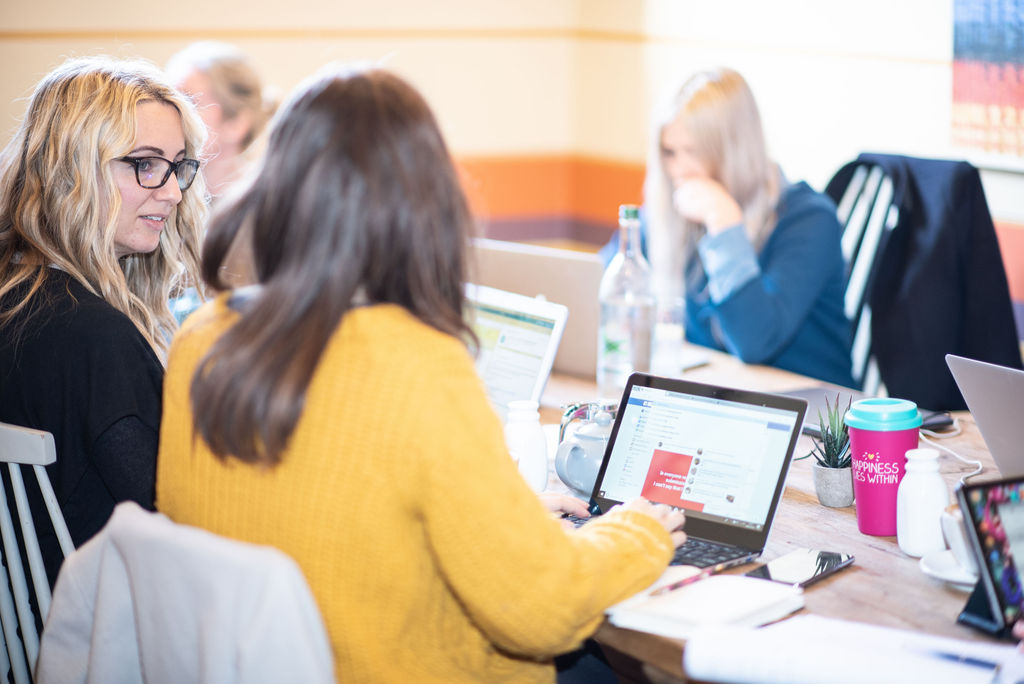 ---


|| Workshop: Future-Proof your social media ||
Approx: 10am-11:30am
Workshop will run for 90 minutes by one of our very own FlexiMums, Steph of Big Little Social. Check out the Instagram feed as it's a thing of beauty!

Struggling with getting people to see your posts on social media?
You might think you know how to use social media because you use it for personal use but trying to get social media to work for you and your business or brand is a whole different game. If you want to learn to play the game and know the secrets you need to get your posts seen by the right audiences then this workshop will be for you.
Steph will take you through the latest changes to the social media platforms and talk through the strategies you need to make your business stand-out in the crowded space of social media marketing. We will cover all the latest on;
Facebook groups being the big 'thing' for 2019

Hashtags - which ones, when to use them and how many

Instagram - stories and lives - why you need to be using these now more than ever!

Fabulous Feeds - how to get an Insta feed that looks awesome

Social on social - why engagement matters most of all

Brief touches on Pinterest, Twitter and LinkedIn and why these may be vital for your social strategy
Stay on afterwards to do some Co-Working, chat with Steph or Lauren (Founder of Mumming). If using the creche, you'll have approximately an hour after the workshop finishes (of course you can leave straight after the workshop if you prefer!)

---
|| 'Fleximumming' Co-working ||
9:30am-12:30pm
How a Mumming co-working session works:
Drop the kids off in the creche if you've brought them with you

At the start we have some time to have a brief welcome chat to hear what everyone is working on- always interesting

We are all here to work, so let's be productive!

Write down 1-3 items you will complete or make clear progress on using the provided Mumming productivity sheet

We have members from a variety of backgrounds- from marketing, finance, virtual assistants, running your own business, social media consultants

It's up to you how to use the time- whether life admin or work stuff, or if you just want a break!
|| The Mumming Crèche ||
9:30am-12:30pm
Your kids will be cared for by highly qualified nannies and sitters from Super Sitters in a separate room – no more distractions.
All nannies and mannies are DBS checked and we'll always have at least one in the room who is fully first aid qualified. If you've not yet found reliable child care to have evenings out, this is also a perfect opportunity to meet some fantastic sitters! Feel free to arrive 10 minutes early to settle your little ones in the crèche. The crèche is open for three hours and available for babies and toddlers 3 months to 3 years old. You can view more details on the creche including our regular nannies and mannies here.
Feel free to arrive 10 minutes early if you need to settle your little ones into the creche.

---


Tickets:
Co-Working only- £6
Workshop & Co-Working- £10
Special Launch offer: Crèche & Co-Working – £25
Full package- Workshop, Creche, Co-Working - £35
(All include one hot or soft drink!)
---
View other available times here
=====================
FAQs
(view the FAQs page for more info)
When should I Book?
It helps us plan if you book as early as possible- the latest you can book a spot in the creche is 9pm the day before the event.
How can I contact the organizer with any questions?
hello@mumming.org
I'm a mum of older kids- is it suitable for me?
Absolutely! It's suitable for any mum who wants to get out and get stuff done- it's more about your state of mind than age or age of your kids. We are all about supporting you to find the right balance between career and family time. Whether that's freelancing, working remotely, starting a business, pursuing a hobby or anything in between. Our regulars are a range of ages / ages of kids!
How does the creche work?
It's run by Super Sitters - qualified childcare professionals with plenty of experience so perfect whether you have a tantrum-prone toddler or young baby not used to being away from family- they have dealt with both before and can reassure you- you can even ask them to text you updates if you are worried (and the creche is just upstairs so you can easily pop in if you chose to!) Email us if you want details of the nannies/ mannies running the creche the date you are coming. You can also view more info on our creche page.
What's the refund policy?
We don't offer refunds as standard, but we understand that life with kids is unpredictable, so we will do all we can to accommodate any changes. For crèche bookings, we pay for childcare in advance so less than 48 hours notice means we can't refund, but we will transfer your co-working and/or workshop ticket to another date. Thank you!
Do I have to bring my printed ticket to the event?
No- your name will be on the list so we'll sign you in. If using the creche, please sign your child in and out
Is my registration fee or ticket transferrable?
We can transfer your co-working ticket to another date within 2 months of the original date, but creche tickets cannot be refunded unless you can give more than 48 hours notice.