Description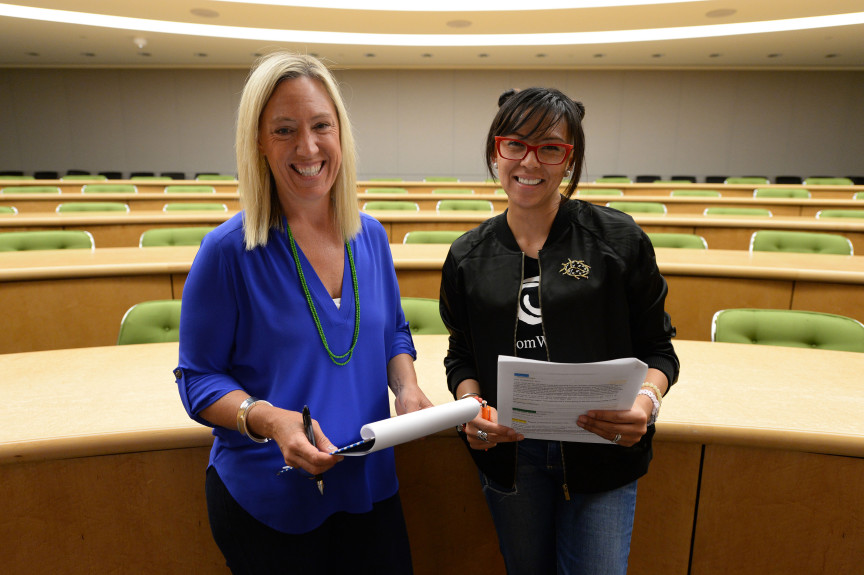 Image courtesy of: East Bay Times (Kristi Scobie, Moderator / Tet Salva, Founder)
MomWarrior.
"Walk through any human story and you will find a mom. She may or may not always be a hero. She will always be a warrior."
This is for you, momwarrior. This is for us: the relentless ones, the tired, sleep-deprived ones, the ones who sacrificed career, the ones who are balancing career and family, and the ones who have questioned their identity. And yet here we all are, forging ahead, continuing to march into battle.
Come join us at our MomWarrior events for connection, inspiration, and shared purpose. Meet other like-minded women going through the journey of momhood. We're all in this together.
Here's to the warrior in all of us.
---
Digital Program: http://pub.lucidpress.com/momwarriorlosangeles/
AGENDA
(Breakfast and lunch are provided)
Keynote:
Jill Salzman, Founder of The Founding Moms
Panels:
The Balance of Motherhood - Once you become a mother, the art of balance is something that we go through and learn. How do you do it with balancing work / career, or pursuing your interests or passion while being 'mom' to your kids and being present for your partner?
Raising Socially Aware Kids
Feminism. Gender Bias. Gender Equality. Fluidity. We live in a world that has become more complex, and raising children in this day and age has presented itself with different challenges. This is a panel discussion on how we can raise children so they are more socially aware and what we can do as their parents to support them through the complexities of our modern era.
Ambition and Momhood - A lot of things change after becoming a mom. One of them is the idea of success and ambition. How has ambition changed after momhood? We talk to women who have gone through this and talk about the realities of our role us mothers in the society we live in.
Workshop:

Moms and the Identity Crisis - A workshop that takes a look at how our identity shifts when we become moms and how to handle this transformational change within us.
Speakers: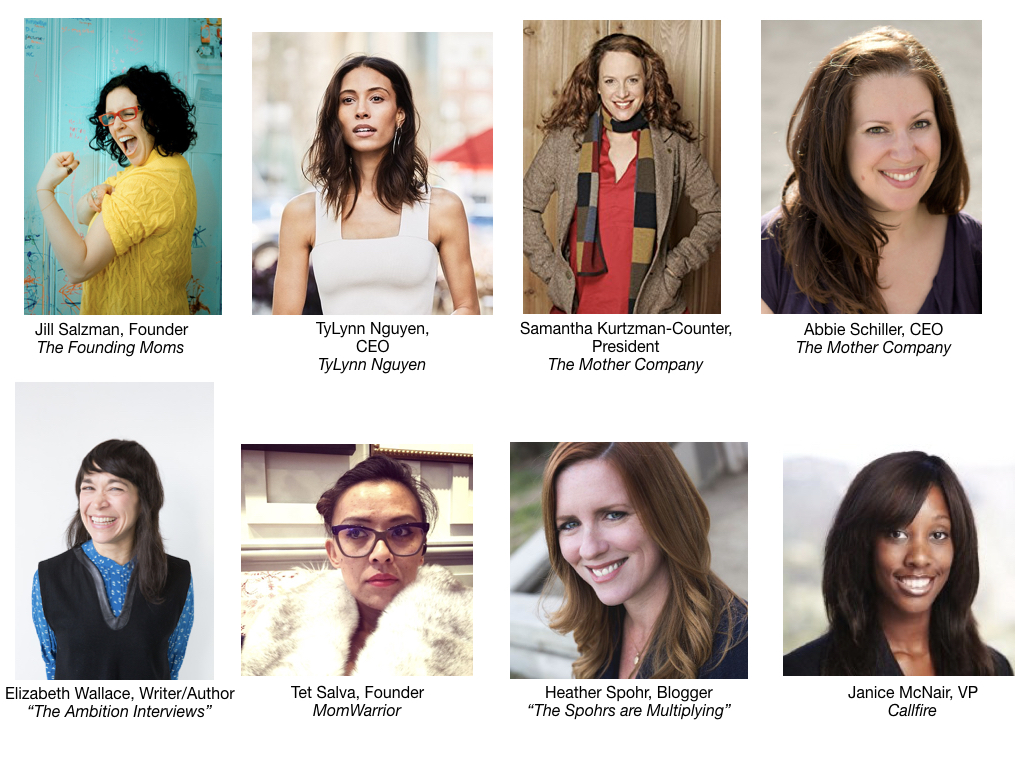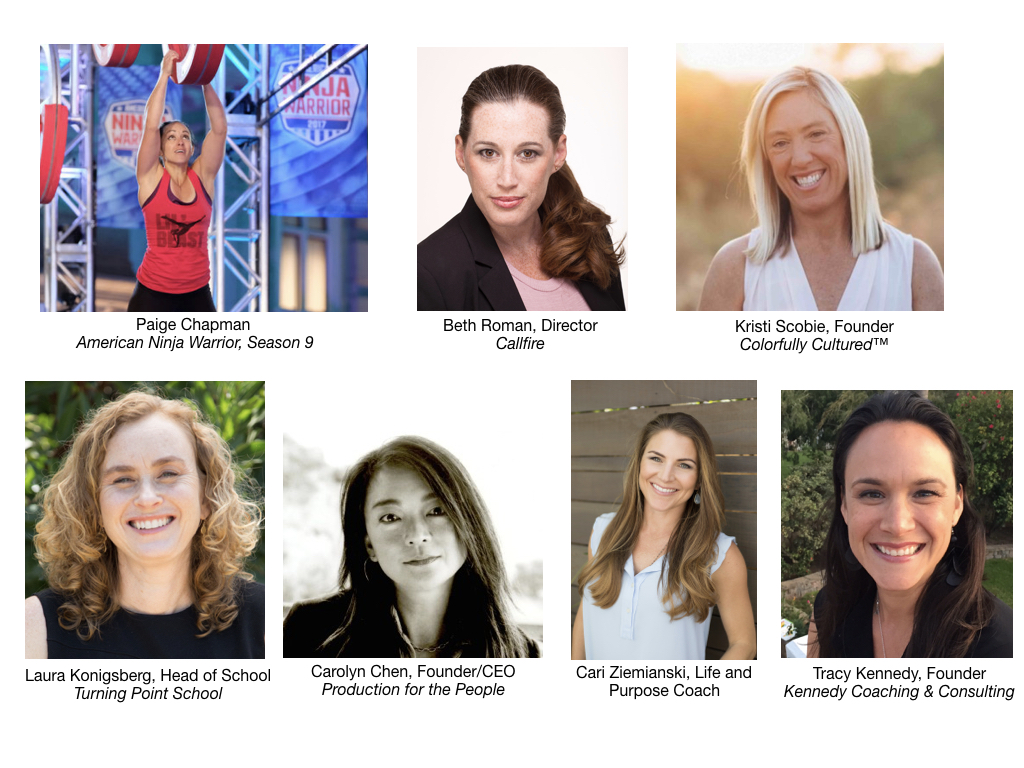 Jill Salzman, Founder of The Founding Moms. She is a TED speaker and has been featured in the NY Times, Forbes, CNN Headline News, People, The Chicago Tribune, and WGN TV. She was recently naed one of the Top 50 Women to Watch in Tech.
TyLynn Nguyen, CEO of TyLynn Nguyen, a line of classic Intimates and essentials created for the discerning woman. Inspired by the sensual power of the female mind, TyLynn Nguyen aims to provoke an innate sense of self love. The ideology of the brand is centered on the belief of "amour de soi," meaning the love of self regardless of others opinions or perceptions.
Elizabeth Wallace, Writer/Editor and Author. She co-wrote a sereies of articles for The Atlantics called "The Ambition Interviews" and is currently working on a book on women and ambition. She has done work with Vogue, Nylon, Seventeen, Us Weekly, and Lucky magazines.
Heather Spohr, Mama Influencer, Blogger and Philanthropist whose award-winning blog, "The Spohrs are Multiplying" initially became popular as she detailed her family's experiences dealing with a high-risk pregnancy. She also just published her book, "The Toddler Survival Guide: Complete Protection from the Whiny Unfed."
Carolyn Chen, Founder / CEO, Production for the People. An award-winning cinematographer, Carolyn spent her childhood armed with a camera and black and white film roaming lower Manhattan. Carolyn has directed over 200 spots for top advertising agencies and diverse leading brands such as Proctor and Gamble, Bank of America, AT&T, Nike, McDonald's, Pfizer, General Mills, Coldwell Banker, Alamo, Lockheed Martin, Walmart, and Unilever.
Paige Chapman, American Ninja Warrior and entrepreneur. Known as the "Lil' Beast", Paige routinely amazes and inspires those around her to re-evaluate what is possible. At just 5' tall, she finished in 6th place at the Los Angeles Season 9 American Ninja Warrior.
Laura Konigsberg, Head of School at Turning Point School, an indpendent school in Culver City. She has been an educator for 25 years and has a PhD in English with a designated emphasis on Feminist Theory.
Janice McNair, VP at CallFire. She has over 20 years of professional experience in finance and business operations and was a VP at Goldman Sachs in Investment Banking. She is also a founding member of the Council of Urban Professionals Los Angeles.
Tracy Kennedy, Founder of Kennedy Coaching & Consulting. Tracy is passionate about working with individuals to help them achieve greater levels of happiness, fulfillment and success - personally and professionally.
Cari Ziemianski, Life and Purpose Coach. Cari's path to coaching began during her decade-long career as a marketing executive. With over 10 years of coaching experience, she has continuously deepened her practice through such respected programs as Chopra Center Coaching, Intrinsic Health Coaching, and The Hoffman Institute.
Kristi Rible Scobie, Founder of Colorfully Cultured, is a social entrepreneur, ideator, and cultural strategist. Following a nearly two-decade career in international marketing and strategy in the consumer wireless space, Kristi opted out of the traditional work environment to pursue more purpose-driven work. Today, she is a founder Colorfully CulturED™, a project dedicated to promoting cultural literacy and global citizenship amongst girls.
Tet Salva, Founder, MomWarrior™. Seeing the need to support women who are raising families while juggling family, career aspirations, obligations and ambition, Tet founded MomWarrior, an organization that empowers and supports women who are balancing this all. She has recently been lauded as a "40 under 40" for her work with MomWarrior by empowering and supporting women through the journey of modern momhood.
** there is an additional $12 parking fee at the Annenberg. Please make sure to arrive extra early to get a spot! **
See you @ MomWarrior!
---
Previous MomWarrior Agenda
http://pub.lucidpress.com/agenda/
MomWarrior Bay Area press coverage:
http://www.eastbaytimes.com/2017/05/16/san-ramon-momwarrior-conference-takes-aim-at-workfamily-balance/
---
Sponsor:

Partners: