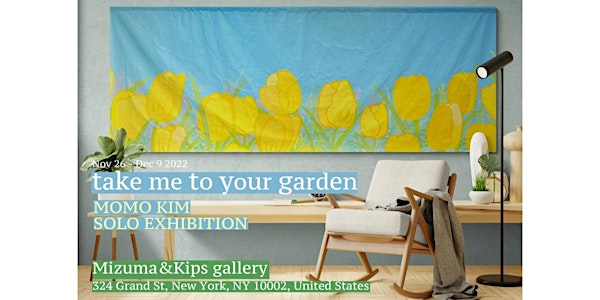 Momo Kim Solo Exhibition : Take me to your Garden
Mizuma & Kip's is pleased to announce the upcoming exhibition MOMO KIM's 《Take me to your garden》
When and where
Location
324 Grand St 324 Grand Street Ground Floor - B New York, NY 10002
About this event
13 days 18 hours

Mobile eTicket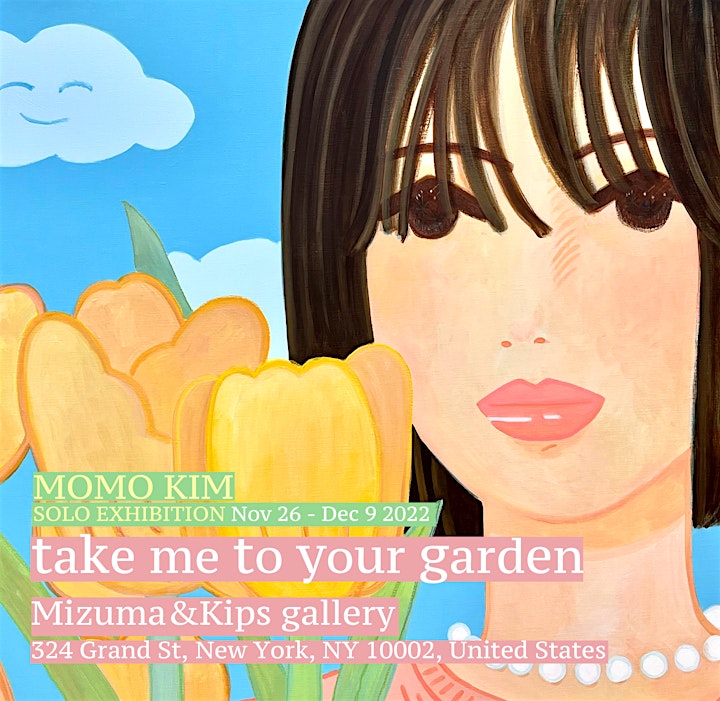 INTRO
MoMo Kim's solo exhibition "Take me to Your Garden" will be hosted by Mizuma & Kip's gallery from November 26 to December 9. Her "Tulip Series" masterpiece, adored by many in Asia, is being exhibited in New York for the first time since she graduated from SVA illustration in 2016. Momo Kim's new 20 works feature distinctive flexible lines and warm colors that inhabit their respective environments, asking questions and praying for the well-being of people's daily lives. Notable features of this exhibition include two colossal, three-meter-wide paintings that, for the first time, cover an entire inner wall with vibrant tulips that welcome visitors into their garden. Emerging from the background of the Moon and Bird resemble the fate of nature's inevitable providence, and at the same time, they express their hopes and desires for the future.
ARTIST TALK
《The life of Tulip embodies a metaphorical artistic expression like a poem. The evolving vibrant petal serve as a strategy to attract and reproduce humans. The desire for beauty that people have is illustrated by these tulips.Like art, the tulip has persisted for a long time by piqueing people's interest in aesthetics. This inspires me to reimagine the tulip's life and create a new breed of mutant tulips through art》 By MOMO KIM
ABOUT
MOMO KIM
Born in 1992, Momo Kim graduated from Academy of Art University with an MFA in Illustration after receiving her BFA in Illustration from School of Visual Art. Recent major solo exhibitions include HOME SWEET HOME at Superior Gallery, Seoul(2022); HOME SWEET HOME at SVA Gallery, Seou(2022)l; How are you at 4 o'clock?at 7 miles Gallery, Seoul(2020); Your Gift at Scalatium Gallery, Seoul (2015). Since her participation in K-ARTS at K/REAT in 2013, Seoul, her works have been presented in numerous group exhibitions at art institutions including Korean Cultural Center, New York (2014); Ujung Art Center, Seoul (2019); Gallery HZ, Hong Kong (2020); Gana Art, Busan (2021); Eugene Gallery, Seoul (2021); Seoul Auction, Seoul (2022).
Event Details
Admission : Free
Date: Nov 26 - DEC 9 2022
Address: 324 Grand St, New York, Ny 10002, United States
Media Inquiry: mizumakips@gmail.com