Mommy& Co.: Breakfast at Tiffany's Mother Daughter Breakfast
Breakfast at Tiffany's styled breakfast for all Mothers, daughters, Grandmothers, Godmothers, Stepmothers, etc. to celebrate Mother's Day!
About this event
In celebration of Motherhood and Maternal bonds, all Mothers, Daughters, Grandmothers, Godmothers, Stepmothers and alike are all invited to join us for Breakfast at Tiffany's!
This Sunrise Soiree will be from 9am-12pm and will feature a luxury gourmet breakfast with signature Tiffany blue mimosas, live jazz, and DJ, exquisite over the top design, raffles, fun entertainment, photo opportunities and SO MUCH MORE!
In honor of Audrey Hepburn, please wear all black, white or a combination of both.
In another suite, visit our Vendor Pop Up Shop featuring Indy's favorite local vendors for your Mothers Day gift shopping needs. The Pop Up Shop will open at 12 noon.
In our 3rd Suite, visit "The Powder Room" which hosts service style vendors with massages, glam squad, teeth whitening and more! The Powder Room will open at 12 noon.
Our Vendors Suite and Powder Room Suite are both open to the public at noon, however, our Breakfast at Tiffany's attendees will have priority entrance 30 minutes before its open to the public and receive custom shopping bags to help tote their purchases.
Tickets include: entrance into Breakfast at Tiffany's, fine dining gourmet breakfast, etiquette class, free "Mommy & Me" photo shoot & take home photo, personal gift from the Silver Centre and priority entrance into our Vendor Pop Up Suite and the Powder Room Suite.
Tickets are available for a Mother/Daughter couple (child and/or adult) and family tables of 4, 8 and 12.
Every person in a seat, needs a ticket. Babies 2 and under are free. Please register them accordingly, under the 2 and under ticket.
Tickets are non-refundable.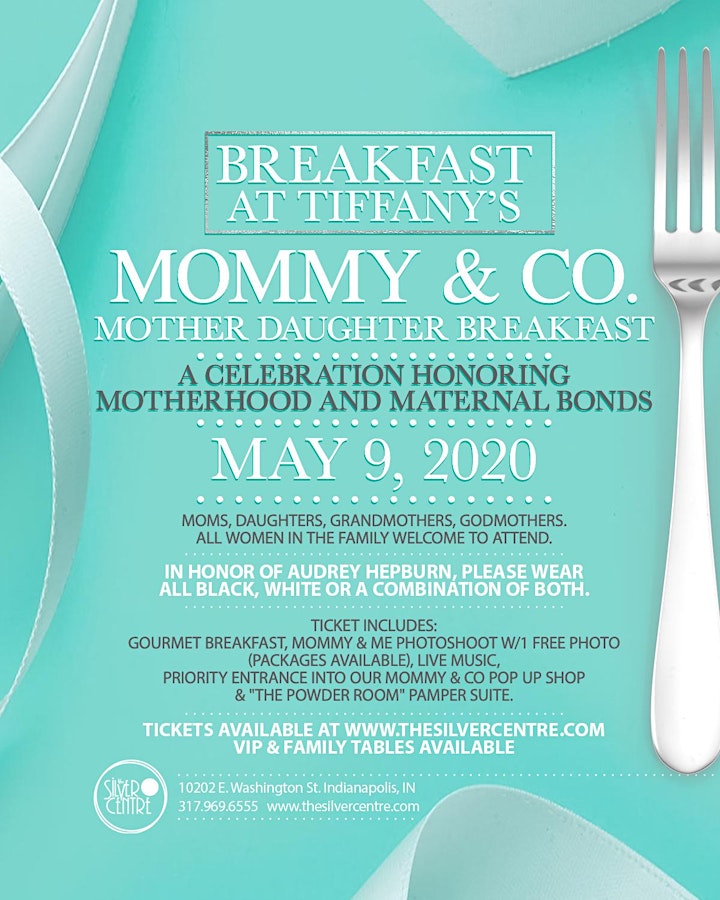 Organizer of Mommy& Co.: Breakfast at Tiffany's Mother Daughter Breakfast
Prestigious Princesses, Inc. is successfully empowering Indianapolis teen girls, grades 6-10th, by developing leadershiop, character and social confidence.  www.prestigiousprincesses.org 
EmPOWER is a women's empowerment series targeting women in business, aspiring female entrepreneurs and leading women in their careers that offers entrepreneurial training and lifestyle education for the modern woman.  www.indyempower.com