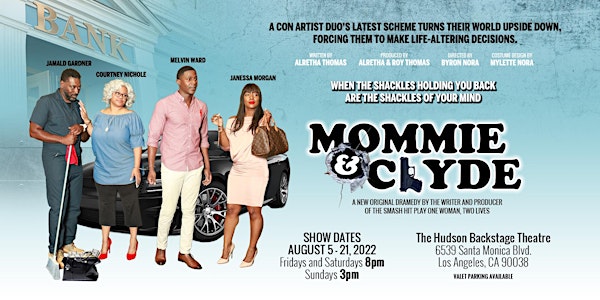 MOMMIE & CLYDE
A con-artist duo's latest scheme turns their world upside down, forcing them to make life-altering decisions.
When and where
Location
The Hudson Theatres 6539 Santa Monica Boulevard Los Angeles, CA 90038
About this event
Alretha Thomas, the producer and writer of the smash hit play One Woman, Two Lives, is back with a new origiinal dramedy that has a mixture of hilarity, drama, romance, and heart-wrenching moments that will have audiences clamoring for more.
Starring Courtney Nichole of Tyler Perry's "Assisted Living", Jamald Gardner from "Snowfall" and "Winning Time: The Rise of the Laker's Dynasty", Melvin Ward, a series regular in the Dhar Mann Studios series and whose graced numerous stages, including the Hudson where he played Eugene and Young man in the play Periphery, and Janessa Morgan, a triple threat who acts, sings, and dances and that has appeared in many TV shows and films.
Please note that the August 14th show will be performed by an alternate cast: Heather Daughtry, Ken Gregory, Larry Brown, and Amy Argyle.