Description
1999년 창간이래 뉴욕 뉴저지 한인사회의 든든한 생활 문화 가이드로 함께 성장해 온
「맘앤아이」가 창간 17주년, 통권 200호 발간과 더불어 '맛있는 정보, 행복한 라이프'를 지향하는
계간지 「인터키친」 런칭을 기념하여 럭셔리 레지던스 그룹, Hudson Lights와 손을 잡고 첫 번째
'맘앤아이 하우스 파티', 「Mom&i In the Kitchen」을 개최합니다.
맘앤아이 하우스 파티는 이름 그대로 맘앤아이가 주최가 되어 개최하는 가족중심의 하우스 파티
브랜드입니다. 맘앤아이가 구축해 온 지역의 다양한 네트워크를 기반으로 매해 독특하고 재미있는
컨셉으로 맘앤아이 독자 가족 여러분들과 함께 즐길 수 있는 소셜 이벤트를 만들어 갑니다.
2017년, 그 첫번 째 맘앤아이 하우스 파티는 「Mom&i In the Kitchen」이라는 컨셉으로
진행합니다. Hudson Lights에서 제공하는 오픈 키친 공간을 중심으로 '쉐프와 함께하는 요리교실',
'나도 쉐프 포토 컨테스트'를 개최하고 그 외에도 뉴욕에서 활동하는 재즈그룹 'Ruby Choi group'의
라이브 팝재즈 공연, 가족영화 상영, 페이스페인팅, 매직쇼, 메이크업교실 등 다채로운 공연과
이벤트를 진행합니다. 행사 참가자들을 대상으로 자유로운 기부를 통해 지역의 불우이웃을 돕고
경품의 행운도 함께 누릴 수 있는 경품행사도 함께 진행됩니다.
다양한 프로그램과 함께 다채로운 먹거리와 볼거리, 즐길거리 그리고 의미 있는 후원행사까지
뉴욕뉴저지 한인사회의 생활 문화 가이드로서 맘앤아이가 그동안 한인사회로부터 받아온 사랑과
후원에 보답하고자 준비하였습니다. Hudson Lights의 쾌적한 실내외 생활 편의시설 공간에서
펼쳐지는 맘앤아이 하우스 파티에 맘앤아이 가족 여러분의 많은 관심과 참여 부탁드립니다~
[행사개요]
일시 : 2017년 6월 24일(토) 오후 2시 ~ 5시
장소 : Hudson Lights Indoor & Outdoor amenities
(2030 Hudson Street, Fort Lee, NJ 07024)
대상 : 맘앤아이 독자 가족 200명
참여방법 : 전화 또는 이메일을 통해 사전 예약(RSVP)
*행사당일, 포토컨테스트를 위해 예쁜 네임택을 만들어 드립니다*
T. 201-224- 7500 Email : momandiusa@gmail.com
[프로그램]
1. 「Mom&i In the Kitchen」스페셜 프로그램, "쉐프와 함께하는 요리교실"
- Hudson Lights의 오픈키친 공간에서 진행되는 어린이들을 위한 쉐프의 요리교실. 행사
참가자는 누구나 참여할 수 있으며 유명쉐프의 지도아래 맛있는 디저트를 직접 만들고 먹고
즐기는 이벤트.
2. "나도 쉐프 포토 콘테스트" (맘앤아이 8월호 표지 선정)
- 행사장 내에 설치된 포토부스에서 온가족이 함께 '나도 쉐프'라는 컨셉으로 준비된 소품을
활용하여 재미있는 사진 찍기 대회를 개최. 최우수작은 맘앤아이 8월호 표지로 게재.
3. 라이브 팝재즈 공연 "Ruby Choi group"
- 스탠다드 재즈부터 크로스오버 음악까지 다양한 재즈 장르를 넘나드는 뉴욕 재즈그룹, Ruby
Choi group의 라이브 팝 재즈 공연.
4. 경품&후원 행사
- 맘앤아이의 후원사들은 기금 또는 경품을 후원하고 참가자들은 $1부터 자유롭게 기부하면
경품 응모권 지급. 후원금은 뉴저지 지역 소년소녀가장에게 전달.
- 경품 : 브로드웨이쇼 티켓 / 영화티켓 /고급 레스토랑 저녁 식사권 등
5. 기타 이벤트
- 매직쇼 / 페이스 페인팅 / 메이크업 교실 등
Contact us with Katalk: momandi
***여러분 창가신청을 위해 아이들 이름과 신청자분의 성함, 연락가능한 전화번호를 꼭 남겨주세요!!***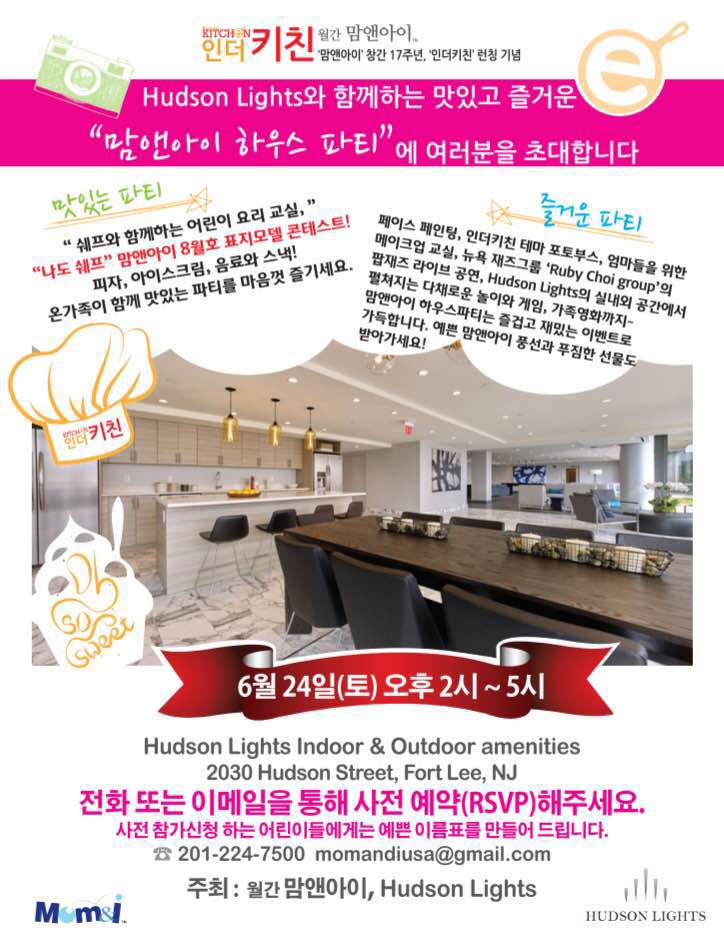 ---
Since our release in 1999, Mom&i has created a staple in the Korean American Community. Now, Mom&i is celebrating our 17th anniversary and the launch of our new magazine 'In theKitchen' features Delicious content and Happy life stories for both New Jersey and New York to enjoy.
To commemorate the launch of our magazine In The Kitchen we will work with Hudson Lights, a luxury residence complex, to host our Mom&i House Party Mom&I In The Kitchen event.
With a variety of activities, delicious foods, wonderful sights, fun and meaningful family moments, everyone will feel welcomed and have a blast. 2017 is Mom&i's first 'Family House Party' with our Momi In The Kitchen concept. Hudson Lights will participate in our children's personal 'cooking class ' with professional chefs centered around the Hudson Light's open kitchen space.
There will also be a performance by New York-based jazz group Ruby Choi and a cover model photo contest for the August issue.
Our events & activities include; Live pop-jazz performances, family film screenings, face painting, magic shows, make-up classes, food parties and more. There will also be a sweepstakes for lucky winners; You can win movie tickets, restaurant vouchers and more! Delicious food, colorful sights, and a fun, meaningful event for families.
Come and have a great day at our Family House Party! We expect a lot of participation from our family and friends. Please provide one adult name, all children's' names and a contact phone number when you RSVP for this event. We will contact you.