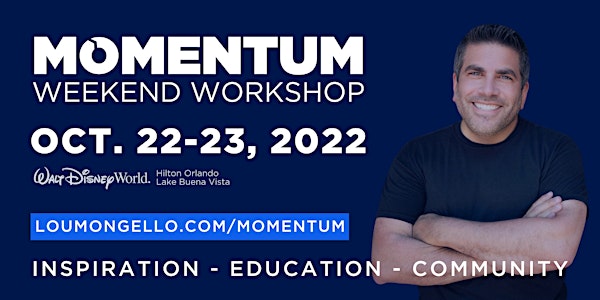 Momentum Workshop Weekend 2022
Momentum Workshop Weekend 2022 in Walt Disney World - Inspiration, Education, Community, Collaboration
When and where
Location
Hilton Orlando Lake Buena Vista - Disney Springs Area 1751 Hotel Plaza Boulevard Lake Buena Vista, FL 32830
Refund Policy
Refunds up to 30 days before event
About this event
What is the Momentum Weekend Workshop?
The Momentum Weekend Workshop is a two-day event taking place in Walt Disney World on Saturday and Sunday, October 22 and 23, with optional third-day, 10-person mastermind session on Monday, October 24, where a small group of dedicated, like-minded entrepreneurs come together in an intimate setting to learn, share, discuss, troubleshoot, and make REAL changes to their lives and businesses. Through collective brainstorming, sharing, education, accountability and ongoing support, there is opportunity for real growth and results.
Your host, Lou Mongello, will share practical and tactical lessons we can learn and use inspired by the Disney Parks. In this interactive workshop, you will also discover how to apply them to your business, life, and strategies via content creation, marketing, community, social media, podcasting, live video, and more.
He, and other attendees, will share not just their personal experiences in starting and growing a business, as well as the challenges they continues to face along the way, lessons to learn and pitfalls to avoid, but also real-world strategies, tactics, and personal guidance.
And YOU will have the opportunity to SHARE what you do, know, and have expertise and experience in... whether on stage, or simply by helping other attendees! (When you register, you will be sent a link to apply to speak)
More importantly, this is design to not be a typical conference in which you watch presentations, take notes, and go home, hoping to figure out how to use what you heard. Instead, it is about APPLYING what you learn while you are at the event! .
"Conferences" can be overwhelming. You're forced to choose which sessions to attend and which to skip. You leave worried about what you missed and then return home to realize months later that you didn't even take much (if any) action.
Momentum is different. Because you'll attend every session we offer, you won't miss a thing. Additionally, we offer an interactive, hands-on environment (for the entire day) where your unique questions, pain points, and needs are addressed in real-time by Lou and his experts.
All weekend the focus is on YOU – You'll not only learn what to do, but you'll discover how to do it and can receive on-site help with making positive changes to you and your business immediately!
While Days 1 and 2 offer a wealth of information and priceless support via our presenters and workshop sessions, the optional Monday Mastermind event (limited to just 10 participants - Please note that you must register for and attend the Weekend Workshop in order to attend the Mastermind Day) consists of much diving deeper with a select group. Unlike other 1-day mastermind groups, Momentum invites Lou's trusted and experienced experts and professionals IN THE ROOM to assist you on-the-spot!
This weekend will be a positive turning point for you and your business!
FAQs
Where will Momentum 2022 take place?
We are excited to be at the Hilton Orlando Lake Buena Vista, right across the street from Disney Springs in Walt Disney World!
Why Attend Momentum?
Here are the Top Five Reasons to Attend Momentum:
You will LEARN from speakers, peers, and past attendees to improve your efforts and make real, positive change
You'll make CONNECTIONS with like-minded entrepreneurs, and speakers who are there to help you
You'll be INSPIRED by speakers who have "walked the walk" who will not only in an informal, conversational, and relatable way, but will work with you in small groups and one-on-one
You will CREATE RELATIONSHIPS and network with other entrepreneurs, and stay connected and accountable even after the conference is over
You'll have FUN: Not only is the event conducted in a relaxed environment, but did I mention that it's also in Walt Disney World?!? Disney Springs is right next door, and the fun (and food) continues even after the day's sessions are over!
Who should attend Momentum?
Momentum is for anyone and everyone who is looking to turn what they love into what they do. Whether you are just starting out, are stuck and looking to take your business to the next level, or just want to meet and learn from other entrepreneurs, there's something at Momentum for everyone.