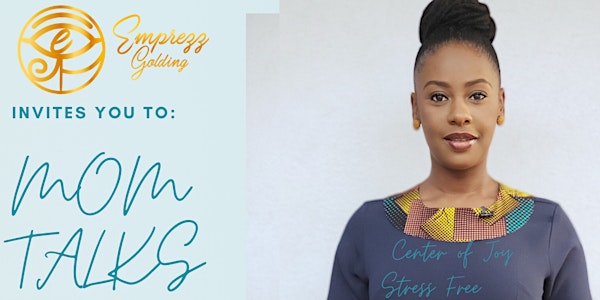 MOM TALKS- A day of Rejuvenation and Wellness- ONLINE Webinar with you!
Join Emprezz mom of 2, as she leads a powerful mom talk with you the expert moms.
About this event
Mom Talks will hear from expert moms on education, health & wellness, creativity, entrepreneurship, financial planning and more with a special focus on MOMS.
All Moms globally, are invited to share at no cost to you.
This Webinar will help moms to stay the 'mom course' with less stress, allowing them to identify and find their center of JOY!
There will be lots of nuggets and goodies!
"Because the world needs moms like you, this is my gift to you. See you on July 12 @ 4pm. Let us inspire each other" Emprezz Golding
Bring with you:
Your favourite beverage
Comfortable clothes or dress up in your favourite outfit. Come as you please.
Pen & Paper
Fears, goals and dreams
An open mind.
Psst...You may want to find a room and hide from the kids...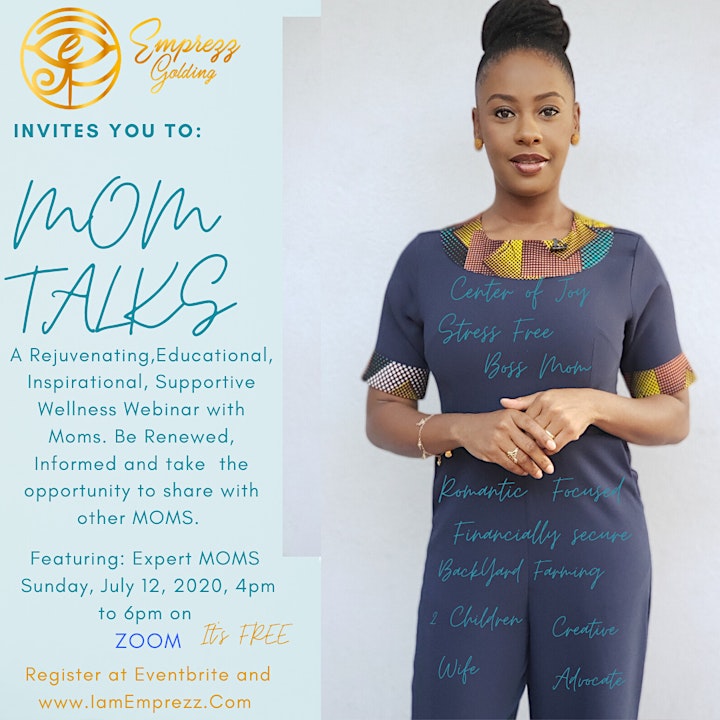 You will receive the online link via email closer to the date.
Love,
Emprezz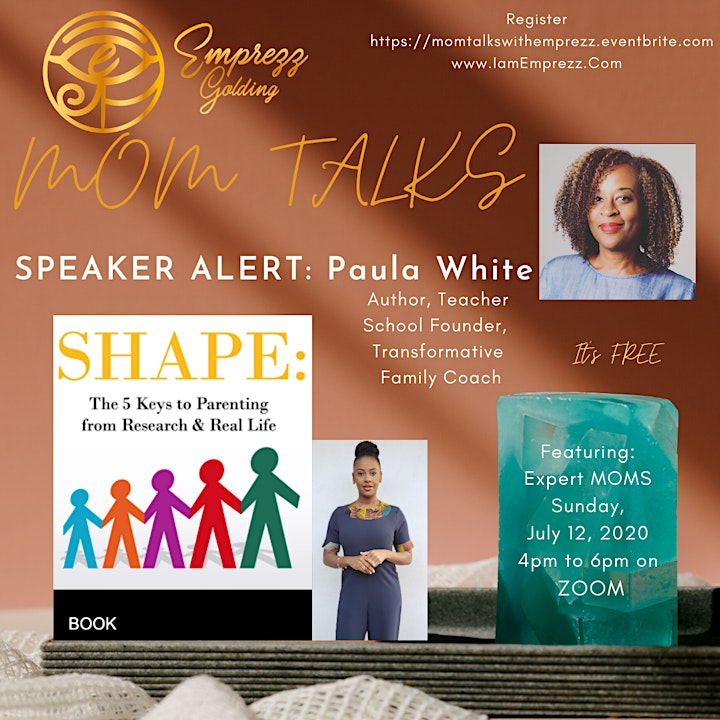 We are so excited: MOM Talks Expert Speaker Alert: Paula L White is a child advocate and senior education executive. She narrows the gap between intent and impact to help people lead successful, self-directed lives. Her book, SHAPE: The 5 Keys to Parenting from Research & Real Life, combines solid science with practice-proven common sense to offer a clear, holistic road map of support for parents, whether their families are fully functioning, somewhat troubled, or filled with trauma. Paula holds a B.A. in Child Development from Spelman College and an M.A. in Education Leadership from Columbia University. For three years, she served as New Jersey's Chief Turnaround Officer, improving the state's most-challenged public schools. She also taught successfully for almost a decade, and after doing so, she launched and led a thriving public school. Paula serves on the New Jersey Council for Young Children and she's a board member with Programs for Parents, an organization that offers comprehensive services for families and children. She's also a parenting blogger for Psychology Today. Her most treasured role is the one she holds as the mother of her 3 sons.