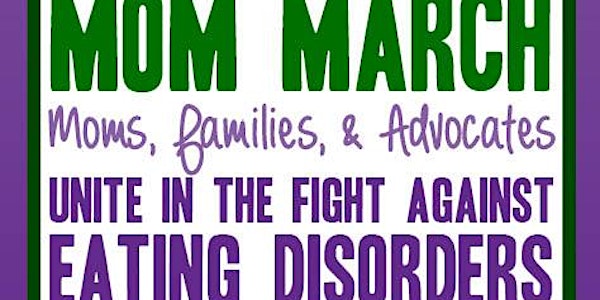 MOM March Virtual March
By The Alliance for Eating Disorders Awareness
Date and time
Tuesday, October 27, 2015 · 6am - 3pm PDT
Refund Policy
Contact the organizer to request a refund.
Description
Founding organizations The Alliance for Eating Disorders Awareness, Mothers Against Eating Disorders, and the Eating Disorders Coalition are thrilled to announce the second annual Virtual March Against Eating Disorders on October 27, 2015. If you cannot be in Washington, DC for the MOM March, we hope you will join us virtually!
Register today and help us spread the word internationally that eating disorders are treatable, but access to treatment is gravely inadequate, medical doctors are uneducated, research is grossly underfunded. The time has come to UNITE OUR VOICES and advocate for treatment and training.
The M.O.M. March Registration includes event t-shirt.
Help us deliver a powerful message of hope, awareness, and recovery TOGETHER on October 27, 2015.
About the organizer
The Alliance for Eating Disorders Awareness is a non-profit organization dedicated to providing programs and activities aimed at outreach, education, early intervention, and advocacy for all eating disorders.
Founded in October 2000, The Alliance has worked tirelessly to raise awareness; eliminate secrecy and stigma; promote access to care; and support those susceptible to, currently struggling with, and recovered from eating disorders. We create a bridge for those needing and seeking help by connecting people with resources to assist them in recovery.  The Alliance offers comprehensive services, including: educational presentations to schools, healthcare providers, hospitals, treatment centers, and community agencies; free, clinician-led weekly support groups for those struggling and for their loved ones; support and referrals through both our free help-line and comprehensive referral website, www.findedhelp.com; and advocacy for eating disorders and mental health legislation. In August 2017, The Alliance opened Psychological Services, which offers direct, low-cost, life-saving treatment to underinsured and uninsured adults in our community. Since its inception, The Alliance has offered presentations on eating disorders, positive body image, and self-esteem to more than 290,000 individuals nationwide. Over the past 17 years, we have demonstrated our tireless commitment to making a positive impact on our community.