Description
Please join us as we celebrate our 2nd Annual Rare Whiskey Live Auction, benefiting Family Tree! We have been preparing and stocking up on allocated whiskeys all throughout the past year for this ONE day!
As always, Kentucky Derby themed attire is highly encouraged, we may even have a surprise for the best dressed!
Please try to RSVP by April 19th so we can properly plan for how many guests we'll have for the tasting! The event is open to the public, however space is limited as the event is being held in store at Molly's. Only Spirits Club Members will receive the the official auction lineup and any event updates! More FAQs below!
---
Schedule of Events:
2:00-2:50pm
Auction registration and check-in *Please bring your ID* This is a 21+ event!
Free tasting of Molly's Single Barrel Bourbon Aged beer by Bonfire Brewing (aged in a Weller barrel)
Free tasting of Elmer T. Lee's Single Barrel Kentucky Straight Bourbon
Free

hors d'oeuvres AKA Kentucky Derby Themed Snacks

Live auction preview
2:50-3:00pm
LAST CALL TO CHECK-IN & RECEIVE BID CARDS FOR THE AUCTION!
3:15-4:30pm
Live auction of 40+ rare whiskeys!
---
3/28/2017 - Here are the first 15 whiskeys to be released for 2017 Auction Lineup: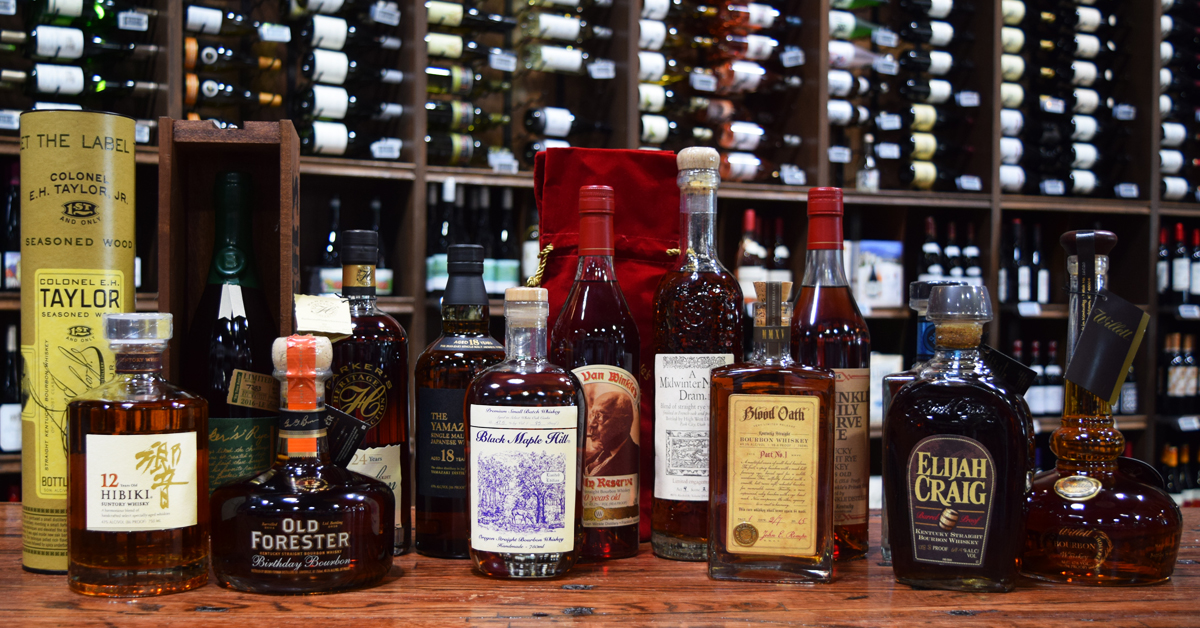 Left to right:
4/10/2017 - Here are the 7 more whiskeys that will be making an appearance at the auction (not pictured):
We've got some awesome surprises coming! Make sure to sign up for Spirits Club to be sent the full auction lineup ahead of time!
Please email spiritsclub@mollysspirits.com if you have any questions.
---
FAQs:
1) Is this event free to attend? Yes! Even if you aren't sure if you want to bid on a rare whiskey, you are more than welcome to come for the free rare whiskey tasting, yummy snacks and to watch the live auction action unfold! We would still recommend registering for the auction just in case. :)
2) Can animals come? The event will be held at Molly's around the tasting bar area, and will likely be very packed with other bidders. Therefore for the comfort of other customers in the tight space, we would recommend leaving the animals at home.
3) Can I send someone in my place if I can't be physically present? Sure! As long as that person will be paying with their own cash or credit card. We can't authorize a credit card transaction if the card doesn't belong to the person physically buying the item.
4) Do I need my ID? Absolutely. You must have your 21+ ID when you are registering for the auction. You also must have your ID to purchase a whiskey.
5) What's the refund policy? Because this event is geared towards raising money for our nonprofit partner, there will be no refunds on any purchases.
6) What's Family Tree?
For over four decades, Family Tree has provided innovative, life-changing services designed to end child abuse, domestic violence and homelessness. As the only organization in the metro Denver area working to address the interconnectedness among these issues, Family Tree is changing how individuals, families and communities see, respond to and overcome them. In the past year, Family Tree provided services to tens of thousands of people in efforts to empower individuals to discover their own strengths to create lasting, positive change.
The mission of Family Tree is to help people overcome child abuse, domestic violence and homelessness to become safe, strong and self-reliant.

The vision of Family Tree is to be best provider of life changing services that end child abuse, domestic violence and homelessness. This nonprofit works closely in the community Molly's staff all live and work, so who not better to help than our own neighbors.
Molly's picked Family Tree as our partner for this event for the extraordinary work they do for women and children in domestic violence situations. Not only do they work in the same community as we reside, their thrift store (Treasure Trunk) is across the street from us. We picked Family Tree as we recognize substance abuse can be at the root of many issues, and here at Molly's we want to promote drinking responsibly to help combat the dark side of this reality. This organization is helping families who directly live in our same community, so we are beyond excited to be able to help them out on this local level.