Molina Entrepreneurship Series | Launching Your Venture
Description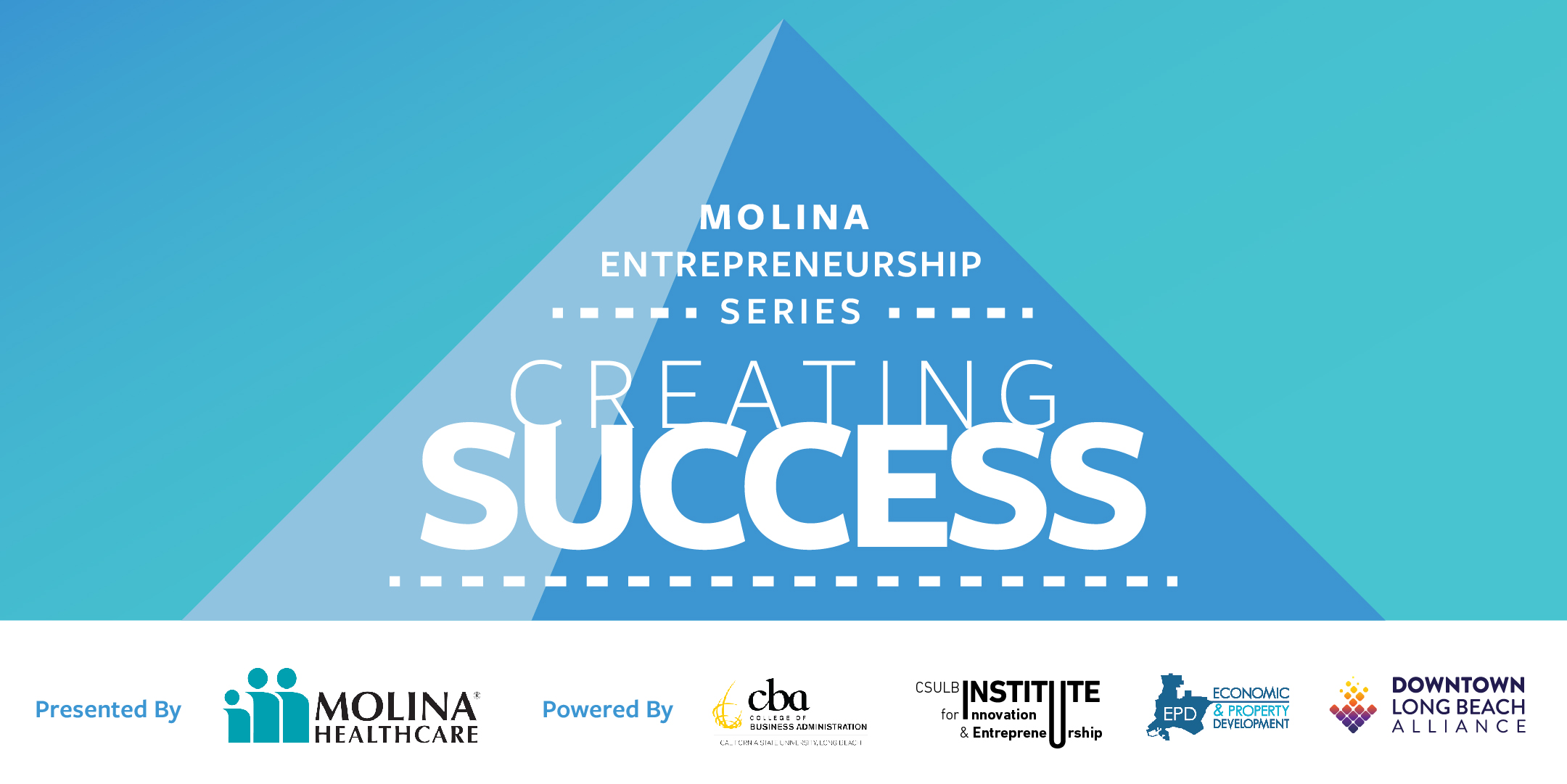 ---
Launching Your Venture


The effort required to launch a new venture can seem daunting. The specifics may vary based on the type of business; manufacturers face unique challenges, as do retailers and consulting firms, while new innovations have their own special issues. But once you have your concept and finances in line, there are some basics that are universal. We provide some specific examples from entrepreneurs and experts.

In this informative event, Molina Healthcare, the DLBA, Economic Development Department for Long Beach, CSULB's Institute for Innovation and Entrepreneurship and the College of Business Administration introduce a panel of expert entrepreneurs to share their expertise on how to successfully launch your venture.

Attend this event to explore:

When is the best time to launch your business?

Are there different strategies to launching a business idea?

How do you test your idea?

What are the financial considerations to launching your business?

What are common mistakes that entrepreneurs make in launching their business?

What is the best legal structure for your business?

How to slice the pie (equity agreements).
And so much more! Come for an event full of networking, best practices and business mindset leveraging!
AGENDA
6:30 - 7:00pm - Networking and Refreshments
7:00 - 8:30pm - Panel and Q&A

8:30 - 9:00pm - Networking


SPEAKERS

Susan McKenna, CMO, LinkedSelling
Susan A. McKenna is the Chief Marketing Officer for LinkedSelling, the leader in Business-to-Business Lead Generation, where she is currently driving the company's transformation from the small business sector into the mid-market. Prior to LinkedSelling, Susan was instrumental in leading the digital transformation of direct response advertisers, HairClub and Bosley (2014-2016).
Susan's 20+ year career has focused on leading successful brand transformations through direct response and demand generation programs that drive profitable growth for established and startup companies. Her unconventional style has earned her a reputation as "digital change-maker," from re-positioning and re-imagining brands (LinkedSelling, Bosley & Hairclub), re-engineering customer acquisition and retention programs (LinkedSelling, Toyota, WellPoint, Hairclub) and building a world-class team of marketers.

Susan is an active member of the Downtown Long Beach Alliance (DLBA), a member of the DLBA Economic Development committee, the LGBTQ Center, and is a philanthropist and fundraiser for women's causes. Susan holds a Bachelor's Degree in English & Communications from Adams State University in Colorado.

Walter Larkins, President, CDR Benefits, LLC
Walter Larkins is currently President of CDR Financial Services, LLC HQ in Long Beach CA, a leading Revenue Cycle Management (RCM) company focused in Healthcare. Mr. Larkins is a successful entrepreneur with over 25 years of small business development experience for middle market companies. His expertise is in creating, managing and motivating entrepreneurial companies, sales professionals and teams and has significantly increased the value of the businesses and projects in which he has been involved. Earlier in his career he held positions in Sales and Marketing Management with Coca Cola and Johnson& Johnson. He holds several US patents, including a minimally invasive heart surgery catheter. Walter served 4 years in the United States Army, achieving the rank of Captain, while stationed in Europe and attended Boston University's European Division MBA program, the US Military Academy at West Point and is a graduate of UCLA, where he was a ROTC scholarship winner. His most recent accomplishment was the launch of a non-profit in which he is the Executive Director, called Education Equals Opportunity Too which provides workforce tools to at-risk youth.

Chris Wacker, CEO, Laserfiche
Chris Wacker is the CEO of Laserfiche, a leading global provider of enterprise software for automating business processes and enabling digital transformation.

Wacker co-founded Laserfiche in the 1980s with Nien-Ling Wacker. Building on the vision of the paperless office, they grew the organization from a small consulting company to a global software developer now headquartered in Long Beach, California, with offices across the United States as well as in Mexico, Canada, the United Kingdom, Hong Kong and China.

Earlier in his career, he spent several years with the U.S. Mission to the United Nations in New York, and worked in Saudi Arabia for Ralph M. Parsons, Construction Engineers, where he helped develop the municipal systems infrastructure for a new city. Chris has traveled extensively throughout Europe, Africa and the Middle East. He holds a bachelor's degree in social science from Hofstra University in New York.

---