Description
MOLER BARBER COLLEGE PRESENTS: BATTLE OF THE BARBERS 12/10 in Hayward
Moler Barber College presents: Battle of the Barbers, a student vs student competition to showcase our talents between all our Bay Area schools, including Oakland, San Pablo, and Hayward. Which campus will end up with the most winning titles?
The event will take place on Sunday, December 10, 2017, from 10am to 4pm at our Hayward location, 22425 Main St, Hayward.
This competition is an opportunity for Moler barber students to show off their techniques and abilities with your fellow techies! This is not your average haircut competition - it's a chance to connect with other barbers and aspiring talents from the Bay Area.
RSVP to Battle of the Barbers here: https://hayward-barber-battle.eventbrite.com

Are you an aspiring Barber? Are you interested in Barbering? Join us and bring friends to this fun competition.
---
Registration: 10am
Competition: 11am to 4pm
The Competition Categories:
Freestyle Design

Comb over/Pompadore

Fade with Bear

High Top

Man Bun Taper

Fastest Fade.


Prizes will be awarded.
ALL participants must sign up by December 1st 2017. Contact Moler Barber College to sign-up, for rules and further details.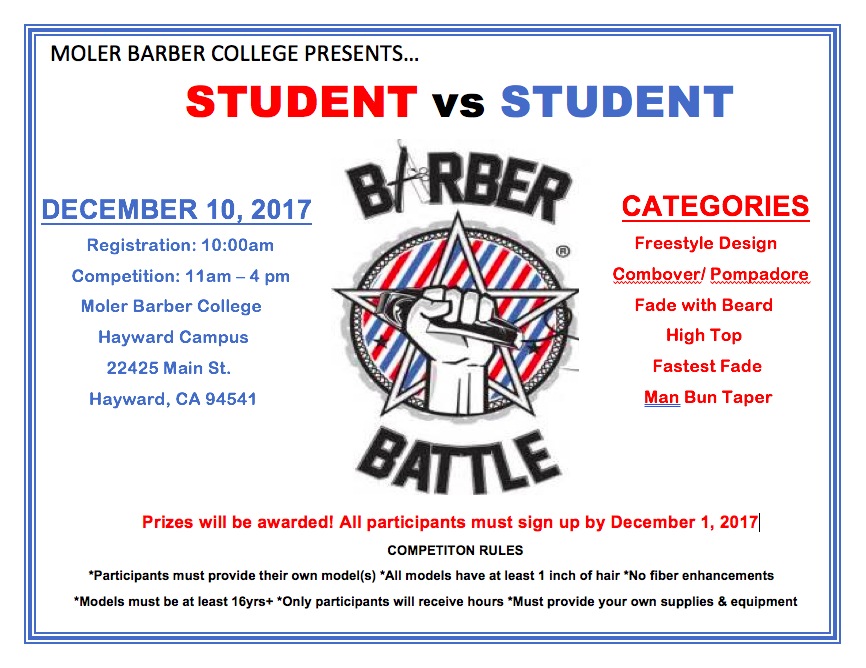 ---

About Moler Barber College:
For over 100 years our passion at Moler Barber College has transformed the lives of our students. Family owned and operated. Moler Barber College has been serving the Oakland community and East Bay for over 100 years. We are proud of our history and our track record of graduating top-notch barbers and continue to provide discounted barber services to the Oakland community.
The urban barber shop has been sweeping the nation and talented barbers continue to be in high demand. Learn more about your future career options, while getting a tour of our brand new facility. You can enroll today by contacting us at info@moler.org or 510-238-3800. Federal Grants and Financial Aid is available for those who qualify.
Come to find out more about Moler Barber College and have opportunities to speak with an admissions representative, find out about our Day and Evening classes, and speak with a Financial Aid Specialist.
For more information, visit our website at www.Moler.org
Moler Barber Locations:
Main Campus – 3815 Telegraph Ave., Oakland, CA 94609
Satellite Location – 14330 San Pablo Ave., San Pablo, CA 94806
Satellite Location – 22425 Main Street, Hayward, CA 94541
"Proudly Serving the East Bay for Over 100 Years!"
Share with Friends and RSVP to Battle of the Barbers here: https://hayward-barber-battle.eventbrite.com