About this Event
Molchat Doma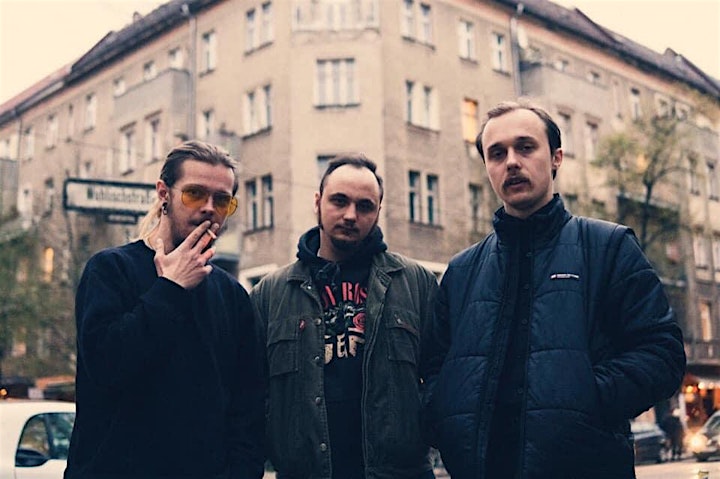 Molchat Doma (translated as "Houses Are Silent"), founded in 2017 in Minsk, Belarus, stands at the intersection of post-punk, new-wave and synth-pop. Dark yet danceable, and with a heavy dose of goth ethos, their music is reminiscent of the masters that predate them, but make no mistake: Molchat Doma creates a sound and meaning that is immediately recognizable as all their own.
The band is comprised of Egor Shkutko, who sings the Russian lyrics in his deep monotone, Roman Komogortsev on guitar, synths, and drum machine, and Pavel Kozlov on bass and synths.
Their second LP, Этажи (pronounced Etazhi, meaning "Floors") was released in 2018 on Berlin-based Detriti Records. It has sold out four times and is currently on its fifth repressing due to outstanding demand. Этажи has garnered over one million views on Youtube. Despite playing to packed clubs in Warsaw, Helsinki and Berlin, they are still flying under the radar in their native Belarus.
molchatdoma.com • Facebook • Instagram • Spotify • Bandcamp • Youtube
Chrystabell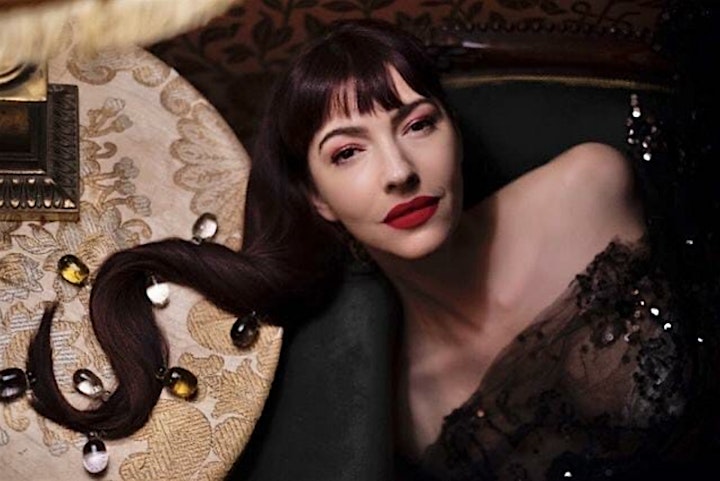 Chrysta Bell (her first name) is a performing artist, recording artist and actress who incorporates dynamic theatrical and multimedia elements into unforgettable performance experiences. By 18 she had become lead vocalist for the popular Austin, Texas- based continental swing act, 8 ½ Souvenirs. During a four year run with the band she was signed to RCA Victor, shared the stage with the likes of Willie Nelson and Brian Setzer.
At age 21 she had a fateful meeting with legendary artist David Lynch, and the two began a lasting musical partnership which yielded the album This Train, released in 2011, the song "Polish Poem" from the soundtrack to INLAND EMPIRE, and the EP Somewhere in the Nowhere.Her most recent collaboration with Lynch was on set of the internationally acclaimed Twin Peaks: The Return. In her television acting debut, Lynch cast Chrysta Bell in a leading role of FBI Agent Tammy Preston, acting alongside Lynch himself, Laura Dern and Miguel Ferrer. In June of 2017, Chrysta Bell released her sophomore album with Mercury Prize-winning producer John Parish, long time P.J. Harvey collaborator and producer. We Dissolve was met with critical acclaim worldwide.
In April of 2019, she released her 4th studio album. The new album finds Chrysta Bell delving in darker territory, with influences of new wave, post-punk and disco. As always, her powerful, distinctive contralto deliveries are seamless. As a headlining act across 33 countries in North America and Europe in the last 6 years, her enigmatic presence and soulful performance have captivated audiences and media.Media Acknowledgement for Chrysta Bell :
"Chrysta Bell looks like a dream and Chrysta Bell sings like a dream. And the dream is coming true." — David Lynch.
"The first time I saw Chrysta Bell perform, I thought she was like an alien. The most beautiful alien ever." –David Lynch
"The Texan singer seems to have one foot in another world" – The Telegraph
"Chrysta Bell is the most rapturous embodiment of Lynch's surrealism, guiding us beyond the physical world to an elevated state where fear and love are equally welcome and death is a journey you're excited to take. Her show is the best thing I've seen at The Carlyle, transforming the space into the kind of haunt I never want to leave." – Theater Pizzazz
"Like Lana Del Rey singing the songs of Serge Gainsbourg." – NME
"Sensual, ethereal… like a nightclub act from a shadow dimension, one that's glamorous and sexy but also on the cusp of cosmic chaos." – Wall Street Journal
"The Queen of extravagant pop noir…sensual, dramatic and more than a little mysterious" - Samir Köck, Die Presse
"Eclectic and exciting... Poised and enigmatic... [David] Lynch couldn't have written her story better himself. " – Billboard
chrystabell.com • Facebook • Instagram • Twitter • Spotify • Youtube
Performers
Date and Time
Location
Refund Policy