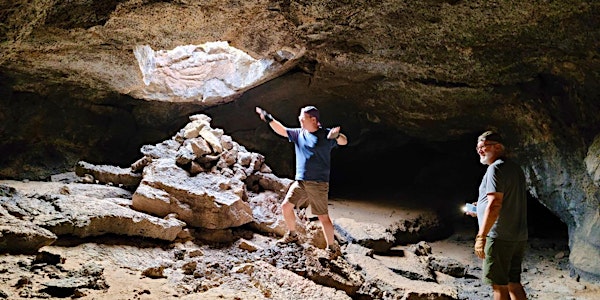 Mojave Desert Guided Back Country Camping Tour
Contact At The Mojave is an adventure designed to both learn about the ancient and recent history of the vast Mojave desert with friends!
Date and time
Sun, Jan 21, 2024 5:00 PM - Sat, Jan 27, 2024 2:00 PM MST
Location
Mojave Desert mojave desert mojave desert, CA 92332
Refund Policy
Contact the organizer to request a refund.
Eventbrite's fee is nonrefundable.
About this event
5 days 21 hours

Mobile eTicket
NOT FOR THE FAINT OF HEART
This will be a camping and hiking adventure, with five days (four nights) camping in the Mojave National Preserve, a 3,880 square mile portion of the Mojave desert set aside for protection in 1994. Ancient history includes numerous lakes that existed at various times before and after the Younger Dryas climatic period as well as human activity around these lakes. More recent history includes native American petroglyphs and pictographs, the historical Mojave Road, the discovery of ancient natural caverns as well as recent mining activities. Much of the older and newer geology is volcanic, including a 230 square mile volcanic field with eruptions as recently as 10,000 years ago. There are also vast mountain ranges and immense sand dunes within the preserve. Nearby to the preserve there are other volcanic lava fields including many lava caves to be explored. This event will not be glamping but instead primitive tent camping with no electricity, we will have on site water, but cell service will be spotty at best. The first day and last day will be at a hotel in Las Vegas with five days in between camping and exploring the desert. Desert temperatures range from up to 60 during the day and down to 30 at night. Hiking boots are a must, warm clothing in layers, as well as sunscreen, sun glasses, hat and flashlight. Our desert expert and speaker will be Robert Marcos, a desert dweller, researcher, adventurer and videographer who has ventured throughout many desert regions of the American southwest.
Day by day Itinerary (Sunday, January 21 - Saturday, January 27, 2024)
Day 1 - Sunday - Everyone travel to Las Vegas. Meet at our hotel (Hotel room not included). Dinner at 6:00 and then a presentation from 7-9. We will discuss the history, geology, volcanoes, etc., of the Mojave desert and the Mojave National Preserve.
Day 2 - Monday - Breakfast and on the road by 10 am. We should be at the Black Canyon Group Campground by 1:00 pm or sooner. Set up camp (tents, utility vehicles, etc.) and have lunch. Later in the afternoon we drive 10 minutes over to the Hole-in-the-Wall Visitor Center where the Rings Loop Trail starts. The trail is a 1.5 mile loop including a few petroglyphs, sunset views and a strange valley with the actual hole in the wall and rings used as ladders to climb up a couple of spots. Dinner after the hike. Campfire.
Day 3 - Tuesday - Breakfast. Drive to the Indian Well Petroglyphs (1 - 1.5 hours). No hiking required at the petroglyphs but there will be boulder climbing. Hang out there for about an hour (there are a lot of petroglyphs and a scary deep well). Drive from there to Caruthers Canyon (0.5 hours) for lunch. Then two hour up and back hike up an old Jeep trail as far into the New York Mountains as we want to go. Very interesting and varied landscapes in that canyon. Drive back to camp (1.0 hour). Dinner. Campfire.
Day 4 - Wednesday - Breakfast. Drive south to Interstate 40 and visit Pisgah Volcanic Crater (1.5 hours) and the surrounding lava field where there are a number of cool lava tubes/caves to explore. Drive to Ludlow Cafe for lunch and gas up at the local 76 station. Then drive to Amboy Crater (1.0 hours) where we can hike two miles (round trip) to the top of an undisturbed (not mined) cinder cone volcano. The trail is well groomed. Drive back to camp (1.0 hours). Dinner. Campfire.
Day 5 - Thursday - Breakfast. Drive to Kelso Dunes (1 hour). Two to three hours overall time on the dunes. It's a good walk across sand to the main dunes and tough to hike to the top. Very steep and of course, it's just sand. Then lunch either at the parking lot area there at the dunes or back at the campground. Afternoon open for another hike or adventure near the campground. Dinner. Campfire.
Day 6 - Friday - Breakfast. Drive to Mitchell Caverns (0.5 hours) for some spectacular caverns. They have tours at 11:00am and 2:00pm each day, so this is time specific. Reservations are required. We have to split into two groups. The tour costs $10 per person and includes a half mile walk (each way) from the parking lot/check-in to the caverns. Then pack up and drive on to Las Vegas (2 hours). Dinner at hotel (Hotel room not included) in Las Vegas. Parting comments and feedback. Party.
Day 7 - Saturday - Everyone return home.
Frequently asked questions